As Baby Loss Awareness Week continues, maternity and neonatal bereavement counsellor Daryl Mallis tells Caroline Lindsay why it's time to break the silence on this sensitive subject.
The death of a baby is not a rare event – it can happen to anyone and every year, thousands of people in the UK are affected by the death of a baby or experience pregnancy loss.
Baby Loss Awareness Week runs until next Monday October 15 to raise awareness about the key issues affecting those who have experienced pregnancy loss or baby death.
Throughout this week bereaved parents, their families and friends, have been uniting with each other and others across the world to commemorate the lives of babies who died during pregnancy, at or soon after birth and in infancy.
Daryl Mallis, maternity and neonatal bereavement counsellor with NHS Tayside, supports parents who have lost a baby by miscarriage after (14 weeks' gestation,) a stillbirth or a baby who has died in the neonatal ward or shortly after going home. In addition, if parents have decided to end a pregnancy because of a foetal abnormality, Daryl is there to offer support and guidance.
"After families have lost a baby, we discuss the support available," says Daryl.
"Some parents want support straightaway while others prefer to wait for a few weeks before I contact them. Some prefer no contact at all but they always are given my contact details and are welcome to contact me at any time should they change their mind.
"Support often depends on what people need," she continues.
"We offer guidance and advice, including talking through funeral options and ways for them to say goodbye to their baby.
"For some families this is their first experience of death and often they have no idea what to do or what to expect."
Grief can affect people in different ways and Daryl helps explain that each person's experience of grief is unique, and may be a completely normal response to such a difficult loss.
"Some really struggle and when we see they're continuing to struggle, that's where we would offer counselling at a local hospital or health centre," says Daryl.
Ninewells was one of the first hospitals in the country to offer a bereavement room – the Tulip Suite.
"It was created very much in response to listening to what parents needed," says Daryl, who decided to train as a counsellor after her years working as a midwife.
"Seeing parents leaving hospital without their babies, and listening to their needs, inspired me to become a counsellor," she explains.
Baby Loss Awareness Week hopes to break the silence about what is often considered to be a taboo subject.
"It's such a sensitive loss – it's often called the silent loss because many people fear they might upset the bereaved parents but that only leads to them to them becoming more isolated.
"But actually many parents do want to talk about their baby and I hope Baby Loss Awareness Week will highlight how common baby loss is, break the silence and provide a platform of support for the parents and families who are affected."
Daryl stresses that bereavement care has changed dramatically in recent years and today there is an emphasis on memory building.
"Health professionals now realise that memory building is an important part of the grieving process," she says.
"We offer memory boxes, hand prints and foot prints, a lock of baby's hair and we also have a really good photographic service called Remember My Baby, which provides parents with beautiful images of their baby they can always treasure.
"Hospitals should also be able to give a certificate recording the baby's birth. Although this has no legal status before 24 weeks (the loss of a baby before 24 weeks is classed as a miscarriage rather than a stillbirth ), it helps validate the baby's existence."
Daryl explains that some families choose to take their baby home for a short while before the funeral. "And we will support them to do that by providing a special cool cot.
"That's their time to spend with baby," she says.
"No one should experience baby loss alone and it's important for parents to know where to go – they can speak to their GP, midwife, health visitor  or, if they don't want to talk to a health professional, they can contact a charity like Tayside Sands (Stillbirth and Neonatal Death Society) and share their experience with other families."
Baby Loss Awareness culminates with the global Wave of Light on Monday, October 15, which is also recognised as International Pregnancy & Infant Loss Remembrance Day. Families across the world will light a candle at 7pm local time as part of Wave of Light and leave it burning for at least one hour to remember all the babies who have died too soon.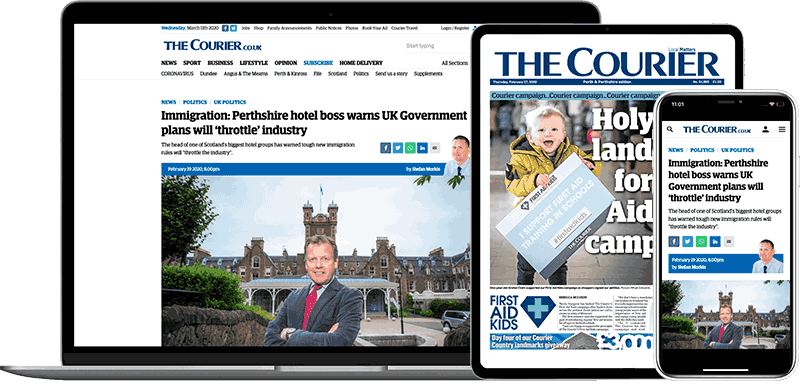 Help support quality local journalism … become a digital subscriber to The Courier
For as little as £5.99 a month you can access all of our content, including Premium articles.
Subscribe