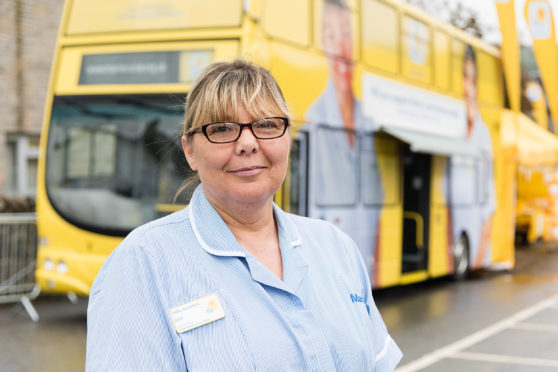 A Fife Marie Curie nurse is starring on a special bus and helping to raise vital funds for the charity with a special place in her heart. By Caroline Lindsay
When Anstruther woman Jane McLelland says she's on the bus it doesn't quite mean what you think. For Jane is one of just three UK Marie Curie nurses – and the only Scottish nurse – whose image features on the outside of the Marie Curie branded bus. The bus is travelling around Scotland, raising awareness and funds for the charity, and will be in Dundee for several days in early July, as well as in Perth on July 3.
"It's amazing to see myself on a bus," smiles Jane. "I'm very passionate about raising awareness for Marie Curie and that we're not just there for people with terminal cancer, it's all terminal illness."
Jane has been with Marie Curie for 10 years, currently working the night shift caring for patients in their own home to allow family members to go home or go to bed and rest.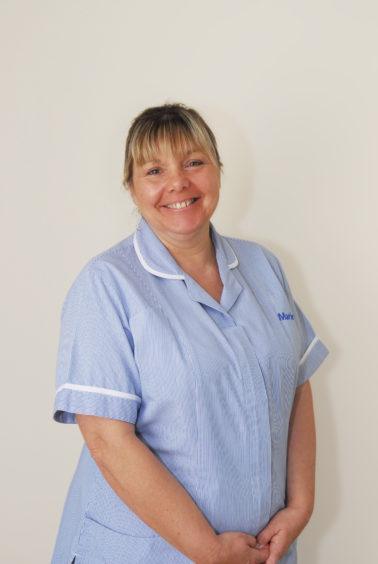 "A lot of patients don't sleep at night so we'll spend the time talking or I will give them a massage, paint their nails or help them make a memory book," Jane explains. "I love my job and it's a pleasure to be welcomed into people's lives.
"I've lost my father and my brother-in-law to terminal illness and I know from experience that many people don't want to be the carer – they want to be the wife, the daughter, the son…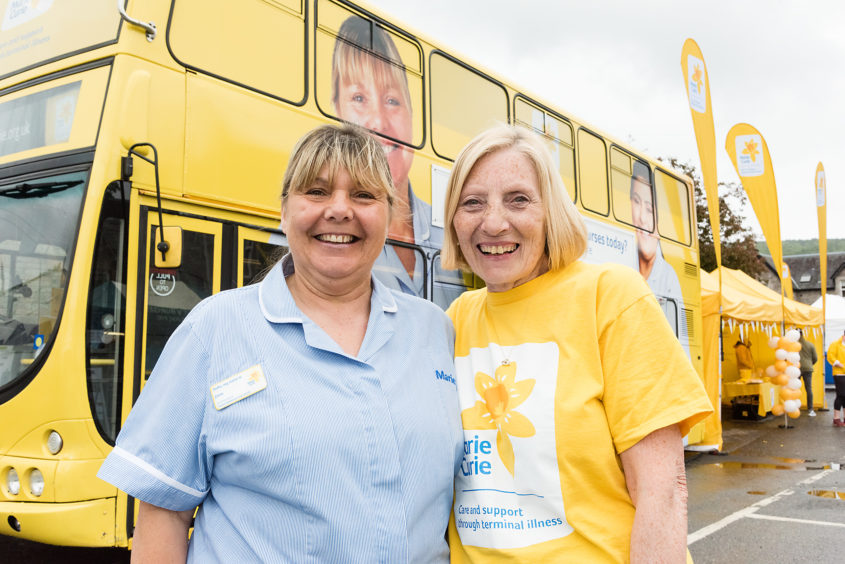 "When we go in we just blend in and take all that worry away – the family can just be normal for nine hours and I love the fact we can go in and make a difference at such a sad time. I've cried with patients and their family."
Jane does a lot of voluntary work and public speaking for Marie Curie, and has appeared in a sponsored nurses booklet and on the charity envelopes but when she was asked to star on the bus she was chuffed and surprised.
"My granddaughter Summer had seen a Marie Curie ad on TV and asked me why I wasn't on the telly so she was thrilled that I was going to be on the bus," she smiles.
"In September, Jane is trekking South Africa in aid of Marie Curie to mark her 10-year work anniversary. Walking alongside her will be friend and chair of the Marie Curie St Andrews fundraising group, Sue Lydon.
"I had to raise £3,500 ahead of the trek so I held an event at Bowhouse, and organised raffles and Christmas stall and a race night," she recalls.
"I've looked after some amazing people and helped them live out their last wishes – I've brought horses into houses, taken farmers into milking sheds for the last time, and nursed a Russian ballerina.
"I just want people to have a good death."
Dates for the Marie Curie bus
July 1 High St, Dundee
Tues July 2 High St, Dundee
Wed July 3 High St, Perth (outside Debenhams)
Thurs July 4 Wellgate, Dundee
Fri July 5 High St, Dundee
To sponsor Jane on her trek visitjustgiving.com
If you are unable to visit the bus and are in need of support, or have any questions about any aspect of terminal illness, including clinical support, call the Marie Curie Information & Support Line free on 0800 090 2309 or visit mariecurie.org.uk/help