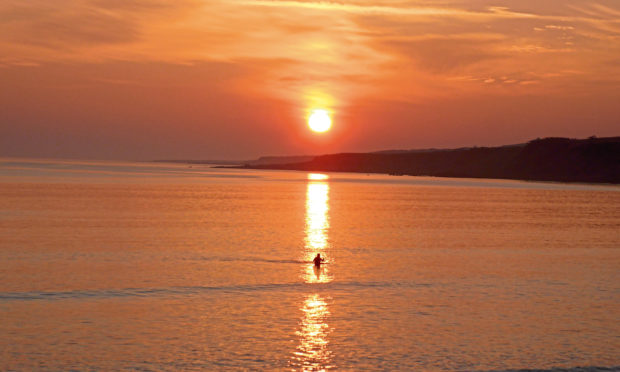 It was once prescribed by doctors as a cure for all manner of ailments and now it seems that wild swimming for health and enjoyment is on the rise again. Nora McElhone takes the plunge.
My childhood summers were spent by the sea in the West of Ireland and swimming in the Atlantic Ocean was a natural part of that holiday experience. Only professional divers and a few surfers wore wetsuits then and each year we would egg each other on to be the first to fling themselves into the surf. Anyone left behind on the beach would be subject to a fair amount of slagging until they redeemed themselves next time round. We came out feeling exhausted and exhilarated and sometimes an interesting shade of blue, but always went back for more. It is that buzz that is drawing more and more people to get outside and experience swimming in the sea, lochs and rivers of Courier Country. Then, we saw it as simply going for a swim but now it is increasingly referred to as wild swimming, open water swimming or cold water swimming.
One group of enthusiasts based in St Andrews is lucky to have the stunning beaches of the East and West Sands right on their doorsteps. Their reasons for swimming in open water – usually without a wetsuit – are many and varied with swimmers ranging from those who tackle mile-long sea swims to first-timers who are keen to give outdoor swimming a try.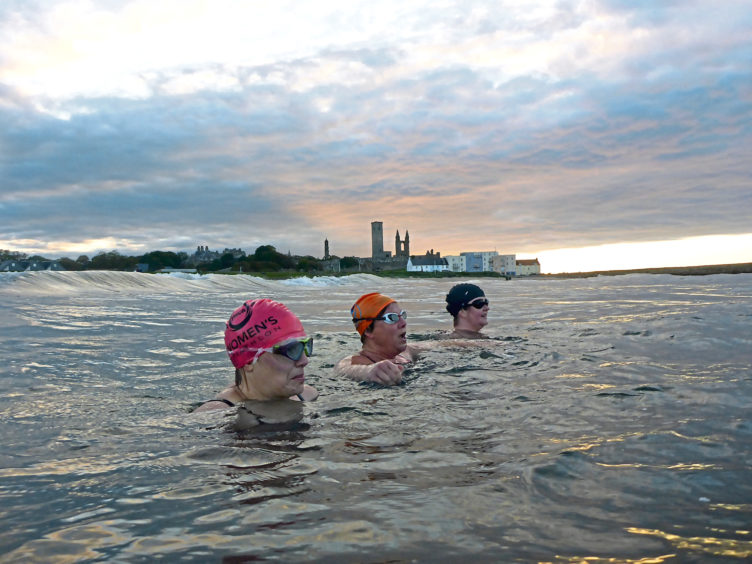 Alex Barrable, 38, a lecturer in education at Dundee University, specialises in nature connection and wellbeing. She grew up in Greece but took to the North Sea as a way of adjusting to the challenges of the Scottish winter. "I found the weather, the darkness and the cold difficult to adjust to," she says. "During my second winter, in January, a friend started a challenge for charity that included 28 swims in 28 days, in the North Sea."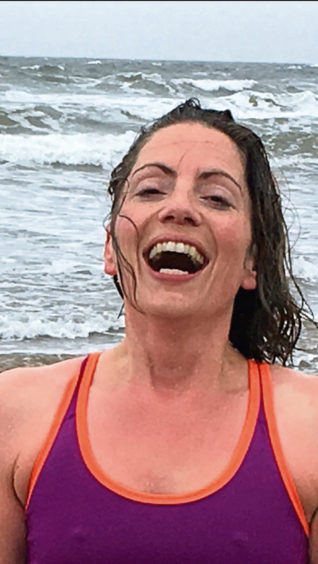 "For some reason that really appealed to me and I asked if I could join her. The first time we ran in (air temperature -3, water temperature 2 degrees) I felt such an exhilaration. I felt completely alive and in the moment. Having had a tough time adjusting to the cold, I found that embracing it, rather than running from it, may have been the answer all along. There hasn't been a week since that I haven't gone into the water."
Now Alex often swims two to three times a week at the West Sands in St Andrews: "I feel that it has helped me cope with Seasonal Affective Disorder, come closer to nature and really connect with my new home. Wild swimming can often feel like a deeply spiritual experience of connection to me – which is strange because I am not a particularly spiritual person and have a rather scientific approach to life."
Sally Crumplin, 43, started sea swimming regularly about five years ago. Sally, who teaches history at Edinburgh University, now swims four or five times a week.
"I will swim wherever I am if the water looks safe," she says. "I usually swim off the East Sands, St Andrews because that's where the swim crew is, but I have some favourite spots around the Fife coast – anywhere that looks enticing when I'm on the coastal path.
"I especially love sea swimming: the smell of the water and weed, the taste of the salt, the feeling of salt on my skin afterwards and the exhilaration of the waves if there's a swell. I do like how soft fresh water feels, but I'll always return to the sea."
From a health perspective, Sally believes she gains a lot from cold water swimming: "There is a very practical reason for my swimming: I use cold water as a painkiller – the best and most long-lasting I've ever found for back pain. But more holistically, swimming – in sea or burn or loch – makes me feel more alive.
"There's no day that can't be improved by a dunk in the water, no matter what is going on in my life.
"Cold water, in winter, is especially effective, I think because the temperature takes us straight into survival mode. For a short while, nothing else matters, nothing else can matter.
"You learn a lot about your own body and its limits, and how you can stretch those, with care, of course."
But her swimming experience is also important from a social point of view:
"I've been swimming mainly with my swim buddy Jane for a few years, regularly off the East Sands, sometimes on swim adventures elsewhere, sometimes with other people.
"Our chats, while swimming and while getting changed, and while walking to warm up, are as important as the swim itself. This past year, as I've paid more attention to Facebook groups, I've swum more and more with groups in St Andrews and in Aberdour and have had some of the best laughs and chats with an amazing bunch of people who are looking out for each other, make no judgements, and all share a love of this crazy activity."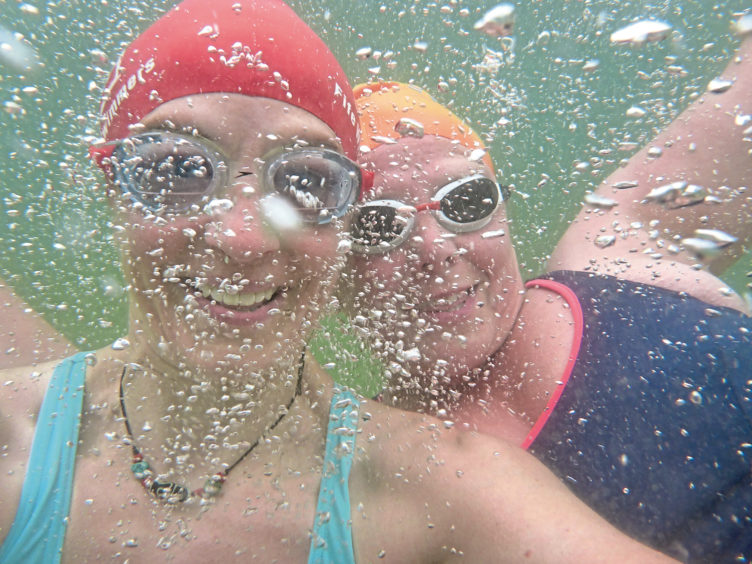 Fife-based teacher Anna Palmer, 44, is training to be a counsellor and has been swimming outdoors for almost two years.
"I started after seeing a social media post about it and joined up with some loch swimmers for a taste of night swimming.
"I was gripped by the freedom of it, and the community, so I joined a couple of local sea swimmers nearer home. I had just done an ultra marathon and as part of the training I had ended each long run with a muscle-soothing dip in a burn or the cold sea. I was cold water-acclimatising before I really know what that meant.
"Upon meeting St Andrews Swimmers Jenny and Kate, I started to swim more often in the sea and moved out to longer distances last summer after meeting Jim. I quickly built up a relationship with the sea that was based on a healthy respect for its power and might and balanced with my improving strength as a swimmer and knowledge of the tides, currents, flows, waves and rips. I soon ventured out on longer and longer swims, sometimes alone too."
Anna also believes the health benefits of cold water swimming go beyond the obvious benefits of moving against the water and doing so for a sustained amount of time.
"Swimming in winter is different, you aren't in the water for so long, but the cold water is like an antioxidant for me: I am rarely unwell, have had no common colds or any other virus for the whole time I've been sea swimming. This year I have been part of Edinburgh University's Cold Water Sea Study, logging my days in fresh and sea water, alongside any illnesses I've had.
"I will be interested to see the results of this study – I think it will support current views that cold water swimming is benefiting to many health conditions, not just common colds, but long-term conditions such as anxiety and depression, chronic pain, arthritis and fibromyalgia."
Studies into cold water swimming are in their early stages but point out the benefits to our mental and physical wellbeing.
Personally speaking, it makes sense that those childhood swims were so special and that I find it hard to resist the pull of the open water and the crash of those North Sea waves.
Last one in's a rotten egg!