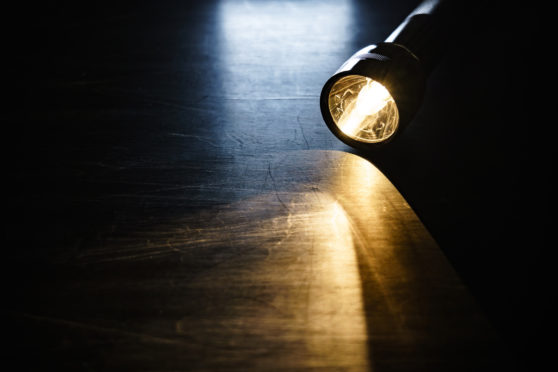 The first sign was waking up and seeing the lurid green numbers on the radio alarm facade flashing.
That was odd. Must have been a problem with the leccy, I thought. You can see why I've often been compared to Sherlock Holmes. People say: "Compared to Sherlock Holmes, you're a bit thick."
My concern deepened when I tried putting on a light in the hall. It didn't come on. It was surely on a different trip system than the plugs and, sure enough, when I got to the box all the switches were in the same position: the whole house had lost power.
At first, one wonders if it's just one's own house, which would be problematic, requiring a tradesman to come out which, round these parts, takes about three weeks and a petition to the United Nations. The main hope was that the whole area was blacked out, sharing the pain, which would soon be sorted by the authorities.
A few sentences ago, someone suggested I wasn't particularly bright, and evidence for this allegation was provided when I decided I'd better go on the internet and find out what was happening: no internet as the hub needed electricity.
Well, I would have a cup of tea while I gave this problem thought: no leccy for the kettle. Gosh, how dependent we are on electricity! Luckily, I was able for once to put my portable telephone to good use, and managed to get on the internet with that.
Lord knows how. The device is capricious, sometimes working, sometimes not. I suspect there's probably an obscure "setting" somewhere that needs rectifying. Unfortunately, the "setting" is in my brain and I've forgotten the password for that.
The internet gave me a phone number for the local power company and, after two minutes of a recorded voice warbling on about data protection and "don't speak to us, go online", a helpful chap came on and explained that an overhead wire had broken.
More than 200 houses were affected, but the company was confident that power would be restored later that afternoon or "possibly tomorrow".
Yikes! No internet! No tea! Possibly for an entire day! Suddenly, I realised that civilisation was fragile, and I made plans to buy a gas stove and get in lots of tinned food for the future.
Luckily, the power came back on later that morning, and life could return to normal, which was somehow, mysteriously, a bit disappointing. An expected episode of excitement and challenge was over.
Later that evening, a frowning sky of thick, dark, glowering clouds roared in a rage, and the room was lit up as elemental lightning turned the world inside-out – with no need for a plug or an engineer.
Here was the electrical power of nature, a force that put the fear into our ancient ancestors, who couldn't even get a number off the internet to ring. Thunder and lightning is still a bit scary to us today.
It's awesome, in the true rather than trendy sense of the word, and makes one feel small and, frankly, rather rubbish.
Luckily, today, we can be safely snuggled up in a nice, warm, unnaturally electrified house, with a kettle to put on for a cup of tea as we look out the window a little amazed.