Delicate tendrils, flowers and vine leaves twine their way up a slender green tentacle to create something incredibly special. The Vine Arm is a beautiful botanical prosthetic arm designed by Sophie de Oliveira Barata for model Kelly Knox, and is currently on display at the National Museum of Scotland in Edinburgh.
Containing 26 individual vertebrae that allow movement in the arm to be fluid enough to curve around objects, the Vine is controlled by round sensors in Kelly's shoes, which sit under her big toes.
"These sensors allow the Vine to move side to side and to curve. By pressing on the sensors with different pressure, Kelly (who was born withouther lower left arm) can control the speed and direction of the Vine's movement," explains Sophie, who also designed two other arms for the model – Materialise, an arm with interchangeable segments, and Synchronise, "a reimagining of the arm as a piece of jewellery".
Not surprisingly, Sophie comes from an art background, with a first class honours degree in special effects prosthetics for film and TV. She worked as a sculptor for eight years at one of the UK's leading prosthetic providers, making realistic, bespoke prosthetics for amputees.
In her spare time she made more experimental art work before setting up her own studio and launching the Alternative Limb Project, working as a specialist consultant alongside prosthetists to produce realistic-looking artificial limbs as well as more imaginative limbs.
Sophie originally began making hyper-realistic prosthetics, until an eight-year-old client became the inspiration for the Alternative Limb Project. Her client wanted images of her favourite cartoon characters on her prosthetic and Sophie happily obliged. Since then she has created prosthetics inspired by everything from disco balls to video games.
"I was always interested in the merging of reality and fantasy," Sophie explains.
"I took a course to study special effects make-up, where I learnt about prosthetics. I heard about a job making realistic limbs for amputees – making limbs to blend in with the body in natural light was the ultimate challenge.
"I worked at a silicone clinic for seven years making toes, fingers, partial feet, partial hands and leg and arm covers," she continues. "As rewarding as this was, I didn't get to meet the clients face to face.
"There wasn't anything available for those who wanted to be playful and expressive with their limb, giving them the opportunity to evolve their body in their own way.
"At the time of starting the project the choice was minimal: either you have the bare structure on show, or make it look as real as possible. I felt there was an opportunity to get creative," she says.
Before the consultation clients are asked to bring a large selection of images in order to give Sophie a sense of colours, style and mood which reflect their individual tastes. The consultation will also be a chance to work out the practical requirements from their limb. Following a brainstorming session, Sophie will then work up some ideas which will be fine-tuned throughout the design process in which the client is as involved as they want to be – some clients will have very strong ideas about what they want, whereas others will be happy for Sophie to take the lead. A combination of photography, 3D scans and/or casting will be used in order to actually start work on the limb.
"I collaborated with Dani Clode (who worked on 'the third thumb' operated by sensors in the shoes), Jason Taylor (computer-aided design and prototyper) and Hugo Elias from Shadow Robotics, who worked on the robotics," Sophie explains.
The process could take anything from one month to six months from start to finish. Prices vary hugely but start at around £1000.
Sophie explains: "Merging the latest technology with traditional craft, I collaborate with people in different fields such as electronic and mechanical engineering, product design, 3D printing, carbon fibre fabrication, metal, plastic and wood work."
Revealing she loves making performance pieces "as you can really push the boundaries and create inspiring pieces and I love collaborating with other makers," she admits there can be challenges.
"Every project is bespoke which entails new materials and processes," she says. "This means there's a degree of experimentation involved and that can take time."
Working directly with clients, Sophie aims to reflect their interests and personality through her designs. While the Vine Arm was inspired by the mood board Kelly created, featuring nature and alien forms, Sophie has also made crystal-encrusted hands and legs, surreal legs, with clip-on and off muscle plates, legs that light up, an arm with what looks like a snake coiling around and into it.
Then there's an arm that detaches from itself, lights up, houses a drone in the shoulder panel with an electric hand and a charger for digital display. Also a gold-plated socket with clear arm and hand with sensor that picks up heartbeat and translates to a ticking motion in the wrist, and a leg with Japanese carvings of dragons with secret compartment drawers.
Model Kelly is a body confidence advocate who was shortlisted as Celebrity of the Year at the 2016 National Diversity Awards. She believes everybody deserves to feel beautiful, happy and worthy in their own skin. Choosing not to use prosthetics as an aid she prefers to utilise them as an accessory "to express my personality and explore aspects of my identity."
"I want to change the way society perceives disability – showing disability can be cool, fashionable, beautiful and powerful," she says.
"It's like my body is a canvas and when wearing an Alternative Limb, I become the art.
"I really enjoyed creating a mood board and Sophie interpreted it brilliantly. It felt personable and exciting," she enthuses.
Wearing these pieces helps redefine beauty and changes the image society sees when they think of disability.
"I hope by wearing them I can inspire others who have missing limbs – so they can feel proud and empowered by their difference knowing everything and anything is possible."
Sophie's current project involves looking at different areas of the body as well as a more affordable, user-friendly process of working for clients. But for the time being she is thrilled her work is on display at the National Museum of Scotland.
"It's wonderful the museum has embraced the idea of showcasing an alternative limb, particularly one this far out!" she smiles.
The Vine Arm is on display in Technology by Design, Level 3, National Museum of Scotland, Edinburgh.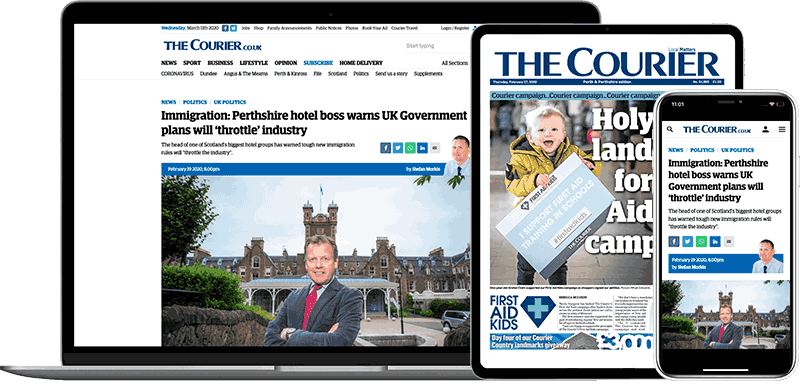 Help support quality local journalism … become a digital subscriber to The Courier
For as little as £5.99 a month you can access all of our content, including Premium articles.
Subscribe