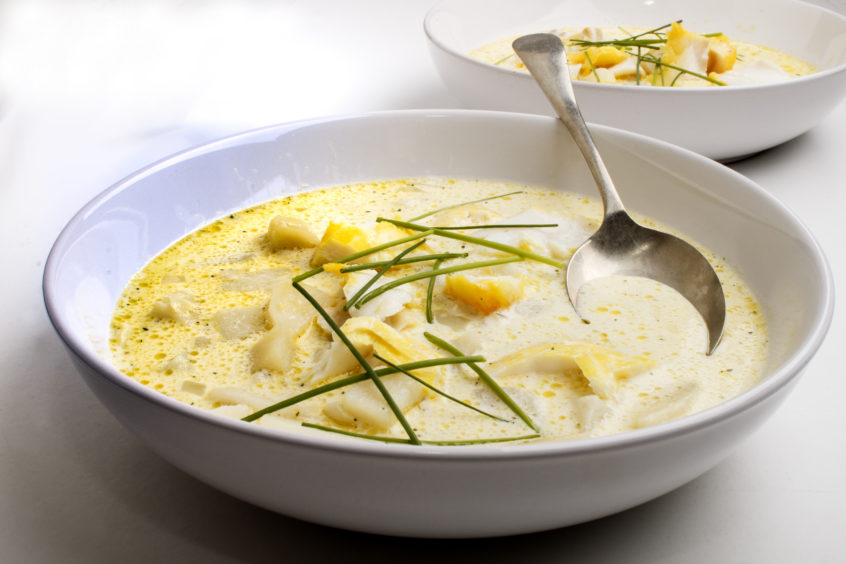 Wendy Barrie is Scottish Thistle Award Regional Ambassador
Making fish soup
You don't need to be in Cullen, the bonnie wee fishing village on the Moray Firth, to enjoy a delicious soup! Every year they host a championship where enthusiasts can celebrate – and adulterate – this famous dish.
Seriously though, a fish soup can be whatever you wish, adding snippets of bacon, extra vegetables, a wee kick of fresh Scottish chilli, other species of fish or even a zing of curry reminiscent of a kedgeree! Whatever your inspiration, classic Cullen skink starts with smoked haddock, onion, celery, potatoes, milk and a swirl of cream. Please don't adulterate with stock cubes – pointless and unnecessary. Seafood soups have a delicate fragrance and flavour, fabulous without commercial additives so whatever you add, keep it natural.
We could eat way more fish than we do in Scotland as part of our balanced diet. It is nature's fast food, cooked in a blink and easy to digest. In Fife we are blessed with some wonderful fish shops such as HS Murray on our doorstep where Douglas sources fine fish for his emporium and delivers to local restaurants too.
Elsewhere in Fife one sees vans zig-zagging the doorsteps straight from the harbours of the East Neuk.
We are so very lucky here yet many species of fish are exported rather than appreciated by locals. So whatever you add to your skink, enjoy a Scottish Thistle Award Regional Ambassador (2018/19) for Central, Tayside & Fife
Founder & Director of award-winning www.scottishfoodguide.scot & www.scottishcheesetrail.com Leader in Scotland for Slow Food Ark of Taste & Member of Slow Food Cooks Alliance.