Penny Kemish is the housekeeper at Straloch Highland Retreats.
Situated on a family-run 3,000-acre estate in one of Perthshire's prettiest glens, Straloch has two  cottages available for self-catering holidays later in the year.
Set against the dramatic backdrop of a steep rocky ridge with a tranquil loch in front, the scenery is nothing short of spectacular and fantastic for families who want to enjoy outdoor adventures together. From bespoke picnics and wildlife watching to fishing and den-building and rowing across the island for a camp-fire tea, it's the perfect idea of escapism.
Penny prepares picnics, baking and home-cooked meals for guests including this popular picnic pie.
Straloch was a recent runner up in the Scottish Thistle Awards.
Q Desert island food and why?
A Salt and pepper chicken, I can't live without it!
Q Favourite TV chef and why?
A Tom Kerridge, amazing chef and love his great pub recipes, they are so easy to follow and I like his take on healthy eating, proof is in the pudding as they say.
Q Favourite cook book and why?
A I have a very well thumbed Delia 'Complete cookery course' it has every basic recipe you will ever need, my Mum bought me this when I left home.
Q Favourite ingredient and why?
A Meat (apart from offal) I am nearly the opposite to a vegetarian!
Q Most hated ingredient and why?
A Offal, sorry just can't get my head around it.
Q Perfect dinner guest and why?
A My besties (and husband) they know my heart and soul, no one better to spend time with. Cooking is all about the love of food and sharing with those you love.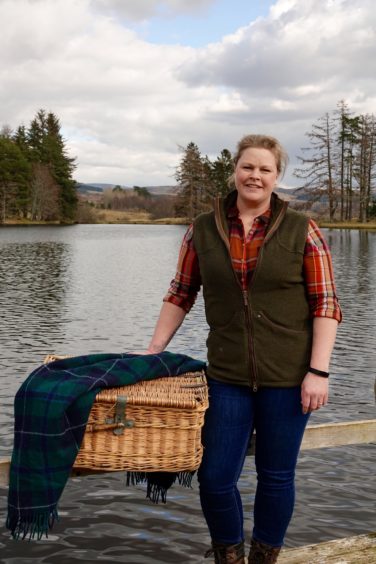 Q Favourite kitchen gadget and why?
A Love my Kitchen Aid blender, I don't get the luxuries of a professional kitchen!
Q Favourite music to cook to and why?
A  Too many to choose from, but I do love Greg James and Scott Mills on Radio 1. I am clinging on to my youth!
Q Perfect menu?
A  I'm just perfecting a pulled beef cheek wellington, that will be yummy when done. Although my favourite to cook and eat is my take on Portuguese steak. An amazing dish of steak cooked in a terracotta dish, with loads of olive oil, garlic, piri piri seasoning, surrounded with sliced potatoes and topped with crisp Parma ham, loads of crispy baguette to mop up the juices.
Q Favourite country for food and why?
A Britain of course: excellent home grown, home reared ingredients right on your doorstep.
Q Favourite chef, alive or dead and why?
A Anthony Bourdain, I started watching his series of travels around the world back in the day, loved his honesty and great human touch. A much missed soul.
Q Favourite culinary season and why?
A Autumn……. game, say no more.
Q Salt or pepper and why?
A Salt, it lifts a dish no end.
Q Favourite herb and why?
A Thyme, I use it so much in recipes, also it grows really well up here
Q Favourite spice and why?
A I don't really have one stand out favourite to be perfectly honest
Q Favourite way to cook the humble potato?
A My very favourite at the moment is a delicious horseradish dauphinoise, the best with beef, but don't step on the scales after!!!!
Q Favourite go-to recipe if you're in a hurry?
A Omelette, hands down so easy, and so easy to pimp up however you like. Even better when we are lucky enough to have our own free-range hens.
Q Favourite health food?
A I love a homemade granola, it's so much better knowing exactly what is in it! A great breakfast with low fat Greek yoghurt.
Q Ideal picnic dish?
A Well, I have to say my fab picnic pie don't' I? Try it!
Q Ideal BBQ food?
A I am thinking of starting bbq packs for our holiday tenants actually, I don't think anything can beat a great slow cooked bbq rib. I slow cook ours at home in a homemade sauce before finishing them off on a woodfired bbq.
Q Are you critical of the food when you're dining out?
A I confess I'm the worst. Sorry but I can't help it. I love eating out, but if it's not up to the standard I'm expecting then I think it's fair to say so, but it also goes the other way too – I will always pass on compliments.
Q Do you tip in restaurants?
A 99% of the time yes. I have worked in the industry as a waitress or bar staff since I was 18 years old. My best boss was a Greek Cypriot, Jimmy Hadjintoni, he taught me there is no excuse for poor service from greeting through to exit. In my opinion it's something we don't always pay enough attention to in this country.
Q Top tip for failsafe cooking?
A  Always taste what you are cooking!
Q Worst cooking sin in your opinion?
A Kind of goes with the previous answer, failing to taste food and season!
Straloch picnic pie
This has proved to be a firm favourite for the Straloch picnic. Each small pie will serve 2-4 dependent on appetite. I like to make a batch and freeze (not that they last long!) It is possible to change the pie up to one 20" tin, however I find the pastry does not hold so well. I love the puff pastry as it keeps the pie so light compared to your traditional hot water crust pastry.
Ingredients
2 x blocks of puff pastry
400g of good quality sausage meat or sausages (skinned) If you can get pork and apple variety even better!
2 eating apples, peeled cored and grated
2 onions peeled and grated
2 tbsp of thyme leaves
6 thick slices of cooked ham, fat trimmed from edge
Dijon mustard
Beaten egg to glaze
You'll need: 3 x 4.5" deep spring form cake tins
Baking tray
Directions
Heat oven to 190C/170C fan/gas 5. Grease the cake tins well. Divide the pastry up to create   3 x blocks to line tins and 3 x smaller blocks to create lids. Roll out the larger blocks evenly, line each tin leaving plenty overhanging at the top. Roll out the smaller blocks, use the tins as a guide to cut 3 circles for lids, put to one side.
When you grate the onion and apple, there will be a lot of juice, I use a clean tea towel or muslin squeeze out all excess juice, this will ensure your pastry doesn't get too soggy when cooking. Then place apple and onion in a large mixing bowl, together with sausage meat and thyme. Give this a really good mix together with a touch of seasoning. Then divide this mixture into six equal portions.
Take the thick slices of ham, spread each with a thin layer of Dijon mustard. Line the base of each pie with one slice of ham, cut and shape if necessary. Then take one portion of the sausage meat mixture and flatten out on top of the ham, take the second slice of ham and place on top, finally the second portion of sausage meat on top of the ham creating the top layer. Repeat with the other two tins.
Place the circle pie lid on top of the pie, you can then use any technique you like to seal the pie. I personal like to crimp over the sides of the pastry on to the lid, or you can use a fork to seal the pie, which ever you prefer. Make a steam hole in the centre of the lid, then glaze the lid with the beaten egg.
Place the tins on a baking tray. Place in the middle of the oven for 30 mins. Ensure that the steam hole does not close over, use a skewer or sharp knife to keep open. After the 30 mins assess the pie, if golden brown use the skewer to check the cooking through the centre of the pie, the skewer needs to come out piping hot, if you are not happy, place back in the oven for another 10 mins at a time. When you are happy with the cooking, take the pies out. Place on a baking rack, I usually run a knife round the tin and release the spring to aid cooling and keep the pastry crisp.
When the pies are cooled enough to handle, remove from tin. It is then up to you, either enjoy deliciously warm, cool further to room temp, or refrigerate and enjoy sliced. I also freeze when cold, they keep perfectly and benefit with a crisp up in the oven when thoroughly defrosted.