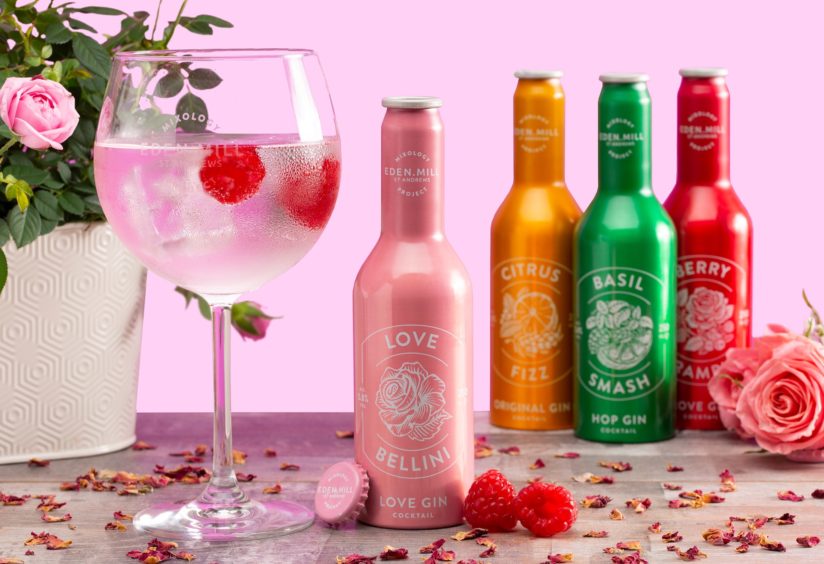 Can't get to your favourite pub yet? No problem. We've got all your cocktail needs covered with these handy portable drinks.
For some of us, whipping up our own versions of our favourite bar's drinks can prove a little challenging.
However with so many independent drinks firms now offering canned gin and tonics and bottled cocktails, there's never been a better time to put down the cocktail shaker and enjoy a drink at the drop of a hat.
Canned drinks have grown in popularity over the past few years, with more and more beer firms turning to them instead of bottles.
And it's not just the brewers jumping on the bandwagon, with numerous Scottish distillers now creating their own gin, vodka, bourbon and whisky-based drinks in cans and smaller bottles, making them super easy to transport in your bag – or take out to the back garden.
So if you're out enjoying the warm weather we've been treated to recently, here's just a few drinks that will help keep you feeling refreshed.
---
Eden Mill – St Andrews
The St Andrews-based distillery was one of the first to put bottled/canned drinks on the market and now boasts more than 10 flavours to enjoy.
From Love Gin and rose lemonade to the Hop Gin and watermelon, not to mention the Oak Gin, ginger ale and orange cans, there's something to suit all tastes.
Prices start from £2. Click here to purchase.
---
Hippy Fizz – Porter's Gin, Aberdeen
This canned beauty comes from the team behind Aberdeen's first gin in more than 100 years, Porter's Gin.
Featuring gin, patchouli leaf, pineapple shrub, malted passionfruit and hop soda, it's sure to be one big tropical party in your mouth. Nice and refreshing, it's perfect for warm summer days.
Prices start from £4 individually, or £34 for a 12 pack.
https://www.instagram.com/p/B_pcUmWh5WG/
---
House of Elrick – Aberdeenshire
One of the latest releases in the canned gin market, House of Elrick near Newmachar, Aberdeenshire has joined this fast-growing club.
Flavours include apple and rosemary, bramble, and a classic gin and tonic.
A pack of five costs £15 direct here.
https://www.instagram.com/p/CAsxPnOlHJj/
---
Edinburgh Gin – Edinburgh
Launching a new raspberry gin fizz flavour just last week, the popular gin brand has been offering canned versions of its popular products for a while now.
You can shop the whole collection, which starts at £20 for 12 25cl cans, here.
---
BrewDog – Aberdeenshire
Best known for their beer, Aberdeenshire brewing and distilling firm BrewDog has already got a wide selection of canned goods for us to browse and enjoy.
Releasing these naturally flavoured vodka-based sparkling water drinks just three weeks ago, they' have already proven a big hit with consumers.
Featuring six crushed black cherry and six crushed mango and white peach, a case of 12 will set you back £29.95. Click here for more information.
---
The House of Botanicals – Aberdeen
These ready-to-serve bottled cocktails have been created specifically for use in a variety of mixed drinks. You can even get creative at home adding soda, tonic, or you can serve them neat – the choice is yours.
Using their own spirits, aperitifs and digestifs, you'll also get a taste for some of the other products the Aberdeen gin and bitters firm creates.
Grab this four pack fro £20, or get a 12 pack for £60.
---
Mothership HQ – Edinburgh
These travel-sized drinks not only make for a tasty treat, but are also a great gift to send to a friend. Sold individually or as a set, the team at Mothership HQ are giving cocktail bar fans the chance to try out a range of drinks served up in different establishments across the capital.
Using all of their own products, the team handcraft these drinks which have made their way across the country.
This bottled cocktail set is priced at £22, but you can pick up any of the drinks individually here.
---
Finnieston Distillery Company – Glasgow
Whisky drinkers will be pleased to know it's not just vodka and gin fans who get the chance to enjoy canned drinks from independent firms.
Glasgow-based Finnieston Distillery Company has four tasty no-effort drinks for you to enjoy. From the Old Fashioned Green Tea to the Shanghai Sour, there's plenty to slowly work your way through.
Priced at £3 per can, you can pick yours up here.