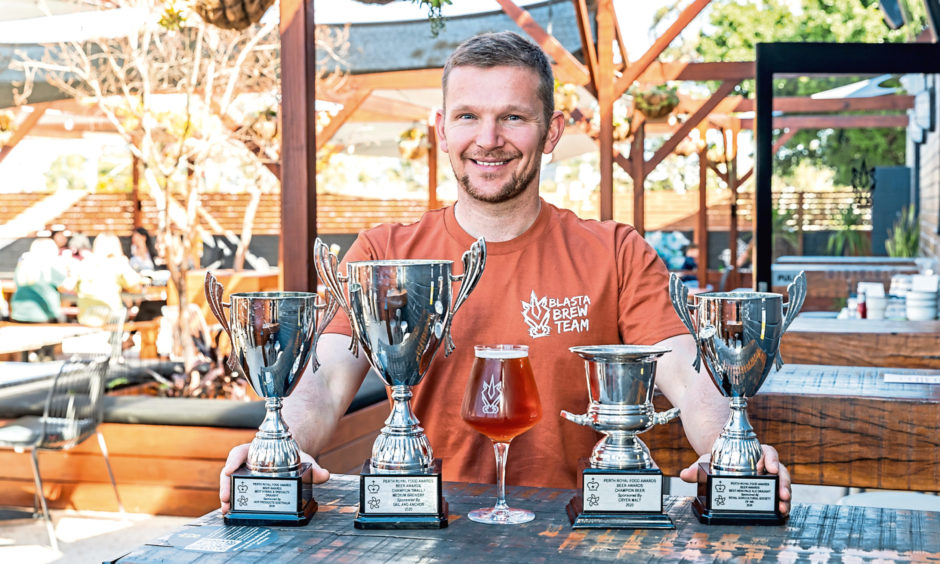 A Brechin brewer has come out on top Down Under.
Steve Russell turned his passion for brewing into a fast-growing business producing more than a million litres of drink every year and he has just lifted the biggest prize in the Australian beer industry.
His firm Blasta – Gaelic for "delicious" – won four major honours at the Perth Royal Beer Awards, including the overall Champion Beer, against 394 competitors from across the country.
The former oil and gas engineer has gone from making a few bottles of beer in his flat four years ago, to a capacity of almost 1.5 million litres every year.
He said: "It was a very, very welcome surprise. We've only been going for two years, and four years ago I was home-brewing with a kit my wife got me.
"We put in a huge amount of effort and I've had a lot of folk that say it's jammy but it's not – you're working till 4am researching and critiquing your own beer to make it better but if you really want your business to make it you have to take those steps."
Steve, 37, emigrated to Perth in 2007 where he lives with wife Katarzyna and children Logan, 10, Luana, 3, and Loui, 10 months.
As an industrial engineer and a keen amateur chef, Steve combined his passions to produce his own beers at home as a hobby, and then entered the amateur beer awards in 2017.
He said: "As an engineer I've always been used to procedural things and always loved cooking, researching and understanding every ingredient and for Christmas 2016 I asked my wife to buy me a brewing kit, and started to research different grains and hops and it all grew from there.
"As an amateur brewer I put a beer into a commercial competition and won the top IPA out of hundreds of others."
He added "We've entered many competitions and won gold medals but I'm always striving to get to the very top and we'd make adjustments and keep working on it – and we did it ourselves so I'm really, really chuffed."
Steve now runs the brewery and an award-winning gastropub in the Perth suburb of Burswood.
He said one of the secrets of his success is another Scottish import – special grain only farmed in the north-east of Scotland.
"Four of our award-winning beers use grain that only comes from the north-east of Scotland," said Steve.
"It's called Golden Promise grain, from Dundee, Arbroath, and as far up as Stonehaven."