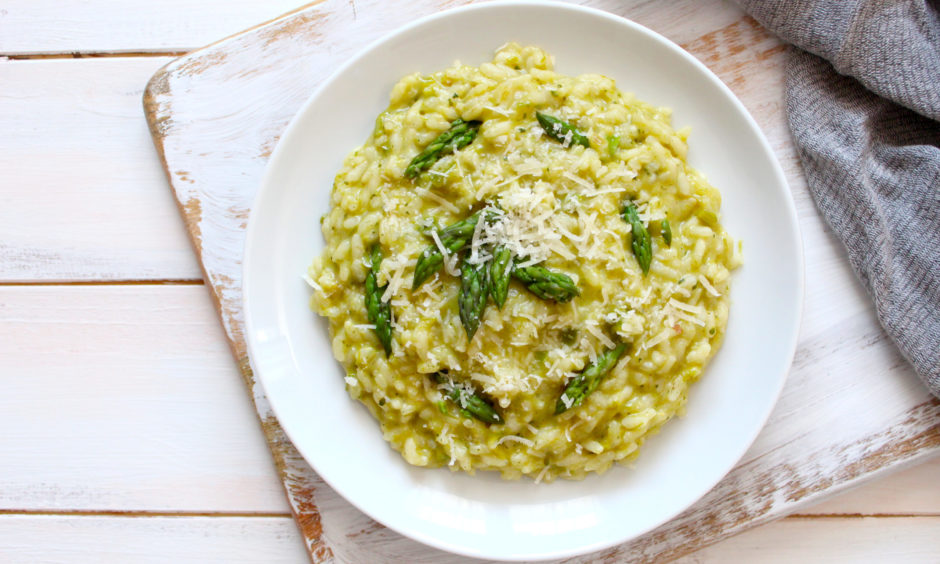 Graeme Pallister, chef proprietor of 63 Tay Street in Perth, reveals a passion for making – and eating – risotto.
There are various ingredients and dishes that never quite seem to get the kudos and adoration they deserve.
And, for me, one such dish is risotto. I constantly have this on the menu in the restaurant and I make it at home at least once a week.
I know it's a bit old school but there's a reason that some dishes survive the test of time.
I first made it 20 years ago under the watchful eye of my old mentor, Tony Heath, when I started in Let's Eat – and I think I can honestly say I've had it on every menu I've ever worked on since then.
The honest, simple, versatility is what makes it so wonderful. Four or five ingredients, and the perfect way to use up any scraps of meat or fish and ends of seasonal vegetables.
Yes, it ties you to the stove but sometimes that's no bad thing. You feel as though you've earned your meal when you dish up a risotto.
And what a meal! Glistening beads of rice, creamy with its own starch and heavy with the flavours of your chosen ingredients.
The trick is all in the time you're willing to put in – after that it's plain sailing!
Start with a base of four ingredients: onions, garlic and oil – and your risotto rice. You want to soften off your onion and garlic in your oil and then stir in your rice.
This is where you need to be patient! Stir that rice until it starts to crack a little and takes on a translucent quality – only then do I add a glass of white wine which I reduce before starting to slowly stir in the stock.
When it comes to stock, it needs to be boiling and added a ladleful at a time. Keep stirring remember! You want to reduce down each ladleful before the next one is added.
And keep that gas up full; I know there's a lot of boiling and sticking going on but now is not the time to lose your nerve. Be fearless!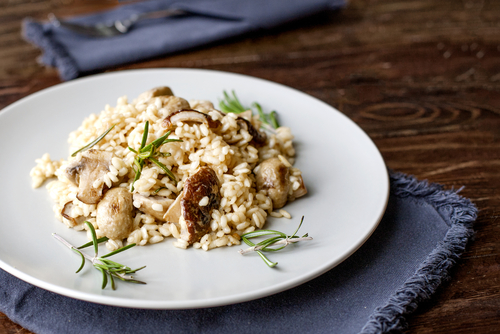 Once it gets to an al dente stage you can add your ingredients.
Like I said, this is a great dish for using up leftovers or scraps. There were 4.5 million tonnes of food waste in the UK last year which honestly breaks my heart.
So, into this pot you can stir ends of cheese, a lonely salmon fillet, a bit of chicken from the Sunday roast, half that courgette… you get the idea!
One of my favourite phrases at home is "Don't chuck that, I'll put it in a risotto!". My all-time favourite though is leek, cheddar and smoked haddock – I'll buy ingredients for that one!
Add a wee squeeze of lemon juice at the end, your favourite herbs and away you go.
Finally, never, ever – EVER – add cream. As my old mentor said, if you need cream, you're not working hard enough!
Chef's tip: If you're not eating it right away, stop before you add ingredients and spread quickly over a baking tray to cool things down. Once you're good to go, add back to the pot with a little hot stock and take it from there.
More in this series…
Chef's Table: The egg is a cracking present from Mother Nature
Chef's Table: Match whisky with the right dishes and you have yourself the food of the Gods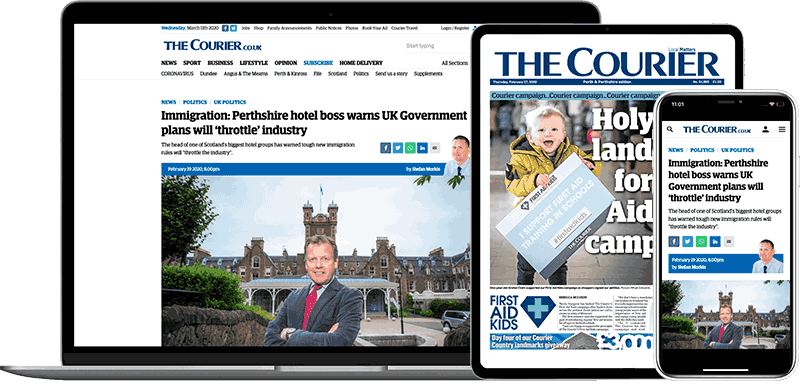 Help support quality local journalism … become a digital subscriber to The Courier
For as little as £5.99 a month you can access all of our content, including Premium articles.
Subscribe