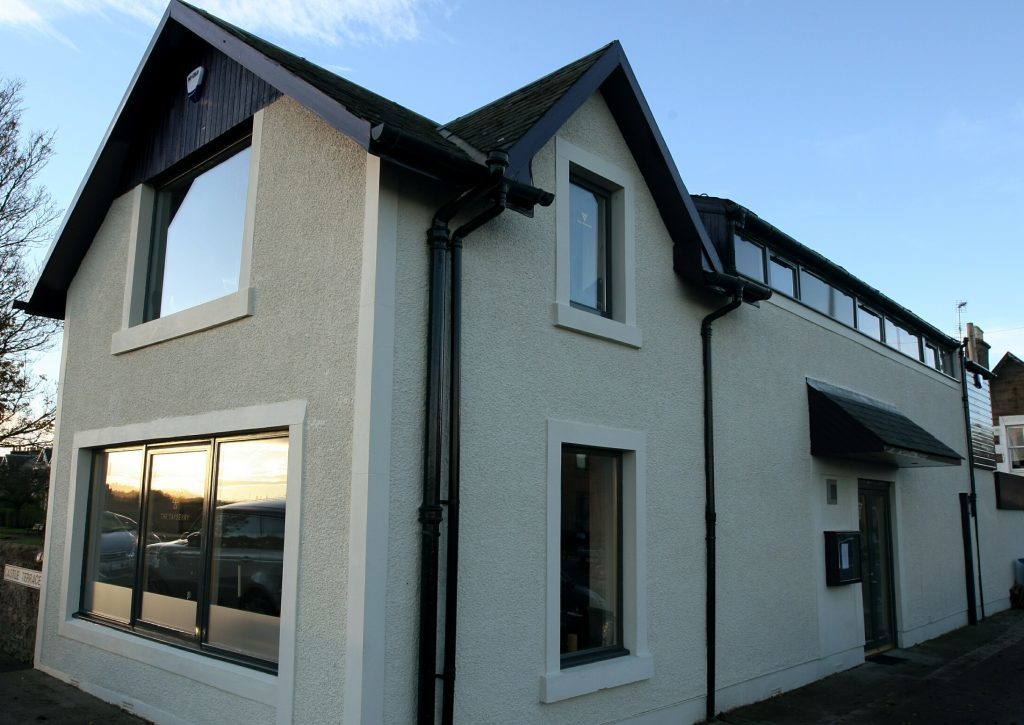 It was a tough job. Give up your night off to go and sample some of the finest cuts of beef cooked by multi-award-winning young chef Adam Newth at his Tayberry restaurant in Broughty Ferry.
Throw in some fine red wines and splendid company and the evening was complete.
I was prepared to take the hit on this one for the team.
The Tayberry has been open on the Esplanade since November 2015. It's a beautiful wee gem of a restaurant. Manager Jon gave me a quick tour before everyone else arrived. I've peched my way past on my bike on many an occasion but have never set foot inside. Everything has been beautifully finished and the views across to Tentsmuir from the upstairs dining area are magnificent.
Adam's reputation is growing by the day. He is a past Young Scottish Chef of the Year, Young Seafood Chef winner and the Tayberry has already been awarded two prestigious AA rosettes as well as being a Michelin-recommended eating place.
But a night of beef. There was only one man to consult. I tweeted bearded icon and fine professional golfer Andrew 'Beef' Johnston for advice. His love of the stuff is legendary.
"Sampling a seven-course beef tasting menu at Tayberry restaurant in Broughty Ferry tonight. Any advice, @BeefGolf?" I asked.
Back came the wise reply: "Lots of wine haha. Enjoy it mate"
This did, indeed, seem like sage-like wisdom which I folllowed…and enjoy it I did.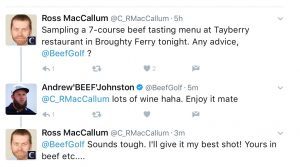 I returned from my tour with Jon to my table to be joined by my dining companions, Duncan and Jan McTaggart. Jan is, among other things, the co-owner of independent Broughty Ferry greengrocer shop Clementine and a grand fromage in the Broughty Ferry Traders Association.
We were there to enjoy a seven-course tasting menu showcasing the Tayberry's beef supplier Yorkes of Dundee. Adam is a great believer in using local produce and Yorkes, who are based in Dundee's Hilltown, fit the bill for his meat requirements.
Frank Yorke told us a little about their philosophy. They buy all their beef from marts at Forfar and Aberdeen. The best cuts are placed in their Himalayan salt brick chiller for as long as 100 days for maturation. The bricks, which are made of compressed salt and look almost like marble, suck out moisture and impurities from the beef.
Frank described it as "the best beef in Scotland."
It has a richer flavour, melt-in-the-mouth texture and, Frank told us with a twinkle in his eye, has even been known to improve libido.
I texted a warning to Mrs MacCallum. She immediately double-locked the doors.
After a chat about the fine wines selected for the evening, it was time for the grub!
We began with some delicious home-made bread, slathered in whipped spiced beef dripping. Laaarvly.
Then it was on to the beef!
To begin, crispy ox tongue fritter with a raisin and calvados purée. The flavours were intense, the crunchiness of the fritters beautifully offset by the richness of the purée. A fine start.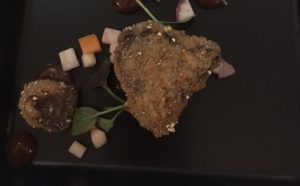 Duncan then volunteered the following shocking revelation: "My granny used to give me tongue." Talk about a conversation stopper. Jan and I advised counselling and swiftly moved on…
Our third course was classic steak tartare, truffle, quail egg and burnt leek dressing.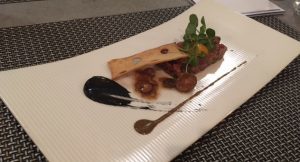 None of us at the table had ever had steak tartare and were slightly nervous about this one.
We had no need to be. I think it was the stand-out dish for all of us. Absolutely lick-the-plate scrumptious. The steak was melt in the mouth, beautifully complemented by the truffle and quail's egg. The dark, earthiness of the burnt leek dressing gave the tastebuds a real knockout blow. We all wanted to lick our plates.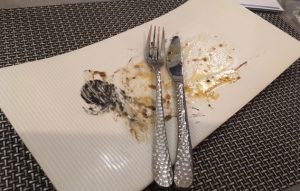 And it was on to course number four.
Slow cooked ox cheek ravioli, shallot jam, sage and roasted onion consommé. Another beautiful dish. The ravioli was a delight, but the real star of this one was the consommé. Adam had reduced it down to really concentrate the flavour and it packed a real punch. Another triumph.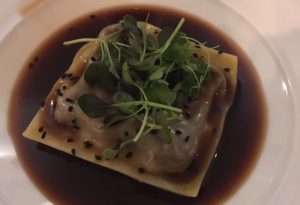 Number five. Himalayan salt aged steak and chips: polenta, foraged mushroom, pink pepper cream and confit tomato. A beautiful cut of beef, cooked to perfection and the sauce was a delight. Top marks again.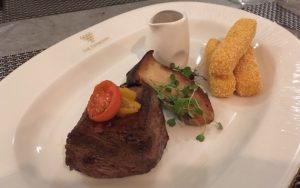 We were all beefed out! Time for some dessert.
To start, Tayberry's signature sorbet. Just what the doctor ordered after so much fine beef. The fresh flavours were a delight.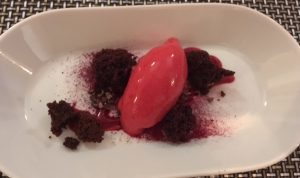 And finally, rhubarb crowdie mousse, lemon biscuit and rhubarb sorbet. A beautiful-looking plate of sweet delights and a perfect way to finish what had been a stunning evening of fine dining.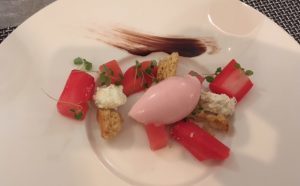 Adam came out after the eating was done for a chat with us all. He is only 26 but a chef definitely on the up. A regular now on TV, he is busy with two new ventures: in Angus, his Kinnettles Hotel at the castle near Forfar is due to open in the spring and work is proceeding apace on his new restaurant in St Andrews, which is due to open its doors next month.
It's all go. And if he produces food at Forfar and St Andrews like we tasted in Broughty Ferry, customers will be beating a path to the doors of all three establishments.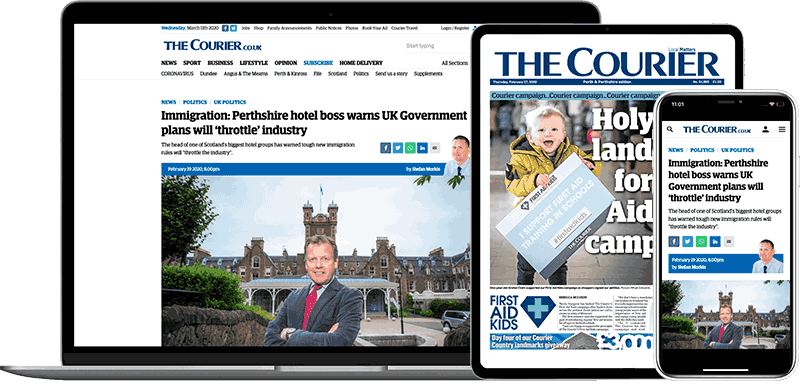 Help support quality local journalism … become a digital subscriber to The Courier
For as little as £5.99 a month you can access all of our content, including Premium articles.
Subscribe