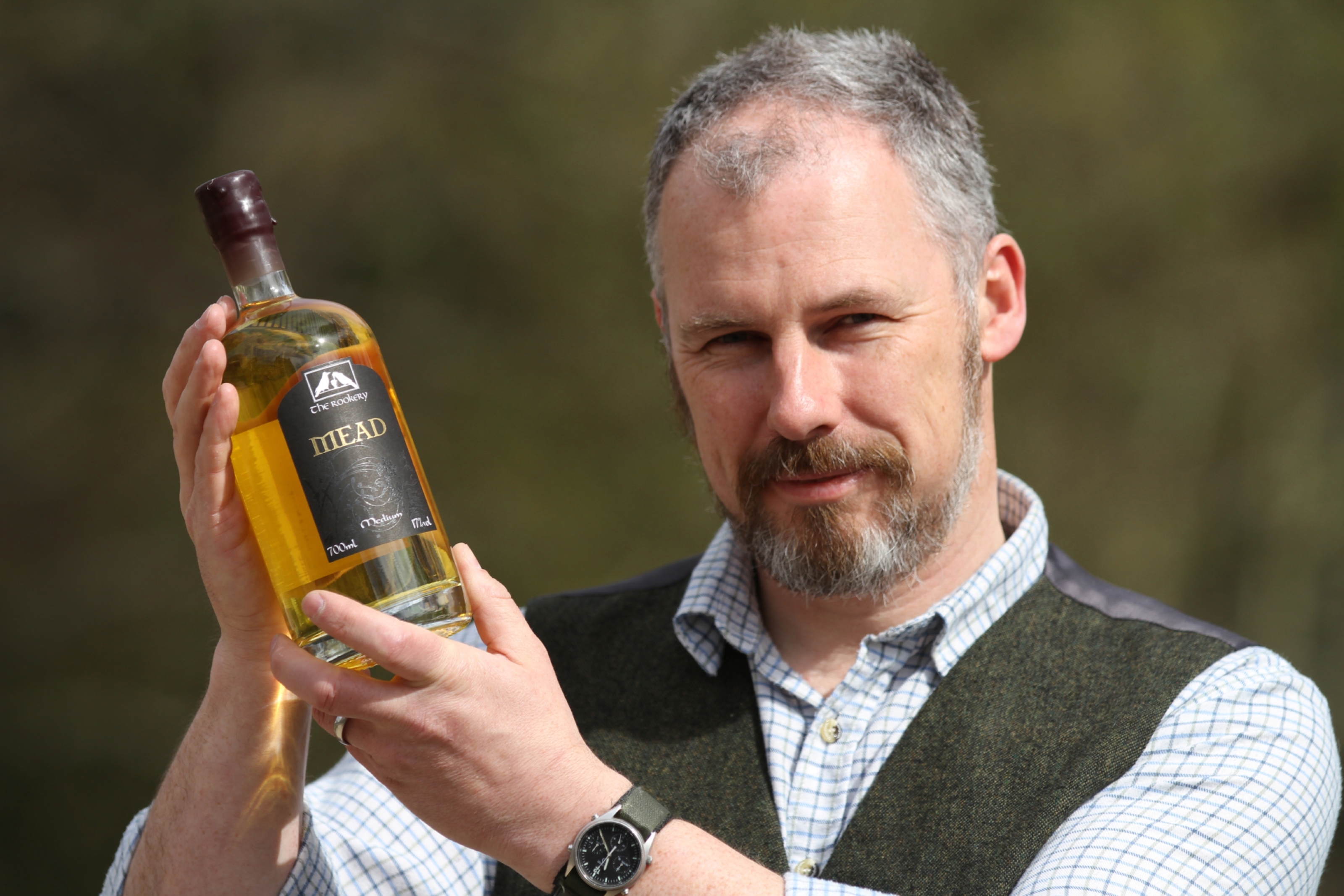 An ancient marriage of fermented honey and water, mead offers a warm, golden buzz. Gayle Ritchie meets mead maker Christopher Mullin of The Rookery in Blairgowrie
Brewing up mead in his halls of residence at Aberdeen University, it's no surprise that Christopher Mullin was hugely popular among his fellow students.
His fascination with the alcoholic drink developed as he delved deep into the history of Gaelic, and he enjoyed many hours getting merry with his pals in a bid to brew the perfect mead.
"It was a big part of the pre-Christian Celtic story and it's likely to be the oldest alcoholic drink in the world, with archaeological evidence suggesting mead production in Western Turkey in 45,000 BCE," says Christopher, 42.
"It was the predominant drink until hops came along in the 1600s, meaning that beer tasted nicer, lasted longer and cost less."
After university, Christopher joined the army and his work in the Intelligence Corps took him all over the world until he left in 2014.
It was then that he had an epiphany moment.
"Mead had been a hobby for 20 years and even at uni, I knew it was good enough to sell," he recalls.
"I started hatching plans, talked to home brewers and potential stockists, bought a house in Kirkmichael and set up a micro-brewery which made mead."
The venture – The Rookery – was largely self-financed but Christopher also got some help from an ex-military fund, Business Gateway and GrowBiz.
He brewed in a derelict stables at Enochdhu for 18 months until he found his own premises in an old flour factory in Blairgowrie.
So how on earth does he make his craft mead?
"It's very simple – I pour honey, sourced from Meigle and Enochdhu, into a barrel, top it up with water and add a little yeast.
"Traditional mead takes about three months to make – about six weeks of fermenting and then a few weeks to settle. I filter and bottle it all myself."
There's no machinery, no added sugar or syrup, and everything is done by taste, sound, sight and smell.
"People ask me where the automated mixer is but I've literally just got a stick!"
As well as traditional mead, Christopher also makes flavoured versions of the drink, using hand-foraged – and never artificial – ingredients.
Flavours include spruce, wild cherry, mint, crab apple, rowan berry, dog rose, meadowsweet, and coming soon, wild raspberry.
According to Christopher, one of the best things about mead is that it doesn't give you a hangover.
"Mead is alcohol brewed from honey; at least 50% of the alcohol comes from the honey," he explains.
"Honey is anti-bacterial and its sterile nature means it has no chemicals, so you can wake up hangover-free!"
While there's no disputing the product tastes fabulous, it also looks amazing, with its robust, curvaceous bottle and label featuring two ravens, designed by Christopher's wife Claire.
"It's a link to the mythological story of mead, plus we live opposite an old church full of jackdaws," beams Christopher.
Right now, his mead retails in selected farm shops and delis across the UK and he's on the hunt for new stockists.
And there are exciting plans for the future which include building a mead hall to host medieval banquets!
He's also trying to educate people on what mead actually is.
"Loads of people come up to me at farmers' markets and say they have no idea what mead is, or they ask if it's a whisky.
"It's mostly a luxury impulse buy and a big percentage of buyers are first-time customers and that's one of my biggest challenges."
In terms of production, it's very sporadic at The Rookery, with 2016 yielding 3,000 litres of mead – 4,500 bottles.
For mead virgins, Christopher says the best way to enjoy the golden nectar is after dinner, although he enjoys his with food.
"You can also cook with it or use it as an ice cream pouring sauce," he says.
info
For more details, see www.rookery.scot