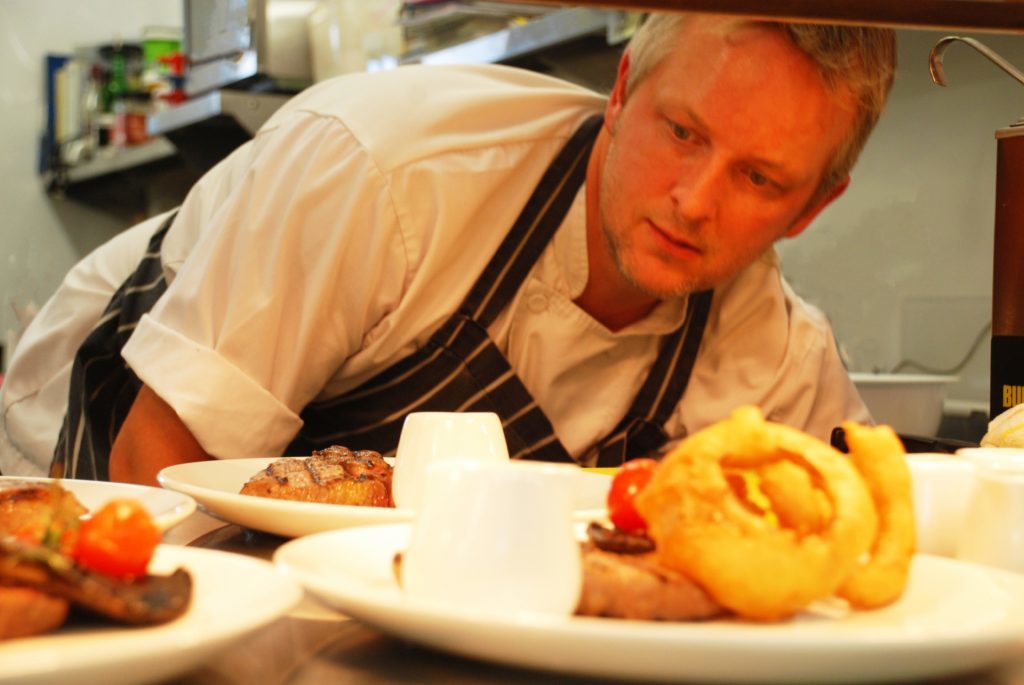 Since Jack Marsh started working at Meikleour Arms, he's been able to fulfill his dream of living in the countryside and embarking on a new challenge. He tells Gayle Ritchie what excites him…
After leaving school, Jack Marsh had an epiphany – he wanted to do something related to art.
"Creating dishes, blending flavours and textures is not dissimilar to painting a canvas – that's where it first began," says the 40-year-old.
Other members of Jack's family are chefs and growing up, he enjoyed helping his mum make bread.
"I was fascinated by the chemistry behind it and how the weather could influence the process," he recalls.
"On a rainy day the dough would behave differently."
Jack's mum's cooking methods – including the habit of never using measuring implements – also proved an inspiration.
"She would say, 'use your senses and your common sense' and I often hear myself telling just that to my team," he says.
After achieving a diploma in professional cookery, Jack worked in various establishments across North America, Europe and New Zealand, and for the past 10 years, he's been focussing on classic French cuisine.
The fact Meikleour estate in Perthshire has almost 300 years of Franco Scottish heritage and prides itself on its French puddings (creme brulee, eclairs, Crepe Suzette) was a big draw when he took on the role of head chef in March.
He also loves the fact the Meikleour Arms has been around for 200 years and oozes charm.
"It's such a sweet building and has a true country pub feel," he says.
"The estate gave it a new lease of life last winter by adding six new bedrooms and creating an additional dining room by renovating a beautiful stone barn.
"The new kitchen is huge! It felt too big to start with but on busy nights, it makes all the difference."
All ingredients used in Jack's cooking are sourced locally, with the estate farm producing mainstream vegetables and the head gardener growing "more interesting" things like Jerusalem artichokes, edible flowers and vintage varieties of salads and berries.
With venison, it is very much field to plate with the deer stalker providing beautiful meat, and sometimes pigeons.
"We're very lucky to be part of a working estate," says Jack.
"But despite owning a prolific beat on the River Tay, we never have Atlantic salmon on the menu: it's illegal to sell river caught salmon in Scotland and farmed salmon is an absolute no-no for our owner Claire Mercer Nairne.
"However we more often than not have local loch trout on our menu, some of it caught by the estate ghillies or friends and local anglers.
"For seafood and especially scallops we have a great relationship with small producers on the West Coast. The ice creams come from a dairy down the road."
In terms of specialities, Jack says the Meikleour Black Pudding Scotch Egg is a bit of an institution – and a well-kept secret.
The scampi is also very popular, the batter made with Meikleour's very own ale.
Another treat on the menu includes the "slumber-inducing" Clootie Dumpling!
When it comes to planning recipes, Jack sits down with owners Claire and Sam and brainstorms ideas.
"We love revisiting childhood favourites. Our prawn and crayfish cocktail is a best seller, with lovely freshly whisked mayonnaise, home made ketchup, succulent West Coast seafood, a pinch of cayenne pepper and crispy fresh lettuce.
"And our Crepes Suzette and local trout with almonds are always winners.
"We're not a fashionable place; we serve good traditional food and focus on quality ingredients.
"For summer we'll be working on big salads incorporating venison or seafood and charcuterie platters.
"The berry season will be soon in full swing: gooseberries, blackcurrants, Tayberries and then brambles.
"We make our own chutneys, jam and coulis so we'll be canning and preserving too."
While many of us moan about the prospect of a rainy summer, Jack says it's not all bad news – "That means chanterelles will start to appear in July and they make the most wonderful soup and pasta dishes."
When working on new menus, the team always have the wine list in mind.
"Sam and Claire are wine enthusiasts, and with Claire brought up in the Bordeaux wine region we have great contacts with producers," explains Jack.
"We have our very own house claret 'Le Nid du Heron' (the heron nest), the heron being the heraldic symbol of Meikleour estate.
"Burgundy and South Africa are also well featured and being a Yorkshire lad I enjoy the Lure of Meikleour ale."
So what is Meikleour's USP according to Jack?
"The combination of simple good food within the grounds of a traditional Perthshire country estate in the heart of a conservation village make us a unique destination place," he muses.
"Visitors love the history behind Meikleour, the old photos, the Jacobite and the Napoleonic paraphernalia.
"I love that we are a place for everybody: the locals, the young couple on a weekend break, the large family for a Sunday roast treat, the tradesman for a soup and sandwich, the posh angler in smart tweeds, the dog walkers and the ladies who lunch."
For more information, see www.meikleourarms.co.uk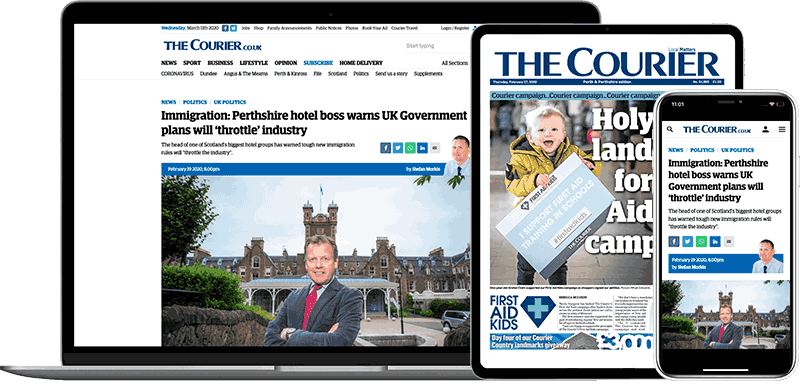 Help support quality local journalism … become a digital subscriber to The Courier
For as little as £5.99 a month you can access all of our content, including Premium articles.
Subscribe