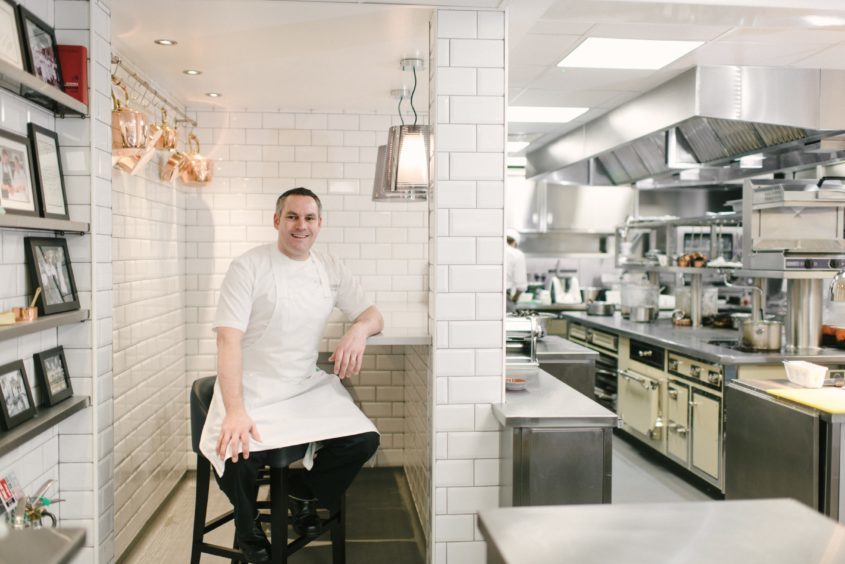 Chef Dominic Jack tells Caroline Lindsay why he loves all the seasons equally
Q Desert island food?
A A whole BBQ seabass. It is a truly beautiful fish to enjoy whilst sitting on the beach.
Q Favourite TV chef?
A Tom Kitchin – a great friend and my business partner. We trained together at the beginning of our careers.
Q Favourite cook book?
A Larousse Gastronomique which is a great book to reference for classic dishes and techniques. It's an encyclopaedia of gastronomy.
Q Favourite ingredient?
A I don't have a specific favourite ingredient. It really depends on the season, the dish and my mood, I guess!
Q Most hated ingredient?
A Unnecessary garnishes which don't add anything to the dish.
Q Perfect dinner guest?
A Francine and my two boys Oscar and Ruben.
Q Favourite kitchen gadget?
A My pasta machine for sure. I couldn't live without it and I use it every morning in my kitchen at Castle Terrace.
Q Favourite music to cook to?
A Edith Piaf. I find her music very relaxing and calming to listen to.
Q Perfect menu?
A I don't have a 'perfect menu'. To me it's just great when a menu uses local and seasonal produce.
Q Favourite country for food?
A France has an amazing variety of fresh produce which is available at their daily local markets. I love to be able to go to the market and pick up some fresh bread, pastries, meat and cheese.
Q Favourite chef, alive or dead?
A Alain Soliveres. I trained with him for eight years and he taught me a great deal about food and gastronomy. I respect him greatly.
Q Favourite culinary season?
A All seasons are exciting as you get the variety of different produce. Springtime is great for fresh greens like asparagus and peas, summer for the delicious Scottish berries and autumn and winter bring the game season.
Q Salt or pepper?
A Salt as it brings out the flavour in a dish.
Q Favourite herb and why?
A Savory which is very hard to source in Scotland so I grow my own. It has a very unique flavour.
Q Favourite spice and why?
A I use a lot of curry powder in my cooking as I find it can be very versatile. One of my classic dishes at Castle Terrace is the hand-dived scallops with a curry sauce. It's become a really popular dish with our diners so I struggle to take it off the menu.
Q Favourite way to cook the humble potato?
A It depends on the season, the weather and the dish, but I always enjoy sautéed potatoes especially with a Sunday roast.
Q Favourite go-to recipe if you're in a hurry?
A Pasta with a simple homemade sauce.
Q Favourite naughty nibble?
A Chinese spare ribs.
Q Favourite health food?
A Green tea which I drink every morning.
Q Ideal picnic dish?
A You can't beat tasty homemade sandwiches and a hard boiled egg.
Q Ideal BBQ food?
A I really enjoy BBQ lamb shoulder.
Q Are you critical of the food when you're dining out?
A Of course, food is my life.
Q Do you tip in restaurants?
A Yes always.
Q Top tip for failsafe cooking?
A Taste taste taste!
Q Worst cooking sin in your opinion?
A Not tasting your food as you cook.
Stuffed saddle of Inverurie lamb with fennel
Ingredients
Serves 4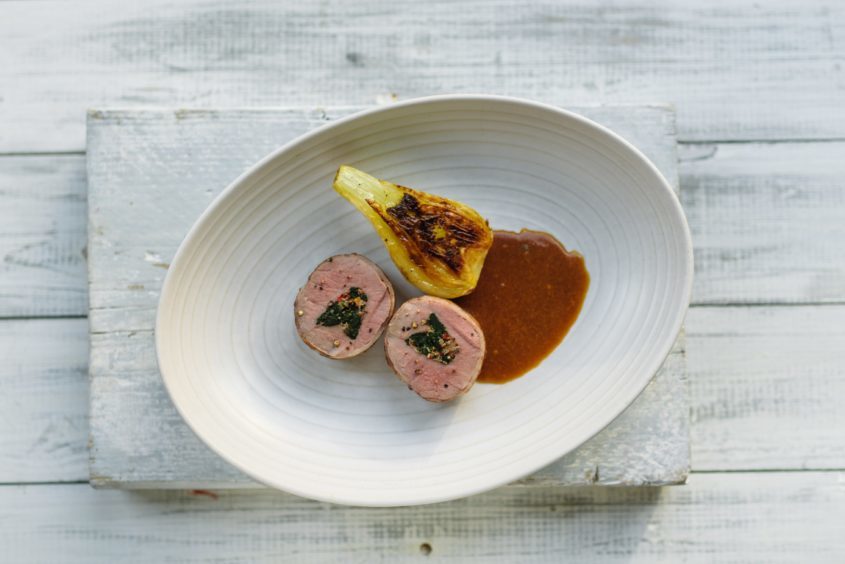 For the lamb farce (stuffing): 1 whole lamb kidney
500g spinach
1 clove of garlic
1 shallot, finely chopped
For the lamb: 1 short saddle of lamb, off the bone including the under fillet
Caul fat (fat netting)
1 metre of butcher's string
For the fennel: 2 fennel
Directions
For the lamb farce: cut the kidney in half removing the white nerve and finely chop. Sauté the spinach until cooked.
Once sautéed, place into a sieve and press to remove any excess liquid.
Gently sauté the shallot and kidney together, then grate 1 clove of garlic into the pan.
Mix together with the spinach and season to taste.
Put to one side to cool.
For the lamb: carefully remove the meat from the fat, making sure to keep the fat whole. Trim off any sinew from the meat.
Make an incision on the larger side of the lamb 2/3in deep. Neatly place the lamb farce inside.
Place the lamb fillet next to the lamb farce, making sure that there is meat going all the way around the filling.
Take a mallet and flatten the lamb fat then roll around the lamb meat, just slightly overlapping.
Tightly wrap in clingfilm and leave to set in the fridge for approximately 1 hour. Remove the clingfilm and wrap the caul fat around the lamb twice. Secure both ends of the lamb with string.
Pan fry, making sure all sides are golden brown.
Place in a pre-heated oven at 180C for 10 minutes turning halfway. Take out of the oven and allow to rest for a further 10 minutes. Remove the string and carve
For the fennel: cut two fennel in half. Blanch in boiling salted water until cooked. Remove from the water and dry pan fry until golden brown.