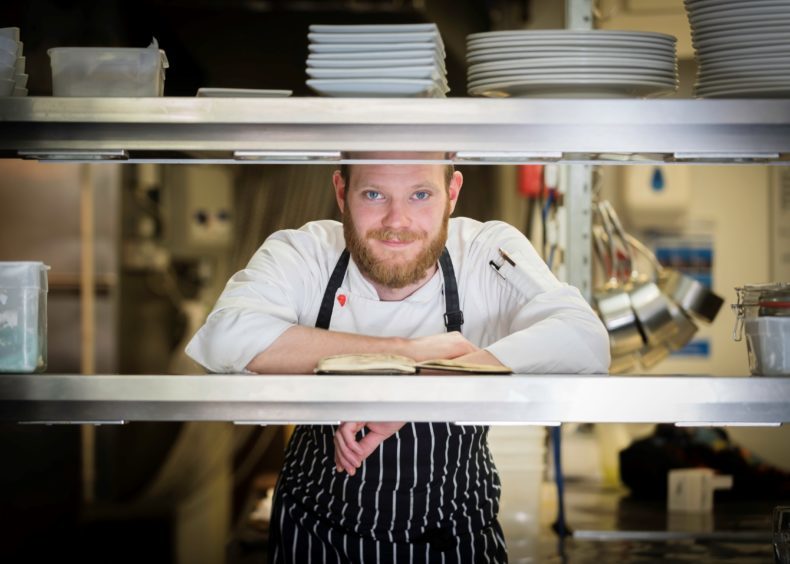 Duncan McLachlan, head chef and director of Playfair's Restaurant in St Andrews, always has time for thyme, discovers Caroline Lindsay
Q Desert island food?
A Any form of bacon, preferably smoked and in a buttery bap! I always crave this the most whenever I've been away.
Q Favourite TV chef?
A Would have to be Hugh Fearnley-Whittingstall. I absolutely love the River Cottage series and his dedication to sustainability and seasonality.
Q Favourite cook book?
A It's not really a cook book, but rather a cook's book. Kitchen Confidential by Anthony Bourdain, an absolute inspiration.
Q Favourite ingredient?
A Scottish seafood as I believe it's some of the best in the world. A broad term I know as we are spoiled here but I'd have to say especially king scallops.
Q Most hated ingredient?
A Fish roe…not for me
Q Perfect dinner guest?
A Donald Trump as I have a few questions I'd like to ask
Q Favourite kitchen gadget?
A I'm not a huge fan of gadgets but I'd have to say Japanese whet stones for sharpening. Traditional but once you learn how to use them effectively, they are invaluable.
Q Favourite music to cook to?
A I like to play what the mood dictates, I always find favourite music questions hard to answer as it is subjective. It is hard to beat some good reggae music to lift the spirits!
Q Perfect menu?
A Whatever my mum is cooking!
Q Favourite country for food?
A I love San Francisco as there is just so many different authentic cuisines you have on your doorstep. If I had to choose a county however it would need to be Italy, bread and pasta are the best!
Q Favourite chef, alive or dead?
A Good old Ramsay! Not the Hollywood version, but a younger more ruthless version!
Q Favourite culinary season?
A It would need to be late spring into summer. The larder available to us in Scotland over these months is incredible.
Q Salt or pepper?
A Salt, hands down. Pepper has its place though.
Q Favourite herb?
A I've got a new found love for dill at the moment, seems to marry well with so many other ingredients/ dishes. My favourite all-rounder though is good old thyme.
Q Favourite spice?
A Smoked paprika. Smoky and sweet flavour, I could put it in almost anything, I love it!
Q Favourite way to cook the humble potato?
A If it's a good quality potato then simply boiled but on the underdone side. Nothing worse than an overboiled tattie, I like to taste my potato! Oh and with lashings of butter!
Q Favourite go-to recipe if you're in a hurry?
A Mince and tatties.
Q Favourite naughty nibble?
A A Wispa chocolate bar. Shhhhh…
Q Favourite health food?
A Banana.
Q Ideal picnic dish?
A Beer…no wait, I mean potato salad.
Q Ideal BBQ food?
A Spatchcock chicken or ribs.
Q Are you critical of the food when you're dining out?
A Yes and no. I like to enjoy my meal with the company I'm with. If I'm critical of something, I won't let it ruin my evening and tend to keep it to myself!
Q Do you tip in restaurants?
A Absolutely. Probably over-generous at times!
Q Top tip for failsafe cooking?
A Read the recipe but don't be a prisoner to it! Use your experience and have fun.
Q Worst cooking sin in your opinion?
A Using bad ingredients. You get what you pay for.
Cullen skink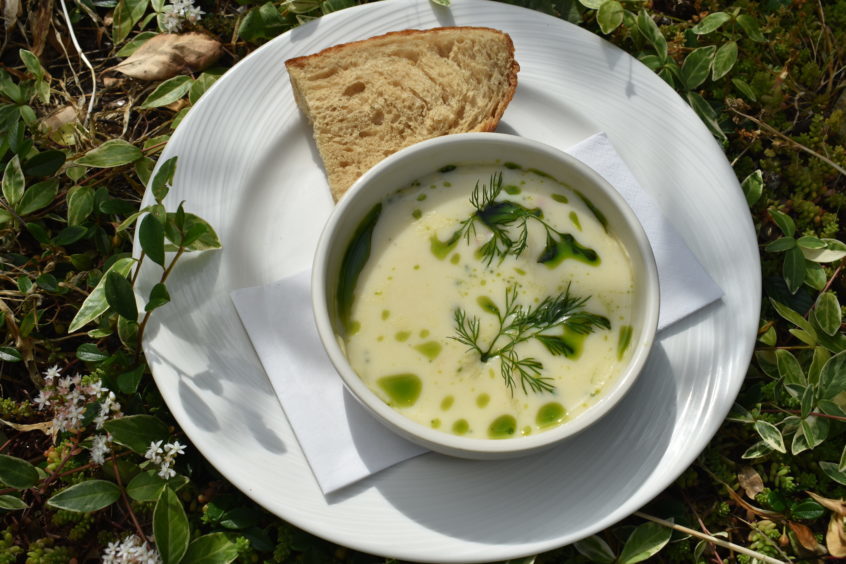 Ingredients
Serves
500ml of whole milk
470g of undyed smoked haddock
2 garlic cloves
10g fresh thyme
2 large white potatoes
25g butter
1 large white onion, diced
100ml of white wine
500ml of chicken stock
90ml of double cream
1 tsp dijon mustard
1 lemon
Salt
1 handful parsley leaves
1 handful chives
directions
Pour the milk into a pan and add the haddock, garlic and fresh thyme. Place over a medium heat and bring to a gentle simmer. Remove from heat and allow to infuse and finish cooking. Once poached, remove the haddock (it should be opaque) and set aside to keep warm – reserve the milk and haddock separately. Discard garlic cloves and thyme sprigs.
Sauté the potato cubes in a pan with a knob of butter. Add the onion and cook until both the potato and onion are soft
Cover with the chicken stock, white wine, double cream and reserved milk, bring to the boil and allow to simmer for 10 minutes. Season the soup with salt, pepper and mustard
to taste.
Blitz the soup in a blender and then pass through a sieve.
Remove the skin from the fish and flake into large chunks. Season with lemon juice and salt
Lay some, but not all, of the fish flakes into the bowl. Pour the soup on top and finish with the rest of the fish. Sprinkle chopped chives and parsley leaves on top and serve immediately with crusty bread.