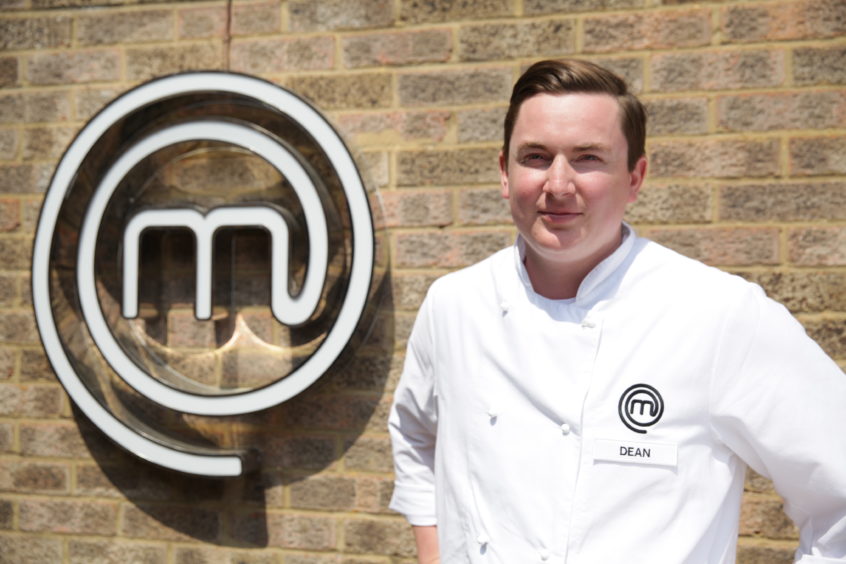 Give Dean Banks – who recently reached the finals of MasterChef: the Professionals – an Arbroath smokie and his nana's banoffee pie and he's a happy man, discovers Caroline Lindsay
Q Desert island food?
A Potatoes – well, after all, I will be on a desert island so plenty of fish to cook up for fish and chips.
Q Favourite TV chef?
A Rick Stein – I trained with him at his flagship in Padstow and he has been the biggest influence as a chef. He travels and cooks and I travel and cook because of him.
Q Favourite cook book?
A Rick Stein's French Odyssey – when I find myself looking for inspiration, this is my go-to book from the master of seafood himself. This book and its recipes are classics.
Q Favourite ingredient?
A The Arbroath Smokie: hands down, this fish has the most delicate and delicious taste. Spain has its Ibérico ham, Italy has its truffles and Scotland has its Smokies.
Q Most hated ingredient?
A To be honest, I've travelled quite a lot and so far not found an ingredient that I hate.
Q Perfect dinner guest?
A Keith Floyd – Keith ate and drank his way around the world. I'm more than certain he would have so many amazing stories to share. We could enjoy a bottle or three of wine into the early hours of the evening sharing stories.
Q Favourite kitchen gadget?
A Hand blender – they are so useful at home or in professional kitchens. If you walked into a Michelin-star kitchen I guarantee there is one being used. From emulsifying vinaigrettes, aerating or blending soups, making pesto or salsa verde, the list is endless.
Q Favourite music to cook to?
A Indie folk would be the genre, I love a song that you can sing along to. Mumford & Sons' new album Delta was my last listen whilst cooking.
Q Perfect menu?
A Billy Boyter's Arbroath Smokie dish from another Desert Island Q&A would be my starter. Main course – line-caught seabass, crushed potatoes, crab and tomato beurre blanc. Dessert – a large helping of my nana's banoffee pie.
Q Favourite country for food?
A United Kingdom – the UK is an island after all and the seafood we have here is the best in the world, from the cold North Sea to the Cornish coastline. (Can the UK be my desert island?)
Q Favourite chef, alive or dead?
A Rick Stein. He has been the biggest influence in my ethos and style of cooking. Plus he is such a gentlemen.
Q Favourite culinary season?
A Summer – it has to be summer because it usually means calmer seas for our fishermen so they can fish in safer conditions, which in turn means more and cheaper seafood for us.
Q Salt or pepper?
A Salt – I think people have become confused about what seasoning means. Salt seasons food whereas pepper is a spice and adds a new flavour. Don't get me wrong, pepper has its place in the kitchen but just not on my seasoning tray.
Q Favourite herb?
A Coriander – it's a herb that packs a punch of flavour and I've found it to be the most commonly-used herb around the world, From Asian cooking, south American, Mediterranean, Middle Eastern and African, it's one that is welcome is all cuisines.
Q Favourite spice?
A Chilli – I love dry chilli flakes, I sprinkle them on my eggs in the morning, add them to casseroles, salads, curries and pasta dishes. The chilli is another ingredient widely used all over the world.
Q Favourite way to cook the humble potato?
A I think it would be an offence to the British public if it wasn't the humble chip.
Q Favourite go-to recipe if you're in a hurry?
A Tomato and chilli linguine – use your trusty hand blender and blend some fresh tomatoes in a jug, add to linguine cooked al dente, along with a sprinkle of chilli flakes. Job done. Tastes like you're sat on a sandy beach in Tuscany.
Q Favourite health food?
A Fish – wild fish is full of omega 3 and many other amazing things for your body, plus it tastes amazing.
Q Ideal picnic dish?
A Pate with crusty bread and, of course, a glass of chilled wine.
Q Ideal BBQ food?
A I love getting a whole fish such as a sea bream, stuffing it with fresh ginger, chilli, garlic and spring onion, then barbecuing it in some tin foil. Once it's cooked, season it with soy sauce and lime juice. It's a crowd pleaser and just tastes amazing!
Q Are you critical of the food when you're dining out?
A If I am dining in a restaurant that has awards then yes, I will judge everything, from the way my glass of wine is topped up to what's on the table and why. If it's more casual I don't bat an eyelid as I'm there to enjoy the time with my friends or family. If a friend cooks for me, I am always thankful as I understand the effort that goes into it. I may give them a friendly tip the next day if they really messed something up. But after all, what are friends for if we can't help each other?
Q Do you tip in restaurants?
A I always tip, I know how long and hard the staff work. If I'm very pleased I will always tip over 20%.
Q Top tip for failsafe cooking?
A Keep it simple, don't over-complicate food and remember salt is that godly ingredient that, when used correctly, enhances whatever you're cooking.
Q Worst cooking sin in your opinion?
A Pre-packed hollandaise sauce. I've seen it so many times when I have gone for brunch and have been excited for some beautiful hollandaise and it comes out like a thin custard! Yuck! If your chefs can't make it then just don't have it on your menu, please.
Crab linguine
Ingredients
Serves 4
8 vine tomatoes
80ml extra virgin olive oil
2 white onions finely diced
3 garlic cloves finely grated
1tsp dry chipotle chilli flakes
Pinch salt
1tsp sugar
1tbsp balsamic vinegar
200g dry linguine pasta
200g fresh white crab meat
Handful of chopped coriander
Handful of chopped basil
1 lemon for juice
Drizzle of olive oil for serving
Directions
Place a medium pot of water on the stove to boil. Meanwhile lightly score and remove the eyes of the tomatoes. Place into boiling water and leave for 10 seconds or until skin starts to peel off. Strain and refresh in ice water. Cut into quarters and place into jug blender and blend until smooth. (Alternately place into a jug and blend until smooth with a stick blender. )
Place a large deep frying pan on a medium heat. Once hot add the olive oil, onions, garlic, chilli and a large pinch of salt, sweat slowy until onion is soft. (If your onion starts to brown add a tbsp or 2 of water. ) Add the blended tomatoes, sugar and balsamic and reduce by half on high heat.
Cook pasta using instructions on packet.
Add 1/2 the crab, coriander and basil to the sauce and stir well. Before straining pasta add 1 ladle of the pasta water the sauce. Add in the strained pasta and mix well. Check for seasoning. You may need a little more salt or sugar depending on your tomatoes. Divide into 4 bowls, divide the remaing crab into 4 and neatly sit on top of pasta. Generously squeeze lemon juice over the crab and a drizzle of olive oil.  Serve.
@chefdeanbanks (Instagram)