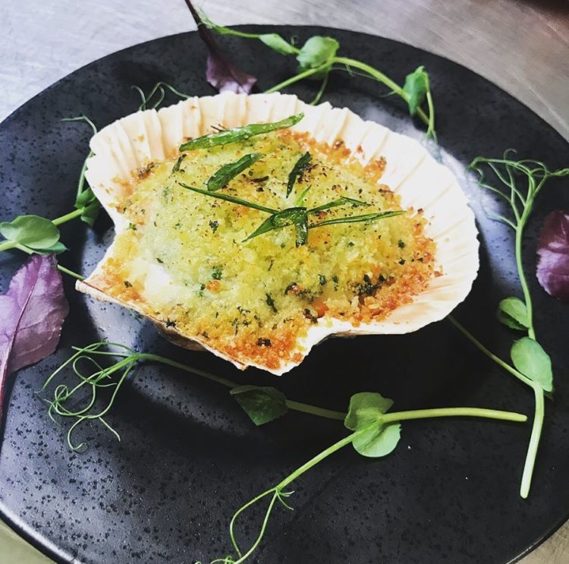 Craig MacFarlane, head chef at The Roost in Bridge of Earn, tells Caroline Lindsay why Italy is his favourite holiday destination
Q Desert island food?
A This is a hard decision but I would have to go for my ultimate favourite dish of fresh pasta, freshly picked tomatoes, lots of garlic, white wine, parsley and mussels. A holiday in Italy inspired this dish and I have recreated it many times since. Very simple but very tasty!
Q Favourite TV chef?
A Gordon Ramsay. His programme Hell's Kitchen is really funny and entertaining but at the same time interesting from a chef's point of view as it shows what life in the kitchen can be like.
Q Favourite cookbook?
A I have lots of cookbooks but my current favourite is Salt, Fat, Acid, Heat by Samin Nosrat. This book fascinates me as it explains the science behind cooking and why each of these four elements is so important to creating a delicious dish. This would be a great book for any home-cooks wanting to learn the basics.
Q Favourite ingredient?
A Without a doubt garlic (luckily my girlfriend doesn't seem to mind). It can sometimes be quite harsh when eaten raw, so I usually roast it to bring out its natural sweetness.
Q Most hated ingredient?
A Truffle oil. I'm not keen on the taste and I think it's being overused in dishes where it doesn't belong,like macaroni cheese or chips.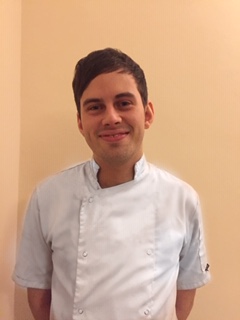 Q Perfect dinner guest?
A My mum. My mum brought me up to enjoy cooking and try new food from a young age. She definitely inspired my passion for food, for which I am very grateful. So to cook for her now, and for her to enjoy it, brings me joy.
Q Favourite kitchen gadget?
A At home, I use a small blitzer a lot. It is great for making sauces such as chimichurri and salsa verde – two sauces I love.
Q Favourite music to cook to?
A When cooking at home I have my rock playlist on full blast. I love The Rolling Stones, AC/DC and Thin Lizzy.
Q Perfect menu?
A When eating out, I like to pick from a menu that uses seasonal ingredients. One of my favourite starters is pan fried Orkney scallops with sautéed peas, garlic, pancetta and asparagus. For main, marinated grilled beef with a big pot of chimichurri and lotsof vegetables. I'd skip dessert.
Q Favourite country for food?
A It has to be Italy. When on holiday there I tried some of the most delicious food.
Q Favourite chef alive or dead?
A Marco Pierre White. He is a very inspirational and highly accredited chef. I look up to him as a young chef and can only hope to reach a similar level of success.
Q Favourite culinary season?
A I'm a big believer in using produce that is bang in season. My favourite season is spring as I love fresh spring lamb, asparagus and peas.
Q Salt or pepper?
A Salt. I personally think that salt enhances pre-existing flavours, whereas pepper introduces a new flavour altogether. It's amazing how one pinch of salt can take a dish from being 'good' to 'amazing'.
Q Favourite herb?
A  My favourite herb is thyme. It can be used on almost any meat, fish or vegetable dish and gives a great aromatic flavour.
Q Favourite spice?
A A good quality smoked paprika. I prefer the sweet one rather than the spicy one. It packs a punch.
Q Favourite way to cook the humble potato?
A Peeled, halved, boiled in salted water then roasted in the oven with duck fat, butter, garlic and thyme. The perfect roasties!
Q Favourite go to recipe if you're in a hurry?
A I love to cook fish en-papiotte. It's so quick and easy to make. I usually use cod or hake with lots of herbs, lardons, lemon and olive oil. This all gets wrapped in grease-proof paper and baked for 6-8 minutes, depending on the size of the fillet of fish.
Q Favourite naughty nibble?
A Chocolate Viennese biscuits. I can quite easily get carried away and eat the whole box.
Q Favourite health food?
A I love to eat vegetables and salads. These should be just as important as the meat of any dish. At The Roost we like to grill our vegetables in the charcoal oven to give a nice smokey flavour.
Q Ideal picnic dish?
A When I was young my mum used to always buy a big sourdough loaf, cut a hole in the top and scoop out 70% of the bread. Then she'd fill it with layers of grilled courgettes, peppers, red onion, sundried tomatoes, prosciutto, basil and mozzarella. It was amazing and always a crowd pleaser at picnics.
Q Ideal BBQ food?
A First of all, I think using natural charcoal wood is a must. Some of the charcoal available in shops is full of chemicals. I like to drizzle olive oil, salt and pepper over steaks and vegetables and cook until charred.
Q Are you critical of food when dining out?
A I am critical in my own head but tend not to voice my opinion unless it's inedible. I always give credit when it's due and let staff know if it was a great meal.
Q Do you tip in restaurants?
A Yes, always if the food and service is good.
Q Top tip for fail safe cooking?
A Learn the basics first and plan ahead.
Q Worst cooking sin?
A Chefs who don't taste their food before sending it to the customer.
Scallops baked in the shell
Ingredients
Serves 8  (as a starter course)
For the butter: 150g softened butter
1 tbsp chopped parsley
1 tbsp chopped mint
1 tbsp chopped tarragon
1 tbsp crushed capers
The juice and zest of 1 lemon
2 crushed garlic cloves
Salt to taste
For the crumb: 50g panko breadcrumbs
50g grated parmesan
1 tbsp chopped parsley
For the scallops: 16 king scallops (preferably hand-dived) with roe still on and in shell
To serve: mixed salad leaves
Directions
For the scallops: Start by shucking your scallops with a butter knife. To check if the scallop is fresh the shell will be closed or slightly open but once pressed down for 5 seconds it will stay shut.
Place scallop in your hand, flat shell up. Push knife slightly into hinge of shell and twist to release shell, being careful not to cut through the scallop.
Slide knife against top of shell to remove scallop. Top shell will then come off. Push scallop out from bottom shelf with a dessert spoon.
You will then be left with the scallop meat connected to skirt and coral. Remove skirt by running your finger between scallop meat and the white mussel. Still keeping the orange roe on. Run under cold water briefly and pat dry
For the butter: Add all butter ingredients together and mix thoroughly. Keep to one side.
For the crumb: Add all crumb ingredients together in a blender/blitzer and mix until combined.
To assemble, place two scallops in one shell, pipe over a good amount of salsa verde butter (approx. 15g) on top, spread butter with pallet knife, making sure to cover all of the scallops.
Sprinkle over the parmesan crumb.
Place on tray with a little tinfoil scrunched under the shells to the keep them upright.
Bake at 200C for nine minutes.
Serve with salad leaves.