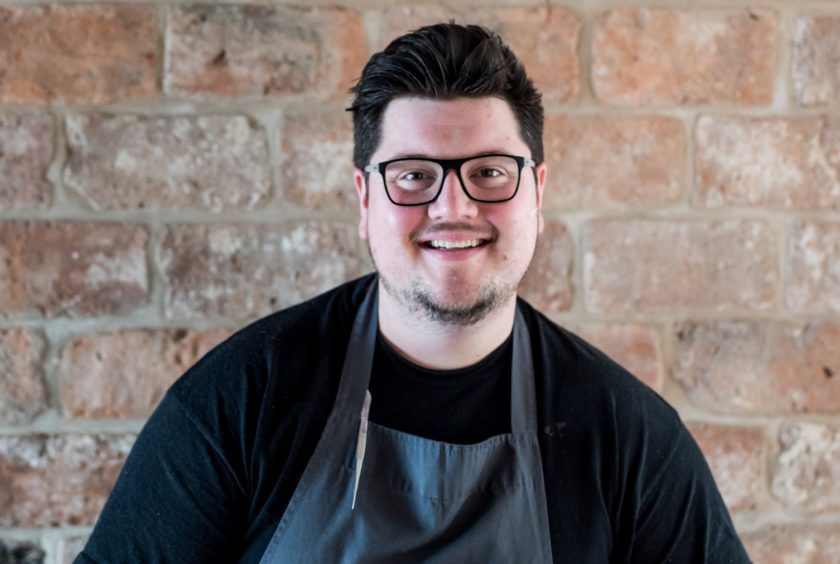 Jamie Scott, chef patron of The Newport in Fife, ​reveals his desert island food– a special dish he tasted in London lat year. Caroline Lindsay finds out more.
Q Desert island food?
A A delicious braised hare and spatzle (a type of pasta) dish I had at Chez Bruce in London last year.
Q Favourite TV chef?
A Anthony Bourdain, no hesitation. A great personality, great knowledge and he wrote an amazing book.
Q Favourite cook book?
A Gordon Ramsay's 3 Star Chef.
Q Favourite ingredient?
A Onions are the most versatile vegetable possible – barbecued, caramelised, pickled, use them as a base to soups and sauces, or make them into purees and marinades.
Q Most hated ingredient?
A Saffron tastes like metal and is hideously yellow.
Q Perfect dinner guest?
A My wife Kelly.
Q Favourite kitchen gadget?
A My tweezers because I have really big warm hands.
Q Favourite music to cook to?
A 80s metal and glam rock ie Motley Crue, the Scorpions, Guns 'N' Roses. Great tempo singalongs!
Q Perfect menu?
A A tasting menu to let the chef show off and cook what he or she is passionate about.
Q Favourite country for food?
A Scotland – the best produce in the world.
Q Favourite chef, alive or dead?
A It changes all the time but Bjorn Frantzen's (owner of several restaurants in Stockholm) food is incredible just now, and he was awarded 3 stars last year. Also Andrew Fairlie, a culinary great and inspiration to Scottish chefs everywhere.
Q Favourite culinary season?
A Autumn for game, root vegetables, mushrooms reserved and fermented ingredients from the spring before.
Q Salt or pepper?
A Salt, it's the most important addition.
Q Favourite herb?
A Lovage – it has a great robust flavour that works with anything.
Q Favourite spice?
A Coriander seeds – they're delicious in stocks, sauces and marinades.
Q Favourite way to cook the humble potato?
A Baked for a jacket spud or for mash with 50/50 cream and butter.
Q Favourite go-to recipe if you're in a hurry?
A Spaghetti carbonara.
Q Favourite health food?
A Hummus.
Q Ideal picnic dish?
A Any charcuterie or cheese with a baguette.
Q Ideal BBQ food?
A Ribs.
Q Are you critical of the food when you're dining out?
A No, I have a deep appreciation of being cooked for.
Q Do you tip in restaurants?
A When it deserves it.
Q Top tip for failsafe cooking?
A Fail to prepare, prepare to fail.
Q Worst cooking sin in your opinion?
A Not tasting and under-seasoning.
Tagh mi suas (Tiramisu)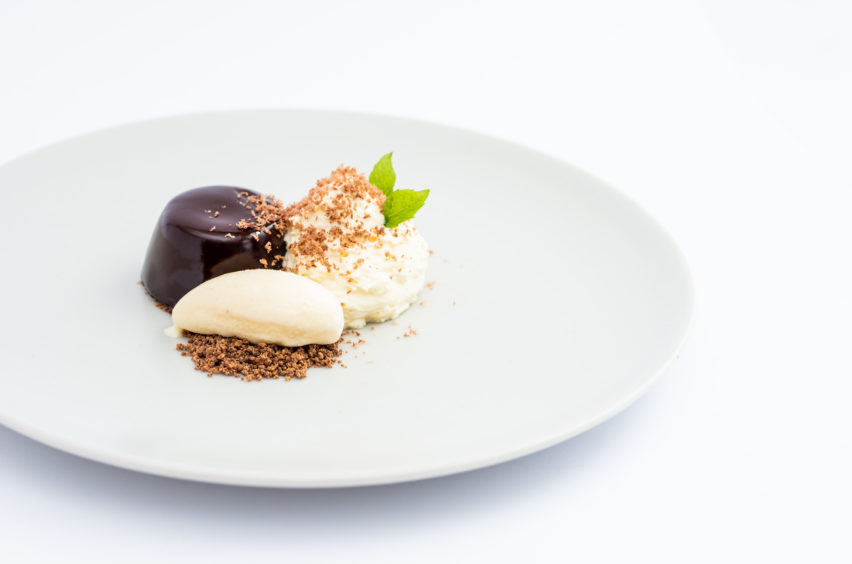 Ingredients
For the cocoa sponge: 5 eggs
115g icing sugar
125g cocoa powder
For the coffee jelly: 4 shots of espresso
50g caster sugar
15 sheets of gelatine, soaked in water
For the chocolate mousse: 225g 70% chocolate
375ml double cream
185g caster sugar
5 yolks and 2 whole eggs
20ml Drambuie
For the mirror glaze: 300g sugar
100g cocoa powder
250ml double cream
6 sheets of gelatine, soaked in water
For the crowdie mousse: 600g crowdie cheese
40g egg yolks
3 eggs
100g sugar
200ml cream
Directions
For the sponge: whisk the eggs and icing sugar together using a food mixer until thick, pale and creamy. Gently fold the cocoa powder in, spread the mixture onto a lined baking sheet into a 2cm thick layer. Bake at 180°c for 6-8 minutes,
allow to cool then cut 4cm discs out of the sponge using a cutter.
For the coffee jelly: Bring the espresso, sugar and 100ml of water to the boil then remove from the heat. Add the soaked gelatine and stir to dissolve. Pass the mixture through a sieve then pour into small chocolate moulds or ice cube trays. Leave in the freezer to set.
For the chocolate mousse: melt the chocolate in a bain-marie while whisking the cream to soft peaks. Heat the sugar and 75ml of water to 121C in a small pan. Whisk the eggs and yolks until pale and creamy then slowly add the hot sugar syrup. Whisk until cold, fold the chocolate into the egg mixture, add the cream and mix gently until incorporated. Pipe the mousse into lined moulds (5cm dariole moulds or similar) so they are one third full, then press a coffee jelly into the centre, and fill almost to the top with mousse. Smooth the surface and tap the mould to get rid of air bubbles, place a disc of chocolate sponge on top, brush with a little of the Drambuie and then place in the freezer for 1 hour to set.
For the mirror glaze: bring the sugar and 240ml of water to the boil, add the cocoa powder and boil again. Repeat with the cream then remove from the heat and add the soaked gelatine. Pour into a deep but narrow container and leave to cool to 35c.
For the crowdie mousse: in a bain-marie, whisk the crowdie, yolks, eggs and sugar until smooth, then add the cream and heat to 60°c. Pass the mixture through a sieve and straight into a cream whipper. If you do not have this then you simply whip by hand until soft peaks. Charge twice and leave at room temperature.
To assemble, remove the mousse from the freezer and pierce the centre about half way down using a long skewer. Dip the mousse and into the mirror glaze, not submerging the sponge fully, place on a wire rack and leave for 5-6 minutes to set.
To plate, sit the mousse just off centre. Finish with a spoonful of the crowdie mousse on the side.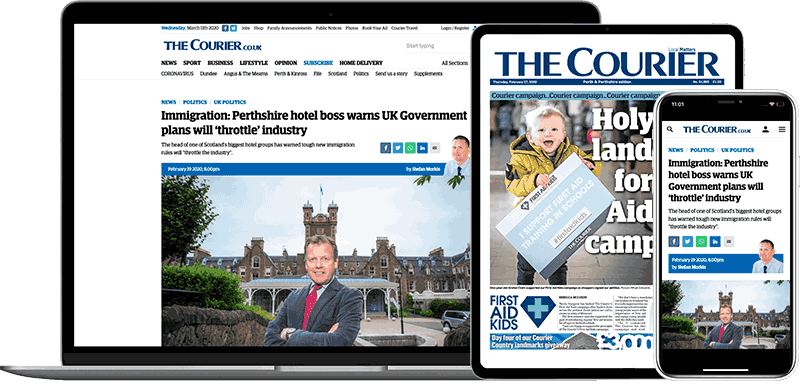 Help support quality local journalism … become a digital subscriber to The Courier
For as little as £5.99 a month you can access all of our content, including Premium articles.
Subscribe