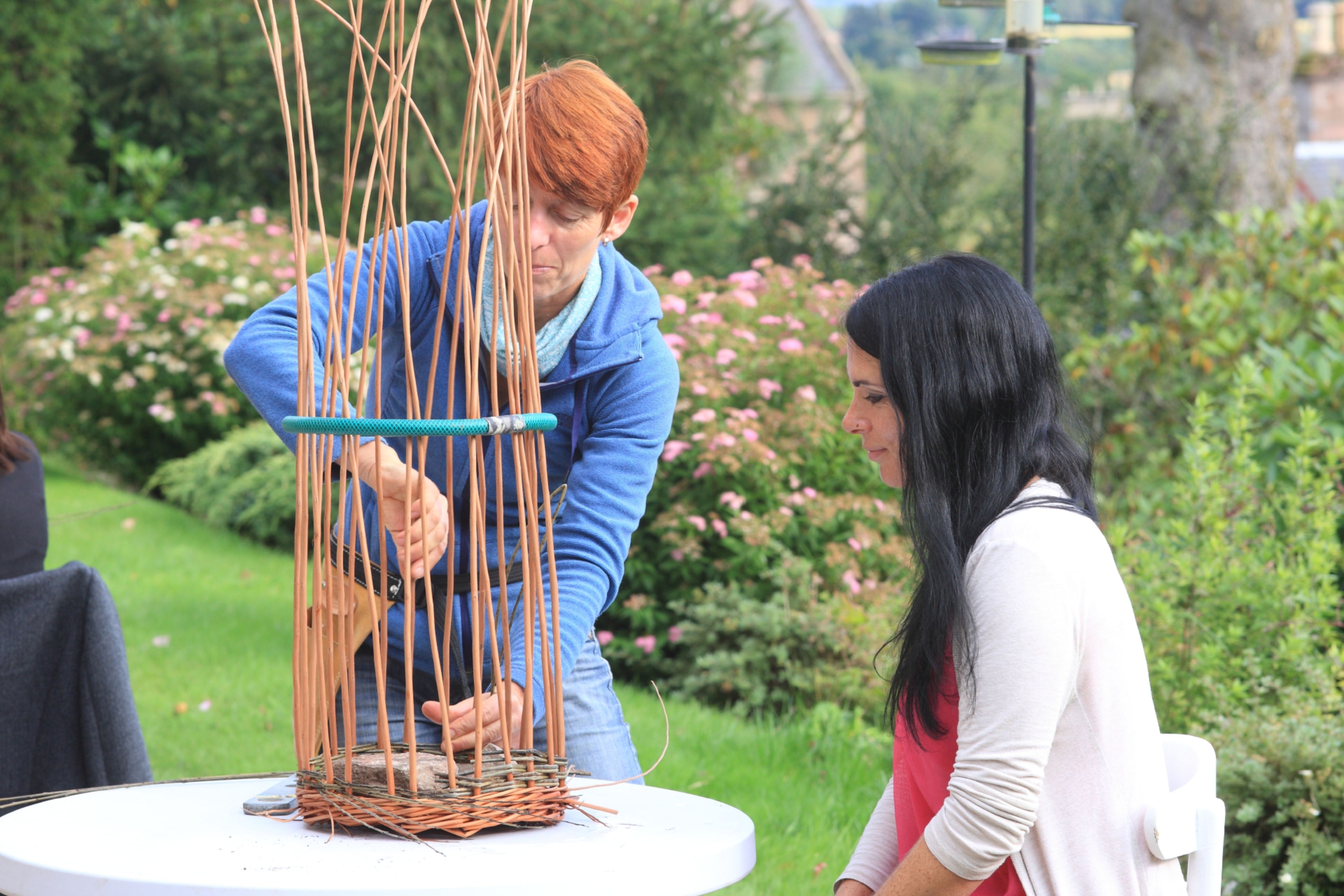 Fancy making your very own hedgerow basket? Gayle Ritchie gets crafty…
It may lean at a slightly jaunty angle but as far as I'm concerned, the basket's rusticity is what boosts its appeal.
Taking pride of place in front of my wood-burning stove, it's a rainbow of colours thanks to the bright shoots of dogwood, larch and willow that have been woven in.
Right now, I use it to store twigs and fireproof gloves, but I've also thought it would make a great holder of dog toys, of which there are many scattered round the house.
Anyone who knows me will be amazed to learn that the basket is my very own handiwork.
"You seriously made that?" asked my friend, Harry, incredulous. Yes indeed I did, although admittedly with a little help from Jane Wilkinson of Alyth-based Special Branch Baskets.
Jane, who is one of Scotland's leading willow artisans, offers courses in creative basket-weaving and coracle-making. She also weaves decorative fencing, sculptures, wreaths, kindling baskets, shoppers and creels – basically, arm her with willow and she's unstoppable.
When I meet up with Jane for a basketry lesson, the first thing we do is go for a walk in the woods to collect materials.
Alyth Hill boasts an abundance of trees of all types and within minutes, we're pruning shoots of dogwood, willow, larch, hazel, ivy and broom and bundling them under our arms.
The best time to collect materials is between October and March, when maximum growth has been reached and the sappy new wood has hardened.
But when it comes to willow, it needs to be soaked for a week or sometimes longer, to soften.
Jane sources willow both locally and from Somerset and grows and harvests an increasing proportion of her own willow herself.
She was originally drawn to working with willow out of a love for trees and woodlands and also from a desire to do something sustainable, she tells me.
"I knock on doors of people who grow it in their gardens and ask if they would like it pruned," she says.
Back at Jane's workshop, she shows me her stock of 'buff willow' (willow which has been boiled and stripped of its bark) and then begins to form a round base, crossing sticks at right angles and binding them together.
Next, my classmate Paula McGuire and I learn to cut the willow ends so they're sharp enough to be driven into the base.
Then we use a common weaving technique called the 'three-rod wale' to knit lengths of willow into place. It looks tricky but it's actually fairly simple and once you get into it, it's almost meditative.
We use a couple of other simple weaving techniques, but Jane is always on hand to help (and unpick any erroneously placed shoots), and the basket walls climb ever higher.
During multiple coffee breaks, Jane picks up our creations and drops them into wheelie bins filled with water to soak them. This helps keep the wood pliable and makes it easier to work with.
Then it's on to trimming off the stalks and twisting them into a border. It's up to us whether we want to tidy up the sprawling larch twigs, with their pine cones and soft needles, but I prefer to leave it 'real'.
Once finished, we step back and gaze at our baskets with pride. They truly are objects of beauty, and Paula and I can't stop smiling.
These works of art need time to dry out, so Jane's advice is to keep them away from direct heat for a few days.
As (whisper it) the festive season approaches, a hedgerow basket seems like an ideal gift, especially if you can jazz it up with cones and Christmas colours.
And with Jane running a series of Christmas craft courses across Fife and Perthshire, what better excuse to get crafty?
info
Special Branch Baskets is part of the Alyth Craft Tourism project which is helping to bring holidaymakers to the area to sample new and traditional crafts from Scottish practitioners. With courses in basket-weaving and coracle-making among her contributions, Jane, along with fellow organiser Clare Cooper, hopes to encourage crafters and beginners into the town. They have teamed up with local accommodation providers to offer visitors somewhere to stay. specialbranchbaskets.com
For more details about craft trips in Alyth, see Alyth Craft Tourism on Facebook and Twitter.