Whether you're a "walkie-talkie", a "junner" or a marathon runner, St Andrews Adventure Running Team supports members in achieving goals, however big or small, as Gayle discovers…
Like many folk, I have a love-hate relationship with running.
Living in the wilderness, I run/jog/drag myself along country roads up to three times a week – always on my own and usually no more than five miles per session.
I rarely look forward to these runs; the joy comes at the bitter end, when I catch a sunset, or when a deer darts out in front of me.
Why do it? To keep fit, to feel good about myself and to avoid becoming a giant blob. (I enjoy a heck of a lot of sugary treats and am very fond of alcohol).
I've often heard it said that reluctant runners enjoy the experience more if they do it with others, so when a colleague asks me to join her at a STAART (St Andrews Adventure Running Team) session, I agree to give it a bash.
On this particular evening, the group is meeting at Craigtoun Country Park and when I arrive after 6pm, the car park is swarming with STAART members; there must be around 60.
Neil Stewart, a PE teacher at Levenmouth Academy, is in charge tonight and after grilling me about my running experience, decides I should join the "junner" group.
"What the heck is that?" I ask.
"We cater for all abilities and fitness levels – everyone is welcome – so there's everything from 'walkie-talkies' (walkers) to joggers, 'junners' (a cross between joggers and runners) and runners," he explains.
"With such big numbers – we sometimes have 80 people and more – it can be intimidating, so we divide everyone into smaller groups.
"This enables you to build a relationship with jog leaders and see progression as the weeks go by."
As we split up, Neil, who's leading my "junner" group, kicks off a warm-up session on the grass.
This involves jogging on the spot, windmilling our arms, punching the air and generally limbering up.
Then, we're off, "junning" through the park and around the outskirts of St Andrews for around 45 minutes.
This includes a session of interval training, during which Neil encourages us – if we wish – to push ourselves.
Some sprint off like bats out of hell while others keep the same pace – either is fine.
Then there's a final slog uphill and back to the start to stretch off.
Among the runners is Nanette Heaney, fresh from completing Stirling Marathon at the weekend, and a trio of others who did the London Marathon in April.
AsI catch my breath, I chat to Mandy Martin, 45. She joined STAART four years ago and hopes to train as a jog leader this year.
"I needed to do something to improve my physical health as I was very overweight and unfit," she says.
"When I first started, I could only run about 100m before I had to stop and walk.
"Through guidance and coaching from Neil and his fantastic jog leaders, I gradually got fitter and more confident.
"I found training with the group a fantastic stress buster and great fun.
"I used to say I hated running but somehow running with STAART was great fun, partly because of the different types of training but also because of the fantastic people I met."
Last year, home carer Mandy won a STAART award for being the most improved female of the year. She'd taken eight minutes off her 5K time, got new personal bests for her 10K time and run her first half marathon.
She and husband Alan are running the Loch Ness Marathon in September as part of their 20th wedding anniversary celebrations.
"STAART has genuinely been life changing for me and my husband and that now my eldest son is also a member, it has become a real family affair," she adds.
Eric Moran, 63, joined STAART two years ago after a long period of illness left him physically very weak.
"I was desperate to build up strength and was told STAART caters for all abilities, so I went to a session to see if I could participate," he recalls.
"I was hopeless. I joined the walking group, but I didn't have the stamina or strength to keep up.
"I wanted to quit, but one of the jog leaders stayed right with me and kept me going.
"I thought that might be it, but I was told by Neil that a jog leader would be assigned to support me till I gained enough strength to keep up with the rest of the walkers. The outpouring of support from Neil, the jog leaders and the STAART clan was incredible."
Eric slowly gained enough strength to join the walk/jog, and then graduated to the joggers group.
He just completed a 10K race and is entered into the Great North Run half marathon in September.
"At 63 it's an achievement I would not have dreamed of three years ago," he says.
"I'm now a jog leader and enjoy helping people to attain their goals, keep fit, or just enjoy a night out with the STAART clan.
"It's a very special running club  more a family than just a running club. When we go as a group to a run, we always wait to cheer in the last STAART member. And you don't have to feel lonely when you are a part of such a warm and supportive group."
Semi-retired oil worker Stewart Dillon, 58, started running four years ago in Houston "to get away from the bar stool".
When he moved back to St Andrews a year later, he joined STAART.
"I run like a whippet!" beams Stewart, who works as a golf assistant at the Old Course.
"But the great thing is that STAART is for everyone.
"As well as STAART, I cycle, I golf, do parkrun, run on the track in St Andrews and I just joined Scottish Hill Runners. I'm also a member of Fife Athletic Club. This year,  I'm doing the Glencoe Marathon and the Glenshee 9, a race over nine Munros."
Beautician Joanna Mowbay, 30, joined STAART 18 months ago and did the London Marathon in April.
"I'd never owned a pair of trainers in my life!" she laughs.
"When I moved to St Andrews, I needed to get fit so I joined STAART's walk/jog group and moved up to the junners. It wasn't long before I got the bug!
"The leaders are so encouraging and helpful and we go out in any conditions except ice!"
The ethos of STAART is not for members to out-perform one another. Rather it's to support one another other in achieving goals.
That's why the numbers keep growing and that's why, if I lived closed to St Andrews, I would definitely become a member.
I thoroughly enjoyed my "junning" session with STAART and would 100% recommend anyone and everyone to think about joining this fantastic and inspirational group.
info
A one-hour STAART session is £3. Weekly meet-up locations vary and can range from Craigtoun Park to West Sands in St Andrews.
Everyone in STAART is a member of Jog Scotland and as a club, members walk, jog and run, in road runs, trail races, duathalons, triathalons, ultra-marathons and adventure runs.
STAART has raised thousands of pounds for charity via marathons and events and continues to do so.
For more information, see jogscotland.org.uk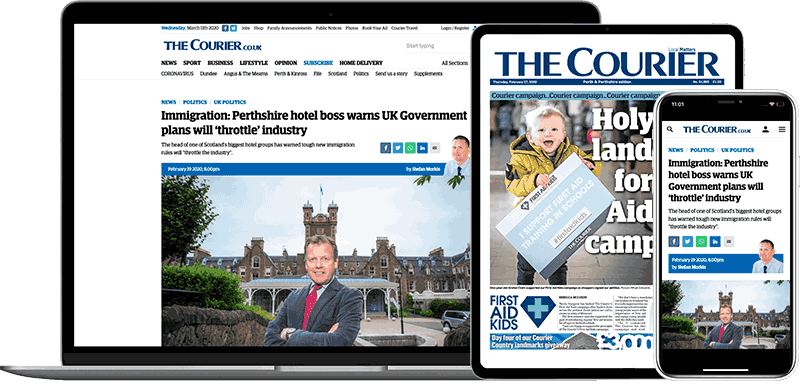 Help support quality local journalism … become a digital subscriber to The Courier
For as little as £5.99 a month you can access all of our content, including Premium articles.
Subscribe