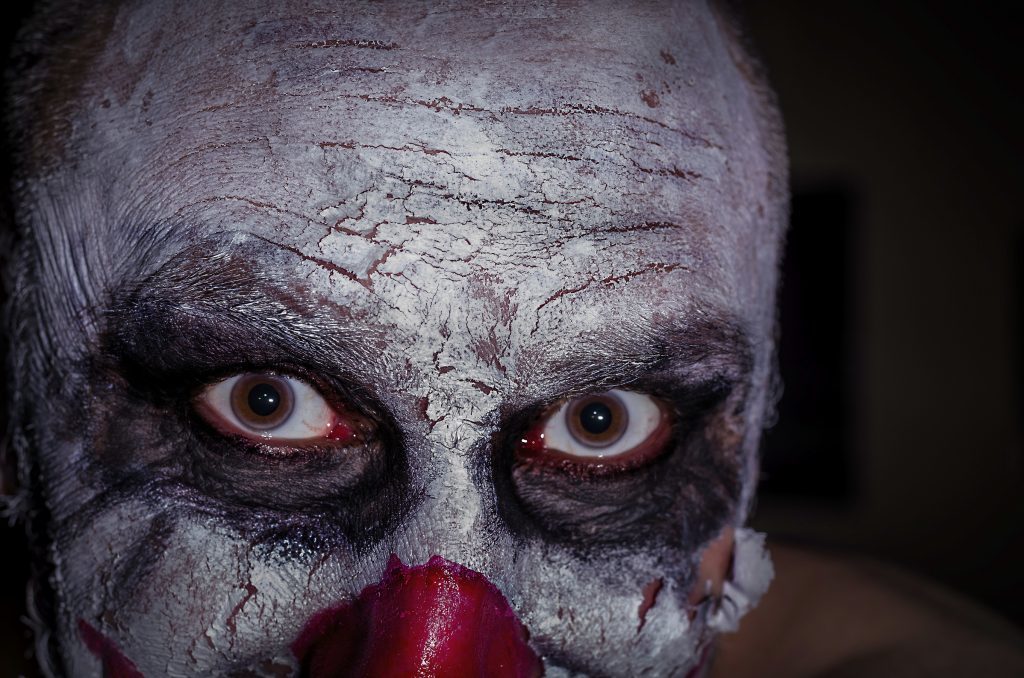 Clowns. Once they were harmless symbols of childhood fun and innocence.
Not anymore. Not for a long time either. In 1986 Stephen King's horror novel It was released, changing the image of clowns forever. The book, which was made into a movie and TV series, features a monster that disguises itself as a clown called Pennywise and lurks in sewers, luring children to their deaths.
The terrifying novel shattered the way we look at clowns. Even 30 years after it was published people still say there's something creepy about their painted smiles.
Now creepy clowns have raised their ugly painted heads again. Across the UK and America there has been an alarming number of scary clown sightings in recent weeks.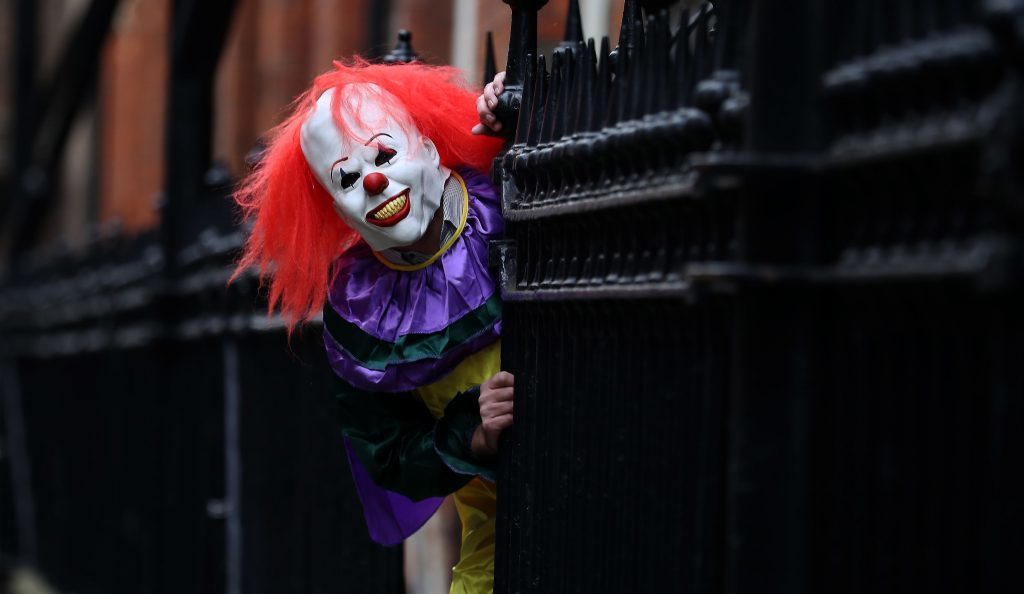 The reported activities range from clowns standing at the roadside in the dead of night to scare passing drivers to even more sinister acts such as approaching schoolchildren.
Social media has created a snowball effect, with Facebook pages and YouTube channels devoted to recording the sightings.
The clown craze hit Dundee last week when children were seen roaming the streets wearing scary masks.
Police were called to a park twice in two nights amid reports of a group of youths wearing masks and alarming locals.
Officers attended Finlathen Park on Thursday around 7.30pm while residents also reported seeing police in the area the night before.
According to locals, a gang of around eight children wearing clown masks were seen running into the middle of the road and generally making nuisances of themselves.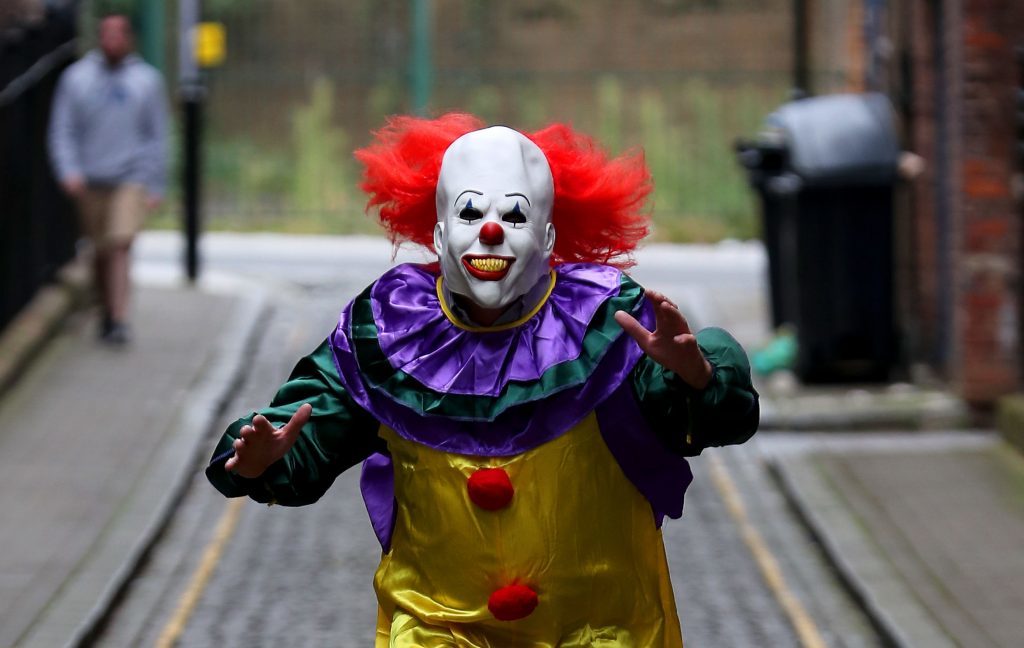 Perthshire-based novelist Helen Grant writes ghost stories. She says she finds clowns quite disturbing.
"I read Stephen King's It when I was younger. By chapter two Pennywise the clown had dragged a kid down a drain. It was very scary stuff.
"I think clowns are scary in the same way mannequins are scary. They look human at first glance but they're pale and there's something very unnatural about them.
"What makes these incidents particularly disturbing is the people perpetrating them want to look as intimidating and frightening as possible. They've been deliberately making themselves looks scary and some have even given the appearance of carrying weapons.
"If I see any clowns at the roadside I'll certainly be running the other way."
The scary clown craze is sweeping across the UK with one police force alone logging 14 reports in a single 24 hour period.
Officers have been called to a string of incidents where pranksters or criminals dressed as clowns try to scare innocent bystanders.
Chief Superintendent Andy Boyd, of Thames Valley Police – whose force received the 14 calls – warned that the trend, which started in the United States, is a waste of police resources.
He said: "While we do not want to be accused of stopping people enjoying themselves we would also ask those same people to think of the impact of their behaviour on others and themselves.
"Their actions can cause fear and anxiety to other people, this could be perceived to be intimidating and threatening which could lead to public order offences, arrest and a criminal record.
"In addition, their behaviour is causing multiple reports to our call takers and is tying up police resources which could impact on calls to other incidents."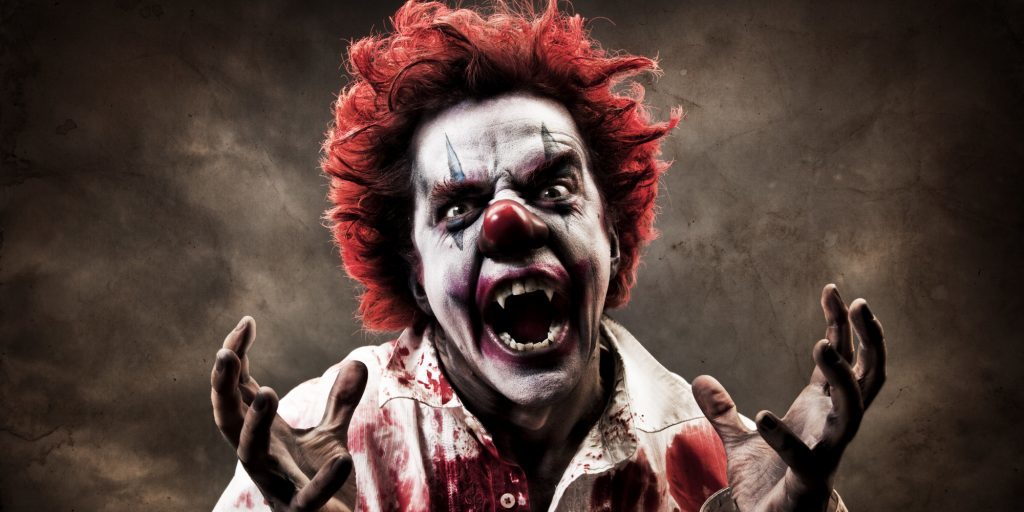 A string of other forces across Britain have dealt with reports in recent days of people dressed as clowns acting suspiciously and frightening members of the public.
A masked man carrying a knife left a group of children aged 11 and 12 "upset and distressed" when he jumped out on them on their way to the Hermitage Academy in Chester-le-Street, County Durham, at 8.40am on Friday.
A separate report saw two 12-year-old boys, one wearing a clown mask and another a V for Vendetta mask, go to Howletch Lane Primary School in Peterlee to try to scare children in the playground.
In Suffolk, a boy "younger than a teenager" was chased by "several people dressed as clowns" in Beatty Road, Sudbury, at 8pm on Thursday, Suffolk Police said.
Tom Jackson, 18, a first-year student at Leeds Beckett University, said he was "very scared" when he saw a man dressed as a clown near an underpass in Leeds at 4.30am on Friday.
A man dressed as a clown "wearing a hockey mask and a blood-stained poncho" was captured on camera in Ashton-under-Lyne, Greater Manchester, on Thursday.
In Norwich a 30-year-old man was arrested on suspicion of public order offences after allegedly dressing as a clown and jumping out on a woman in a park, screaming and then chasing her.
The victim was walking through Eaton Park in the city at around 8.24pm on Sunday when she was targeted in the creepy prank.
Superintendent Lynne Cross from Norfolk police said: "Whilst this craze may seem harmless, it is actually quite frightening to those who experience it."
The incidents have split opinion across the country with some calling them harmless pranks while others have branded them a menace.
The fear of clowns – or coulrophobia – is a well established psychological condition.
For those who suffer from it, clowns are no laughing matter.