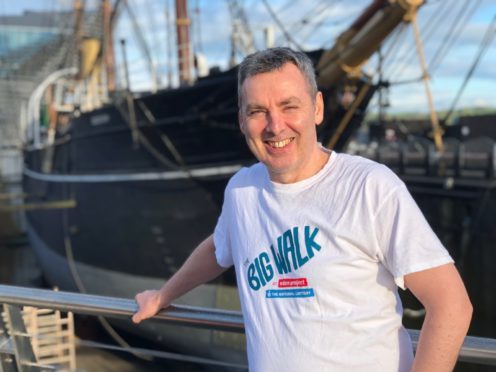 The Big Walk – an epic journey across the UK to bring communities together – is back for 2018, and a Dundee dad-of-three has been chosen to represent Scotland. Gayle Ritchie finds out more
Angus McLeod never considered himself to be an impulsive man.
Recently, however, he felt a strong desire to do something different – to do something for himself; something with a challenging and rewarding element to it.
So when he stumbled upon an application for The Big Walk 2018 online, he was instantly drawn both to its testing nature and to the community involvement aspect of the event.
The four people picked to do the epic challenge would walk more than 250 miles each, over 21 days – from Morecambe in Lancashire back to their homes across the UK.
Along their routes, they would visit and celebrate fantastic community projects – celebrating community spirit.
Dad-of-three Angus, 52, from Dundee, completed the application form in "record time" during his lunch break but he didn't really expect to hear anything back.
He got a huge surprise when, a few days later, he was invited for interview locally and then chosen to become Scotland's "Big Walker".
"I felt reasonably comfortable I could manage the walking bit but wasn't really sure what else would be expected of me," he said.
"It was a fairly daunting and yet exciting undertaking."
Angus, a finance administrator who works for DC Thomson, is among four walkers taking part in The Big Walk, the brainchild of Cornwall-based Eden Project.
The event, which kicks off on May 16, will see Angus start in Morecambe and walk back to his home in the Blackness area of Dundee.
While he journeys back to Scotland, his fellow walkers – from England, Wales and Northern Ireland – will head home to their respective countries.
All four will finish on June 3 and take part in The Big Lunch, the UK's annual get-together for neighbours.
Describing himself as a "self-confessed, stereotypical, self-contained, stoic, working class Scotsman", Angus has faced what he calls many "ordinary" but painful challenges himself such as bereavement and divorce and supported his children through a range of health issues, both physical and mental.
Each time, it was immersion in community which helped him to overcome these obstacles.
"I see The Big Walk as an opportunity to take some time out of my normally very busy working life and enjoy a journey of discovery to find out what's happening in some of our local Scottish communities," said Angus.
"I'm looking forward to hopefully walking in the sun and meeting some interesting people, while taking the opportunity to shine a light on some of the incredible projects that good people across Scotland are engaged in."
Born and bred in Dundee, Angus has worked in various roles in finance departments and has been with DC Thomson for six years.
Walking 250 miles is no mean feat, so it's just as well he has always lived an active life – playing football, running, enjoying tennis, cycling and doing pilates.
"Physically, I find myself in reasonable shape and mentally, I'm up for a challenge," he said.
"On reading about the Big Walk, it seemed to tick all the boxes – its challenging nature and the community aspect appealed to me.
"It's a huge honour to be selected as the Scottish walker for the 2018 Big Walk."
Sandra Brown, Scotland manager for Eden Project Communities, said: "We're really excited to have Angus leading Team Scotland.
"As someone who's felt the benefit of having his community around him in times of difficulty – as well as the benefit of reaching out to support others through hard times – he's the perfect person to tell the story of the amazing community projects we'll be visiting.
"The fact he's decided to take this huge step and put everything on hold for three weeks in order to encourage people across Scotland to build up their communities really embodies the essence of 'ordinary people doing extraordinary things' which is what Eden Project Communities is all about."
Joe Ferns, director of funding at the Big Lottery Fund, added: "Angus is playing an important role in helping us to celebrate and showcase the great things people are doing within their communities each and every day.
"The Big Walk and The Big Lunch bring people together and shine a light on fantastic community projects – many of which are National Lottery-funded – that are making a real difference to people's lives across the UK."
The start of the walk will be broadcast live on the BBC's One Show.
Each walker was selected to take part based on their passion for better-connected communities.
Last year, The Big Lunch saw 9.3 million people taking part in more than 96,000 events.
info
For more details, see www.edenprojectcommunities.com/the-big-walk