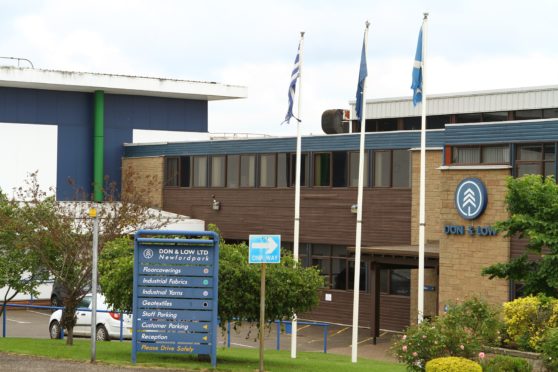 Staff at a troubled Angus factory are braced for another string of job cuts.
Letters have been sent out to employees at Don and Low in Forfar as the Greek-owned textile company looks to further trim back its workforce.
Up to 45 jobs are believed to be at risk in the latest tranche of redundancies which come on the back of 55 jobs lost in the summer at the technical textiles division due to tough trading conditions.
Meetings are ongoing between management and Unite the Union with further meetings planned for next week.
Staff are being consulted on proposed shift rota changes, which a former employee has branded "barbaric."
The former weaver, who did not wish to be named,  was a victim of July's job cull.
He said employees are now facing new 12-hour shifts – working five days on and five off which he described as "barbaric."
He said: "A 60-hour week  – that's draconian"
"I was sent a photo of the shifts for 2020.
"I'm glad I'm out."
David Lawson of Unite the Union was unwilling to comment on the ongoing situation at the Glamis Road company.
He said: "I am aware of the situation but they [discussions] are at a very early stage."
He said he would be in a better position to comment at the end of next week adding: "Meetings with management and trade unions are going on but nothing is set in stone."
The news of further job losses was met with dismay by Forfar and District SNP councillor Lynne Devine who described it as a "worrying time" for those affected.
She said: "This is terrible news, especially on the back of the losses earlier on in the year.
"People thought that was going to be enough.
"This would have come as a shock to them.
"Don and Low is a big employer in the town, it's really significant.
"I am sure there is a great deal of concern about the company's future."
She is to contact the council's economic development to see if there is anything they can do.
Don and Low can trace its roots in Angus back to the 18th century, when a cloth business under the name William Don & Co was formed in Forfar in 1972.
In 1999 Don and Low was acquired by Thrace Plastics, part of the Greek-based Thrace Group, which has 20 firms worldwide.
In September it emerged profits at the Forfar textile firm fell by more than 80% before the firm announced the job cuts.
Filed accounts showed sales remained steady at £64.9 million for the year ending December 31 but pre-tax profits fell from £3.7m in 2017 to £588,000 last year.
Attempts were made to contact Don and Low finance director Colin Johnson yesterday but he was unavailable.