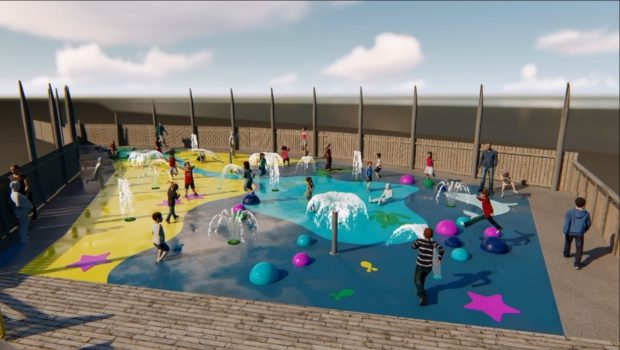 A row has erupted over the decision to dip into a council fund for the six-figure upgrade of a "glorified paddling pool" in Montrose.
Angus policy and resources committee councillors voted to add £127,000 from the authority's capital contingency fund to the £150,000 already set aside for the revamp of the popular Montrose Seafront Splash zone but the move has reignited claims of cash going towards "pet projects" in a "two tier" Angus.
The current set-up will be replaced by a splash-pad type attraction rather than a traditional pool but three failed bids for external funding left the council struggling to make up the substantial shortfall.
Carnoustie Independent Brian Boyd said: "I'm sorry in some ways to be suggesting we do not approve this because I believe in accessibility and it will help with that, but at the end of the day we just don't have the cash to be doing this.
"The precedent was set a number of years ago when we were doing things like skateparks and we were told in no uncertain terms that only a certain amount would be allocated from our funds.
"Groups had to go and find external cash from elsewhere if they wanted local facilities and many of them worked very hard to achieve that for their own areas.
"What we've now got is yet another pet project in Montrose and the harsh reality is that in the financial climate we are in, I don't believe this is what's best for Angus.
"I don't want a two-tier system in Angus, so let's have a bit of fairness."
Monifieth and Sidlaws SNP councillor Beth Whiteside said: "We should be investing wherever possible but I have a problem in this instance over how this might be perceived by the public.
"After all the controversy of the parking charges, the income raised barely pays for a glorified paddling pool and it is not the right thing to approve this spend at this time."
Administration finance spokesman, Kirriemuir Conservative councillor Angus MacMillan Douglas said: "This £127,000 is capital, so if this lasts for 20 years it works out at around £6,000 a year and I would suggest that is not a significant sum of money."
Council leader, Arbroath Independent David Fairweather, said: "This will be fantastic for Montrose and for visitors from all over Angus and elsewhere.
"As far as being fair, any councillor can apply and ask for something for their burgh."
The council is also pursuing plans for new toilets at the attraction after a barrage of complaints during the summer season over the state of two portable loos put in place to cater for hundreds of daily visitors.