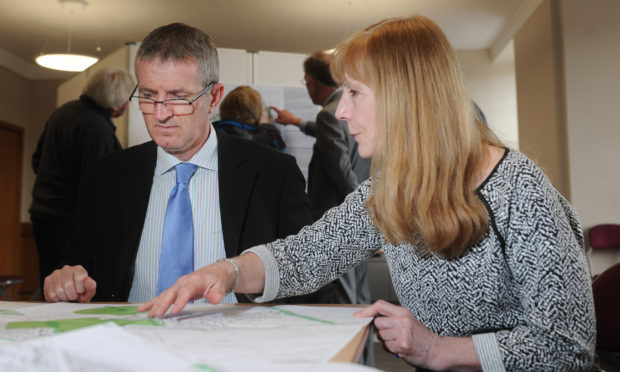 The builder behind a major Forfar housing development has moved to quash concerns about noise, contamination and the preservation of historical monuments at the proposed site.
Family-run Muir Homes has applied for permission to build 175 houses, including 44 affordable homes, at a site adjacent to Glamis Road and Westfield Loan in Forfar, between the town's current boundary and the A90.
residents close to the site have raised concerns including noise and the possibility land near to the site may be contaminated with anthrax.
There has also been concern about the preservation of two scheduled ancient monuments buried beneath farmland.
Alastair White, Muir Homes managing director, said the proposed housing development fulfils a need identified in the council's local development plan.
He said: "The council has identified this site for housing.  We are aware of an area of contamination nearby, but it is important to highlight that this is outside the application site and is some 120m away from the nearest proposed home.
"Muir Homes has a 40 year track record of building homes safely and responsibly and we will continue to do so in future."
Mr White said the company has completed an independent noise impact assessment.
"We will act on the recommendations from this assessment to deal with any issues from the outset," he added.
Muir Homes has also committed to setting aside two large areas of open space to preserve the historical remains.
The company lodged its planning application for the houses in September. It hopes to build two, three and four-bedroom family homes.
Concerns had been raised over disturbing the nearby historical anthrax burial site but council officials have now ruled out any risk to human health.
Alan Milne, environmental protection officer, who reviewed all available information, said: "I am satisfied this site does not pose a significant risk of harm to the proposed use from land contamination."
Carcasses of farm livestock, which may have been infected with the disease, were buried at Westfield around the 1940s or 1950s.
Officers at Historic Environment Scotland have not objected to the proposal, but they have suggested a number of planning conditions to protect and maintain the monument sites.
Forfar's biggest employer Don & Low, whose factory is opposite, has objected due to concerns about the "potential future impact of the proposals on their existing and future business operations".
The company criticised the noise exposure assessment and said the development could leave the industrial premises liable to complaints made against them from the residents.