A veterans' charity is serving up breakfast and banter to help ex-servicemen and women in Tayside and Fife combat loneliness and isolation.
Bosses at Legion Scotland said former members of the armed forces often felt particularly lost without the camaraderie they had experienced in military life.
The organisation has launched a series of breakfast clubs across the region to help tackle the issue. The regular events give ex-service personnel and their dependants a chance to socialise and share stories of their time in uniform.
Peter Kerr, Legion Scotland's Veteran Community Support Coordinator for Angus, Perth and Kinross and Fife, said the local network supported 126 veterans.
He said: "There are issues of mental health which, combined with the ageing process and social isolation, can cause issues for these veterans.
"Loneliness and a lack of support can and does make day to day living difficult, but we try and give all these veterans a sense of belonging to the armed forces family and we offer them as much support as we can through very dedicated volunteers and our Unforgotten Forces Network.
"When you are serving in the Armed Forces you are part of a family and there is a sense of constant support and camaraderie, but that can fall away once individuals leave," he added.
"Events in places like Montrose, Forfar and Leuchars, where breakfast and banter is on offer, help to reconnect veterans to that support network."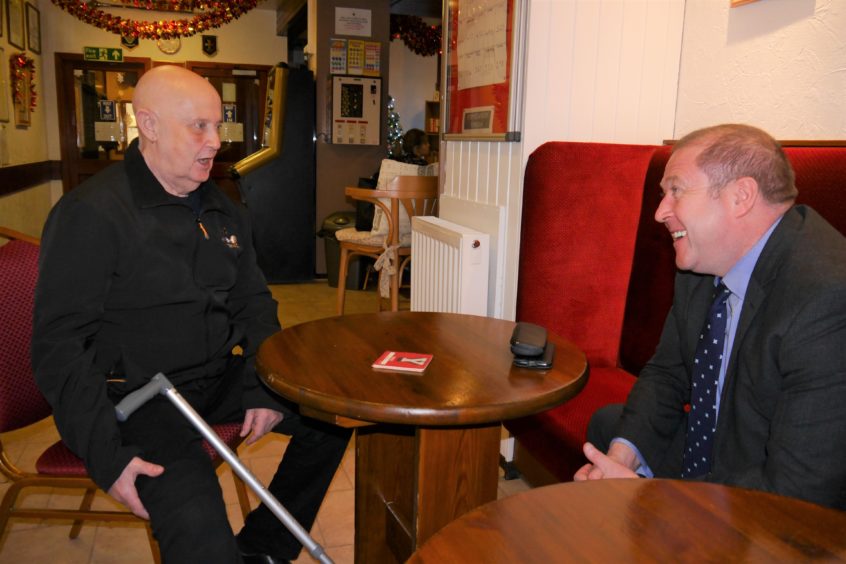 One in four members of the armed forces community have said they feel lonely or socially isolated "always" or "often", according to research conducted by the Royal British Legion.
Veterans Minister Graeme Dey spoke to veterans in Forfar where he also heard from volunteers who spend time befriending veterans in their homes and organising social events.
Mr Dey said: "Legion Scotland and other veterans charities do an excellent job of tackling this issue, making sure our veterans are supported wherever they live.
"The Scottish Government will soon be publishing details of how we will be taking further steps to tackle social isolation and loneliness amongst veterans and their families."