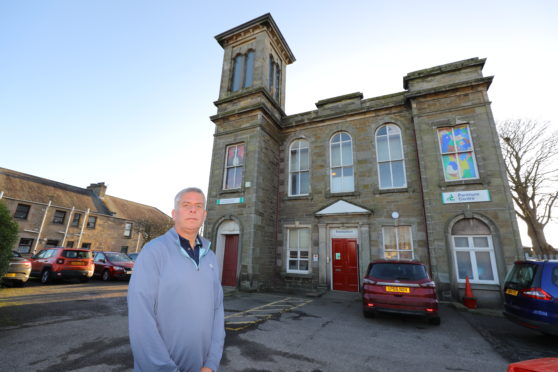 A Carnoustie councillor has issued a rallying call ahead of what he fears could be the final chance to save the town's Panmure Centre for community use.
Despite a series of public meetings aimed at securing a future for the landmark building, Independent councillor Brian Boyd is concerned interest from local groups is waning and could lead to its loss.
The former community learning and development centre has been used by a host of local interest groups, but it fell under threat in 2015 and was deemed surplus to the authority's requirements in 2017.
It remains home to a local nursery, but with a new early years centre under construction at Pitskelly Park and due for completion this summer, Angus Council has set up a meeting at the end of this month to help it decide what might happen to the property once it becomes vacant.
The authority said it had already held three sessions with local community groups to look at the way forward, and it was hoping for a good response to the next public meeting scheduled for January 27.
Mr Boyd said: "After an initial well attended meeting in August it has been disappointing to see the number of interested community groups falling by the wayside with only one person turning up last month.
"This really is a case of use it or lose it and I fear this will be final attempt to save the Pannie.
"I would strongly urge members of the public to try and attend," he added.
"We really need to get the interest in this building to save it for the community and not see it go to the private sector or be sold off for housing."
Mr Boyd said he was also available if people wanted to make site visits before the event to see what the centre has to offer the town.
The council said the aim of the meeting was to ensure as many local groups as possible are aware of the situation surrounding the building and they hope to get as wide a range of views on how to use it to its full benefit.
Mr Boyd previously said he was keen to avoid a repeat of the situation surrounding Lochside leisure centre in Forfar, which remains at the centre of a judicial review challenge over the possible £500,000 demolition of the building.
The Forfar Loch Country Park premises were also previously declared surplus to requirements but two local businessmen have argued the demolition decision is unlawful. A ruling in the case is expected soon following last summer's Edinburgh Court of Session hearing.