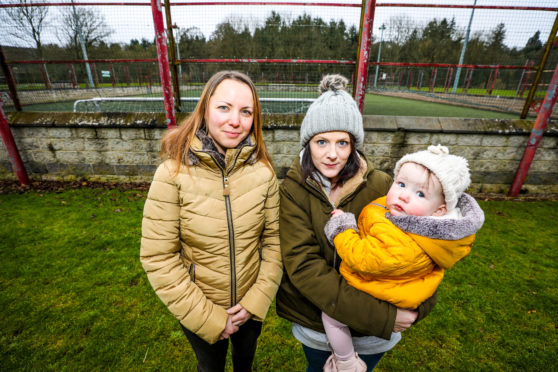 Determined community volunteers in Brechin say the latest vandalism attack on their facilities will not deter them from pushing forward for a successful summer.
In the latest blow delivered to Inch Maintenance and Preservation Society (IMPS), goals were removed from the all-weather pitch beside the town's former leisure centre, before being damaged and dumped near the River South Esk.
The vandals even carried out the bizarre act of dousing the padlock in ketchup during the incident, which happened at the end of last week or over the weekend.
IMPS has suffered repeated vandalism setbacks since taking over the facilities but the group has vowed to continue their work for the benefit of the wider community and put out a fresh call for more helping hands.
Group member Steph Erskine said: "The Inch is a beautiful corner of Brechin with the paddling pool, public toilets and an astro turf, which provides a safe haven for, and enhances the lives of local families and visitors.
"The area is managed and maintained entirely by IMPS.
"We are looking for the goals to be repaired so they can be reinstated and would like to put out an appeal to the public for anybody who would be able to help with the repairs.
"We are also on the lookout for any volunteers willing to help with the maintenance of the site."
She added: "We especially need volunteers to get the paddling pool going through the summer holidays. Without them that won't be able to go ahead."
In 2017, IMPS re-opened the popular paddling pool after a three-year funding battle to keep the attraction afloat following its closure by Angus Council.
The IMPS effort was part of a drive to ensure community facilities remained in that part of the town following the opening of the town campus in 2016.
IMPS made a lease bid for the old leisure centre last year in the hope of returning it to community and leisure use.
However, their Community Asset Transfer request was rejected after Angus councillors expressed doubts over the short three-year lease being sought by the group.
The local authority has said it plans to again offer the building for lease shortly.