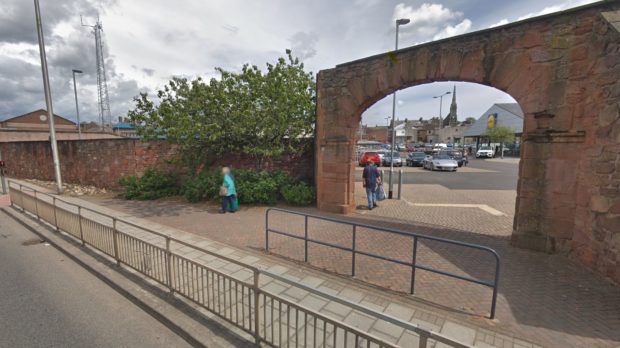 A Tayside mother has hit out at youths who threw a rock at her car window, missing her newborn son by inches.
Emma Smith was driving along Burnside Drive in Arbroath at around 7.30pm on Monday when she heard the impact against the back of the vehicle.
When the 24-year-old looked out the window she spotted three or four teenagers standing on the pavement near the the pedestrian archway at Lidl.
She said she was "furious" at the thought the object could have hurt her four-week-old baby, Alastair.
"The rock was probably golf ball-sized but it missed the window next to where my son was sat in his baby chair by inches," she said.
"If the stone had hit the window, I'm sure it would have smashed it.
"My wee boy could have been struck by the stone and would have had broken glass all over him, which doesn't bear thinking about.
"I got a fright when the stone hit. Thankfully I didn't swerve into anyone.
"I'm just glad everyone is OK. Imagine it was an elderly person who got even more of a fright and crashed."
Emma, who lives four miles from Arbroath in Auchmithie, said she has not reported the incident to the police because she believes it is unlikely officers would be able to trace the culprits.
She hopes that by speaking about the incident, teenagers will know how dangerous their actions were.
She said: "I was absolutely furious so I drove back around the same street to see if I could see them.
"There's usually quite a lot of children that hang around Lidl but I've never had any trouble prior to this incident.
"Because of the one-way system they probably know it takes drivers a while to come all the way back round so they can flee without getting caught.
"I haven't heard about anyone else experiencing anything similar.
"There is a small indent on my car which I'm not too bothered about. It's more the idea of what could have happened.
"Fingers crossed that by speaking about how close this was to hitting Alastair, other kids will think twice about doing anything similar.
"Why do they have to do something so dangerous. What's wrong with kicking a ball about?"