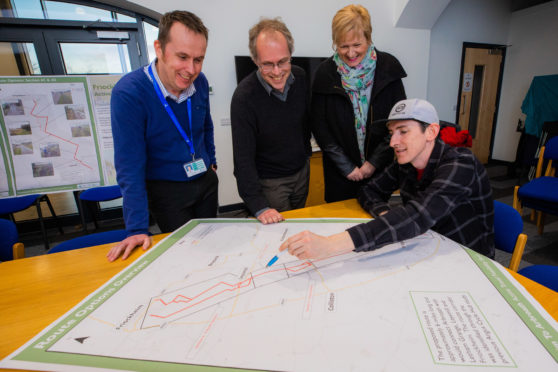 Walkers and cyclists have had their first look at ambitious proposals to use part of an old Tayside rail line as a link to the county's biggest town.
A stretch of the long-closed Arbroath to Friockheim track is being considered as part of the scheme being led by Angus Cycle Hub to connect the communities.
The area is already served by a series of core paths but many are in need of upgrading and there are gaps in the route between the town and village after part of the old line were reclaimed as farmland.
FriockHub hosted a drop-in event to showcase the early proposals after a series of events and surveys to gauge interest in the idea revealed people would be keen to get on their bike if a suitable path was put in place.
Scott Francis of the cycling social enterprise said: "Angus Cycle Hub has consulted with a number of local residents and councillors and there seems to be a genuine need and want to upgrade and extend the path network to deliver an all-inclusive path suitable with direct access to Arbroath from Friockheim.
"Feedback from local people indicated that fear of cycling or walking on country roads was one of the largest barriers stopping them from undertaking active travel journeys."
Mr Francis said the busy A933 Brechin to Arbroath road and the frequency of heavy traffic in the Friockheim area, including trucks serving two local quarries, had been flagged up as factors keeping people away from active travel.
"65.4% of people surveyed that they would consider cycling or walking for journeys under 5km instead of using a car if better infrastructure existed.
"A number of parents of young people expressly said they would not let their children cycle on rural roads around Friockheim and some also expressed they had in the past had close passes when on bicycles on country roads and this was a contributing factor in their decision."
Letham Grange to Leysmill and the link onwards to Friockheim are part of the overall proposal, which it is hoped might attract funding from sources including the Cycling, Walking and Safer Streets (CWSS) fund.
"Investigation by Angus Cycle Hub has shown that a large section could easily be adapted as it follows an old railway line with good existing foundation to lay a suitable path," added Mr Francis.
Arbroath East and Lunan SNP councillor Brenda Durno said: "Angus Cycle Hub have already done a huge amount of work on this and I am very excited about the prospect of this.
"It was just a pipe dream but there is a real hope this will be achieved and that would be amazing."