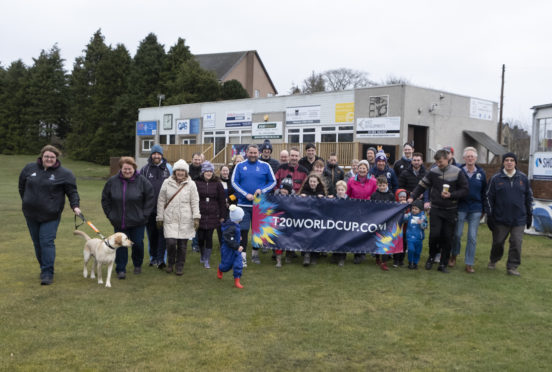 Angus cricket fans have set off on a novel fundraiser to leg it 10,000 miles to Tasmania.
In a virtual challenge which got underway at the weekend, Strathmore Cricket Club began the Big Walk to the Big Dance in the hope of adding a big chunk of cash towards a £25,000 target for improvements at their Lochside Park ground in Forfar.
The aim is to get folk to step out in support of the collective virtual walking challenge of making it all the way to Hobart this spring and summer – a distance of 10,826 miles.
The Tasmanian capital is the venue for the Scottish mens team's first match in this year's T20 World Cup, which is being promoted as The Big Dance, hence The Big Walk to The Big Dance.
It is Strathie's major fundraising initiative for 2020 and all monies raised will go to make the club more inclusive by developing more accessible social facilities and playing opportunities.
Plans have been drawn up for a fully accessible toilet and access ramps at the club, with hopes of installing a new scoreboard and improving changing provision for groups with particular needs.
The club hopes to raise £5,000 from The Big Walk and related activities.
Club president Craig McDonald said: "We have a commitment to being a club which makes a contribution to community life in Forfar and we have been working hard over the last few years to make that commitment a reality.
"We have excellent facilities at Lochside Park and we want them to be as accessible and available to the local community as possible.
"Many people already come along to community and social events, but we realise that there are still some physical barriers that limit access. We want to remove these.
"We also want to make it possible for everyone to enjoy the sport of cricket – whether as player or spectator – irrespective of age, gender or ability.
"If we can make the ground more accessible, we will be able to build on activities we are already running such as walking cricket, cricket for people experiencing disabilities and girls' and women's cricket.
"Walking is an everyday activity for all of us, so we can all contribute," added Craig.
Cricket Scotland chief executive Gus McKay described the initiative as "brilliant news" and is encouraging players from the national team and staff to get behind it, with the World T20 trophy scheduled to visit Forfar on June 4 as part of its pre-tournament tour.
Those wishing to support The Big Walk can register as a participant and provide regular updates on their walking activity.