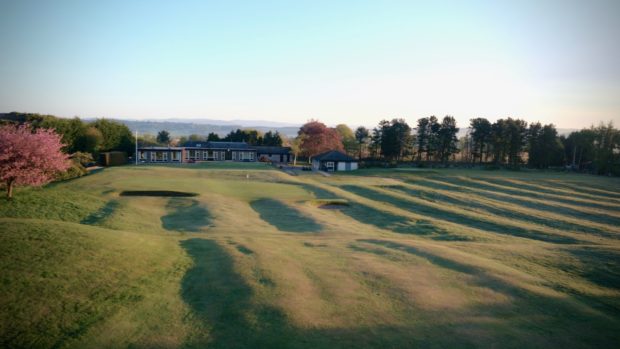 A Tayside golf club is celebrating its history by promoting a trio of little-known feats.
Golf historian Neil Laird is celebrating Forfar Golf Club's credentials, which include three world firsts.
The 149-year-old golf club boasts the world's first purpose-built 18-hole golf course in continuous use and the first course in Scotland to have 18 holes by original design. By default, it is also the earliest 18-hole course designed by the legendary Scottish golfer Old Tom Morris.
Mr Laird, who set up website Scottish Golf History, said Forfar is a trailblazer in the sport.
"Forfar is the earliest example of Old Tom laying out 18 holes and therefore marks a milestone in golf history.
"At Forfar, you have the beginnings of the idea of laying out a course where every hole is different, that is what people try to do now.
"Forfar is the earliest 18-hole course designed by the master Old Tom Morris that looks like a modern course. It goes right back to the very beginnings of 18-hole golf courses, Forfar was at the forefront."
Although the course went on to be re-designed by five-times Open Champion James Braid in 1926, it is Old Tom's involvement that Laird believes is of greatest significance.
"It is an Old Tom course.
"Although quite a few courses are associated with him, not all were laid out by him. In many cases, his involvement was limited to extending the course.
"Forfar is the first golf course I have been able to trace where he laid out all 18 holes. That is a milestone in the development of 18-hole golf courses."
Established in 1871, 13 of the original greens are still in play today.
Although there are older courses that have either been extended or cut to 18 holes, Forfar was the first to be designed by a recognised architect with 18 holes from the outset.
Managing secretary Stuart Wilson hopes the role played by Forfar in the development of golf will soon be more recognised.
"The history at Forfar Golf Club can be seen on the walls of the clubhouse and in our trophy cabinet.
"Perhaps less well known and less obvious is the important and historic role played by the club in creating the first 18-hole golf course by design. Along with St Andrews, Forfar was at the forefront of the development of the game and it laid down a template for future course design."
Known for its unusual 'rig-and-furrow' topography, the Angus course has hosted a number of  tournaments including the Scottish PGA Championship in 1932 and 1966, the Girls' Home Internationals in 1997, the Scottish Boys in 1976 and 1980 and the Under 16s' Scottish Boys in 2011. Next year it will welcome the Scottish Girls Under 16s.
Mr Wilson added: "We are very proud of the club's origins and believe the significance of its historic role has been overlooked.
"With our 150th anniversary in 2021 coinciding with the 150th Open in St Andrews, we felt this was a good opportunity to proactively ensure the club is appropriately recognised as providing a key turning point in the development of the game."