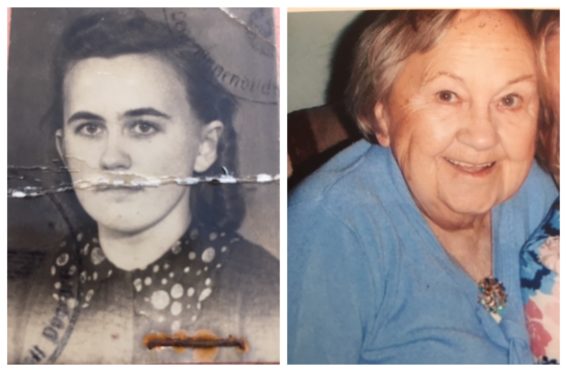 A refugee who fled eastern Germany as a teenager during the Second World War before spending most of her life in Montrose has died aged 95.
Eva Cormack, who was born in 1925 in East Prussia, Germany, joined two million others in escaping the advancing Red Army at just 19 years old in 1945.
The mass movement saw her teacher training course interrupted as the family began an all-night walk carrying overloaded suitcases to the nearest goods train to the capital Berlin.
Piling in to the open top carriages, they set off on the arduous journey, which was stopped frequently to allow for the removal of those who had died, having succumbed to the bitter January winter – their spaces being taken up by new refugees.
Berlin proved to be no safe haven as it was persistently bombed by allied air forces, forcing the family to move on.
They finally settled in a small town in Bavaria where they were not welcomed by their fellow citizens due to their status as refugees.
They survived by scavenging and bartering until after the war ended.
The family then moved to northwest Germany where Eva's father secured a teaching position.
Her family say she rarely discussed the nightmare trek across Europe but often reminisced about her earlier life.
With post-war UK short of skilled workers, Eva moved to the British Isles and eventually to Angus to take up a nursing position.
Her first job was at the tuberculosis hospital in Noranside, Forfar, where she met Charlie Cormack, a local man who she later married.
The couple moved with their only child to Hillside, Montrose where they found employment at local hospitals.
Any suspicions over her background were soon dispelled, due to her natural aptitude for hard work and her involvement in church and community affairs.
She retired in 1980 from Sunnyside Hospital after 20 years of service.
Although Charlie died in 1987, Eva enjoyed regular visits from her daughter Linda and grandchildren Suzy and Kelly.
Eva, whose maiden name was Werdermann, died on May 2 of natural causes at South Grange Nursing Home and will make her final journey to Park Grove Crematorium on May 8 – VE day.