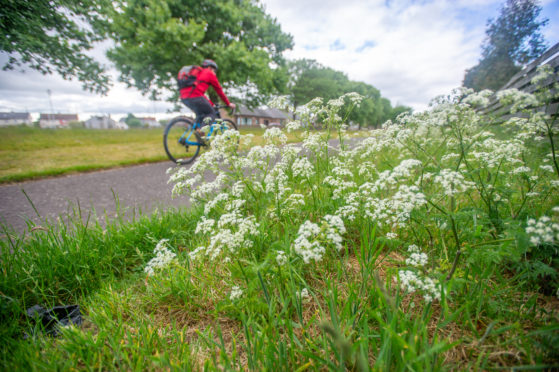 Montrose is leading the way in a biodiversity pilot project which aims to bring wildflowers back to Angus open spaces.
In a move which it is hoped will also help rebuild populations of bees, butterflies and other insects, three parts of the town have been chosen as the first phase of the Space for Nature programme, which will see reduced grass cutting and a continued reduction in chemical use on Angus parks.
With more people cycling and walking, council chiefs have said they hope the project will contribute towards tipping the scales away from the habitat loss which has seen more than 97% of the UK's wildflower meadows disappear since the Second World War.
Their disappearance has also led to a marked decline in pollinators, part of a global trend.
A two-kilometre stretch of cycle track along Broomfield, Whinfield and Faulds Road, the Old Kirk Yard and Rossie Island roundabout at the southern approach to the town are included in the initial phase.
Angus communities convener and Montrose Independent councillor, Mark Salmond said: "The Space for Nature pilot project will run for three years in the first instance, but we hope it proves to be well-received by the Montrose community and is something we can extend to other towns and villages.
"As well as changing grass cutting regimes to give nature a chance, we hope to lend it a helping hand courtesy of local expert wildflower seed producers, Scotia Seeds who are kindly donating seeds and plants."
The firm is also funding information panels which will carry in-situ details about he pilot project.
"As part of the project we are encouraging local people of all ages to send in illustrations of Scottish wildflowers and number of them will be selected for use on the information panels," said Mr Salmond.
Monifieth and Sidlaws SNP councillor Beth Whiteside, the council's meadow and pollinator champion, said: "Our overall aim is to get our communities and nature closer together – town as well as country.
"By changing our ecological approach and specifically our grass cutting and grass collection regime, we can increase opportunities for nature.
"Angus Council manages 40,000 square metres – just under ten acres – worth of sites as species-rich wildflower meadows.
"Where possible, we seek to restore grassland to wildflower diversity and allow new meadows to be created, with nature leading the way."