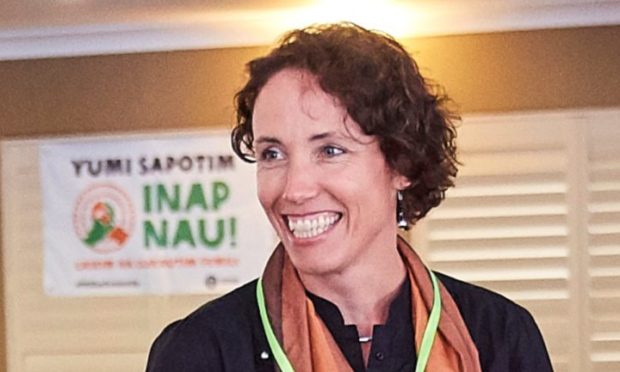 A former pupil of Mackie Academy in Stonehaven who spent her life helping some of the world's poorest communities by tackling issues such as accusations of sorcery and violence against women has died aged 43.
Charlotte Kakebeeke, who worked as programme director for the charity Oxfam in Papua New Guinea, died suddenly at home with her parents in St Cyrus last month.
Throughout her career of fighting to improve the lives of those in need, Ms Kakebeeke worked across the globe in many countries, including Sierra Leone, Sudan, Timor-Leste, Indonesia and Papua New Guinea.
Born in the Netherlands in 1976, Ms Kakebeeke and her family moved to the north-east of Scotland in 1990.
Prior to the lockdown, she had travelled back from her latest job in Papua New Guinea to stay with her mother, Bita, and father, Hans, in St Cyrus ahead of the pandemic. She died in her sleep on May 29.
The cause of death is unknown.
Last week, her Oxfam colleagues in Papua New Guinea organised a memorial service for her, which her parents watched over the internet from their St Cyrus home.
Her mother Bita said: "She was always interested in people and making life better for the under-privileged.
"She was a very caring person, with big sparkling eyes.
"We watched the service in Papua New Guinea on Zoom, and we were happy we could be there in some way.
"We watched it sitting in our kitchen for three hours
"There were speeches from Oxfam offices in Australia, New Zealand, Fiji and all the people from all the other non-governmental organisations where she worked.
"There's so much I want to say about her. She was a lovely daughter, always caring for the whole family, always caring for her nieces and nephews.
"She was always the voice of reason and tried to see the good in people."
In a social media post, Oxfam colleagues in Papua New Guinea wrote that they had to break the "extremely shocking news" of Ms Kakebeeke's death with "a heavy heart".
They added: "It is a big loss for her family and all of us in the PNG team.
"As they say, God takes back good people to work up there.
"We will miss her in every aspects of our day-to-day life and work in PNG.
"Our thoughts are with her family and dear ones."