Guide dogs can transform the lives of those with sight loss. But the people who work with the dogs are critical to their success, as Gayle Ritchie discovers when she visits the Guide Dogs Training School in Forfar
Dogs may be man's best friend but for Allan Milne, his black Labrador Donnie is a lifeline.
Allan, 60, is totally blind, having been diagnosed with a degenerative eye condition at the age of 21. He had his first guide dog in his early 40s and Donnie is his third.
"I can tell if the sun is shining but that's about it," says Allan. "Donnie helps give me my independence. If I didn't have him, I'd just be sitting in the house all day."
While most canine companions enjoy a life of leisure, guide dogs like Donnie offer an invaluable service to the visually impaired, helping to get their owners get from place to place safely, navigating traffic, obstacles, people, animals and hazards.
Bred at the National Breeding Centre in Leamington, they come to Scotland as puppies at around six weeks old, are puppy walked by volunteers, and then go to training school.
Breeds are chosen for their intelligence and special guiding ability, such as golden retrievers, Labrador retrievers, German Shepherds and even cross-breeds.
When Allan was matched with Donnie, the pair had to familiarise themselves with the main routes he'll be taking in and around Dundee and Angus.
"I'm in control; the dog is my assistant," he says. "I can't go somewhere I don't know, but if I can remember how to get there, the dog can. Having a guide dog lets you do things you wouldn't be able to otherwise – Donnie has revolutionised my life."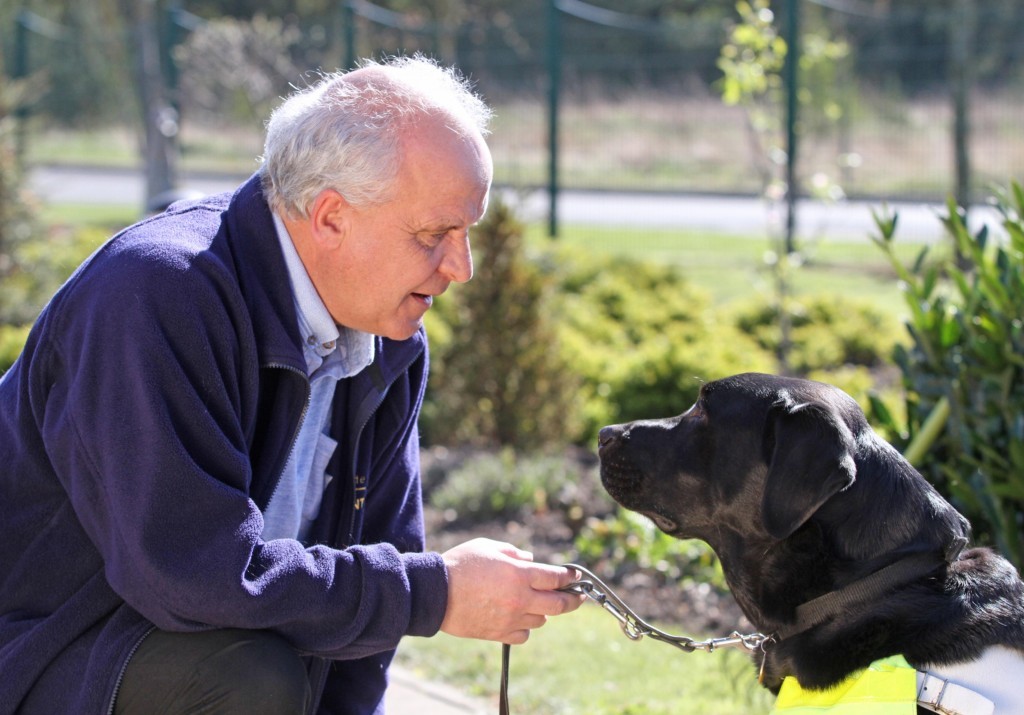 Allan retired from his role as a computing lecturer at Abertay University when he turned 60. If he hadn't had a guide dog, he wouldn't have been able to work.
"I needed a dog to get from my house in Forfar to work in Dundee," he tells me.
"I'd walk with the dog to the bus stop, get off in Dundee and walk to work. He helped me to move from class to class, meeting to meetings, and learned which routes to take. The worst thing is wondering what's happening when there are roadworks or unexpected hazards. You wonder if the dog is misbehaving and then you realise that actually, he's trying to avoid a barrier or scaffolding. The unexpected and the unusual can present problems but you know the dogs are trained not to take you into danger, and that's reassuring."
Although Allan no longer commutes, it's thanks to Donnie that he's able to get out and enjoy a degree of freedom.
"It's made a huge difference to my life. Having to take Donnie out for walks is good for him and me, even if it's just to the shops or to post a letter."
GUIDE DOGS IN ACTION
Watching a group of guide dogs in action at the training school in Forfar is awe-inspiring.
The school provides "foundation" training for around 200 guide dogs each year. The team here includes dog care and welfare staff, puppy training supervisors and training and support staff.
As someone who owns a reasonably well-trained but selectively deaf black Labrador, these wonder dogs put me (and Toby) to absolute shame.
I'm dumbstruck as I watch three dogs ignore the treats laid on the floor before them. It must be torturous!
Guide dog training doesn't use human food as a reward for good performance – dogs should be able to work round food without being distracted by it – and, as senior puppy training supervisor Judy Burnett explains, to avoid strangers unwittingly upsetting their stomachs.
Dogs are trained to walk in straight lines, avoid obstacles, stop at kerbs and stairs, and learn how to judge potential dangers before crossing the street.
They need to keep pace to the left and just ahead of the handler, responding to hand gestures as well as verbal commands.
One tricky part of training is teaching the dog to navigate obstacles with the handler in mind. Learning how to deal with tight spaces is difficult, but through reward and repetition, the instructor gradually demonstrates to the dog that it should never go through a space that is too narrow or too low (think overhanging branches) for its handler.
Training is tough and not all dogs make the grade.
Judy asks if I'd like to do a blindfolded walk with 16-month old yellow Labrador Susie. This will help me to understand the difficulties faced by those with sight loss.
Susie wiggles with excitement as her handler David Stewart brings her towards me, but unlike my dog Toby, she doesn't jump up to lick my face. I'm impressed.
It's raining so staff set up an obstacle course indoors. Susie's task is to navigate round anything she feels I might trip over, whether road signs, bollards, kerbs or speed bumps.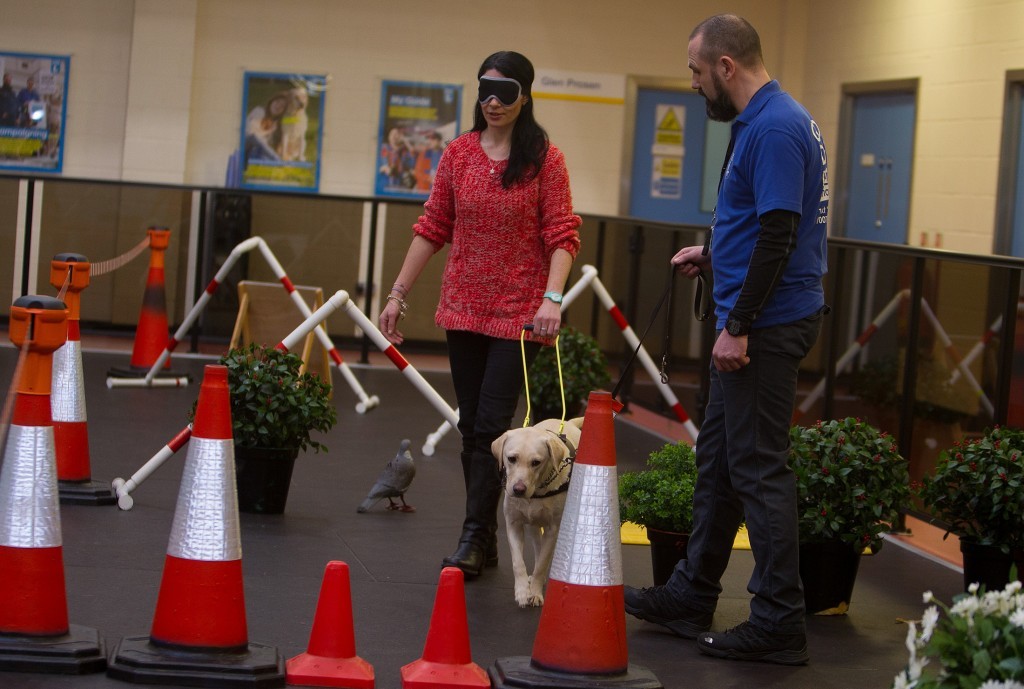 Putting on the blindfold, I feel slightly claustrophobic; it's an odd sensation relying on your hearing and sense of touch.
As I hold on to Susie's harness, David tells me to command her to walk on. She moves ahead and I walk, hesitantly, alongside her.
It's incredibly easy to trip over cracks or raised paving stones, and when you can't see potential obstacles, you need to trust that your four-legged friend will do everything in his or her power to keep you safe.
That's why developing a strong bond with your guide dog is so important. Once I let go and relax, I enjoy the sensation of trusting Susie to lead me through the course, and my admiration for her goes through the roof.
PUPPY POWER
A tour of the state-of-the-art Forfar training school reveals a clean and comfortable environment for the 80 dogs based here.
"The design of the kennels reflects the latest thinking in dog welfare, being in an L-shape so the dogs can see and interact with each other and staff," says Charlotte Finch, head of the school.
The site also features an indoor all-weather training area and purpose-designed outdoor area featuring permanent street obstacles.
Dogs come here when they're around 14 months – having been "fostered" by puppy walkers and boarders – and usually stay until they are 20 months.
"Puppy walkers and volunteers are the life-blood of Guide Dogs Scotland – we simply couldn't provide our life-changing services for people with sight loss without them," says Charlotte.
"It's challenging and requires commitment but with the support of Guide Dog staff, volunteers find it extremely rewarding.
"There are around 350 puppy walkers across Scotland and Northern Ireland at the moment and we're looking for volunteer puppy walkers and boarders for our dogs in training."
Puppy walking prepares guide dog puppies for their working life by familiarising them with different environments including the home, towns and public transport.
Walkers provide the full-time care and education of a puppy from six weeks until they're between 12 and 14 months old. They then return to Guide Dogs to begin formal training at the Forfar training centre.
Fay Simpson has puppy-walked a staggering 27 dogs over the past 18 years.
"I grew up with dogs and when I saw an advert to be a puppy walker, it really appealed," she says.
"I don't see them as my dogs – they're working dogs – and I know that one day, they're going to go. I teach them the basics, such as not going on furniture, coming to the whistle – all the do's and don't's as well as taking them in cars, trains, buses and into cafes and pubs."
Four of the dogs weren't cut out for the job, so Fay adopted one as a pet.
"They were great dogs but had issues," she says. "One was distracted by other dogs. One had hip dysplasia and separation anxiety. Another was highly suspicious and not at all confident, freaking out at mannequins!"
Courier journalists Ross and Terry MacCallum took on 14-week old black lab/retriever cross Yancy in 2014 after hearing there was a shortage of puppy walkers in their area.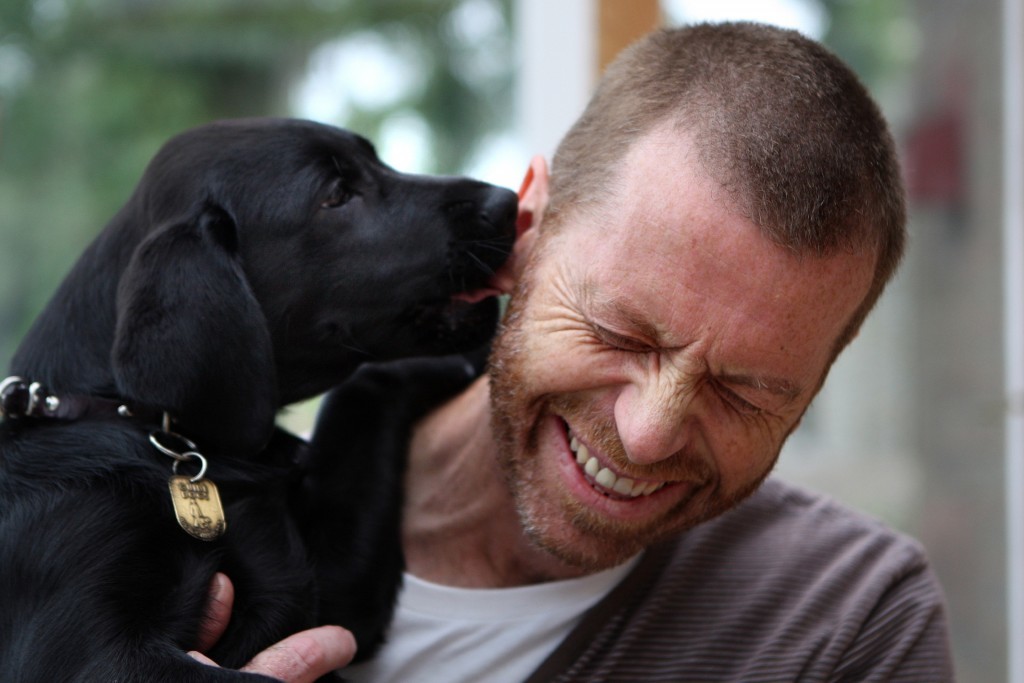 When she left the MacCallum home to continue her advanced training, the couple found it tough, but welcoming their second puppy, Jasmin, helped.
"I can't pretend there wasn't a lump in the throat when Yancy went back to the centre with Lorna her trainer, but the fact there wasn't a backward glance meant she had moved on well and settled – just what we wanted," Terry tells me.
"As Yancy advanced, we were right back to the beginning with Jasmin. We had both pups for about a fortnight. It was a mad scramble of tails and paws, whizzing about and chasing and then curling up beside each other for snoozes. It was a helpful transition period for all of us and made Yancy's departure easier to bear. We're following much the same pattern with Jasmin – where we go, she goes."
She's been shopping, on the bus, at pipe band practices, sitting in church, at Guide Dog meetings and made friends with Dundee University students.
"As with Yancy, we've had all the support we need from our area supervisor Wendy and we've developed friendships with other puppy walkers and boarders," says Ross.
"It's a lovely 'community' to be part of, with everyone working towards the same goal – to play a part in providing the dogs who might change a blind person's life."
Would they consider a third puppy? "We certainly intend to," says Ross. "I don't think we realised just how rewarding puppy walking can be. It could become addictive…"
MAJOR ASSET
With so much fantastic work going on at the Forfar centre, it came as a shock when rumours of its closure circulated in January, with talks to move services to the central belt.
Calls were made to safeguard the future of the training headquarters, which has been in Angus since 1965 and marked its 50th anniversary last year.
On a visit to the new centre, which opened in 2007, Alex Johnstone MSP and Dr Ian Duncan MEP said it was a "real asset" to the region and asked bosses to provide guarantees it will remain in Forfar for decades to come.
Reassuringly, Charlotte tells me it's "business as usual" at the training school and that the only focus is to "continue providing the best possible services we can to people with sight loss across Scotland."
It costs £50,000 to train and support each guide dog and the charity receives no government funding, relying entirely on public generosity. That's why fundraising is vital.
"People are always running, swimming, cycling or walking to raise money for Guide Dogs so we'd love to hear from anyone who wants to get involved," says Charlotte.
It seems to be universally recognised that Guide Dog staff have created something very special in Forfar. It's a magnificent facility full of fantastic people who care deeply about what they do.
Having met Allan and Donnie, it's amazing to witness the unique bond between guide dog and owner – and that's thanks to the amazing work done by staff and volunteers.
"We have so many rich stories like Allan's of how lives have been turned around," says Charlotte.
"A guide dog doesn't just boost someone's independence by getting them out and about on their own terms but can open up the world to them – helping people reconnect to communities they may have become isolated from. You really can't put a price on the positive impact a guide dog can have on someone's life."
info
Every hour, another person in the UK goes blind. When someone loses their sight, Guide Dogs is here to make sure they don't lose their freedom.
Guide Dogs provides a range of mobility services and works to break down barriers so that people who are blind or partially sighted can get out and about on their own terms.
There are around 530 guide dog owners in Scotland and around 200 dogs per year receive training at Guide Dogs Forfar Training School.
Guide Dogs are always looking for volunteers, whether as puppy walkers or boarders, who take care of the dogs at night. They're also looking for people to help around the centre, drive, and to join their fundraising group.
You can tour the Forfar training school and get a behind-the scenes look at dog training. Scheduled tours of the Forfar training school run during holidays and festive breaks but you can arrange a tour any time by phoning or emailing the centre.
Contact Emma Murton on 0118 983 8703 or email Forfar@guidedogs.org.uk or see the Facebook page.
On July 30, the Guide Dogs Adventure Day will be a fantastic fundraising opportunity, with fun for all, including an 100ft inflatable assault course challenge. www.guidedogs.org.uk