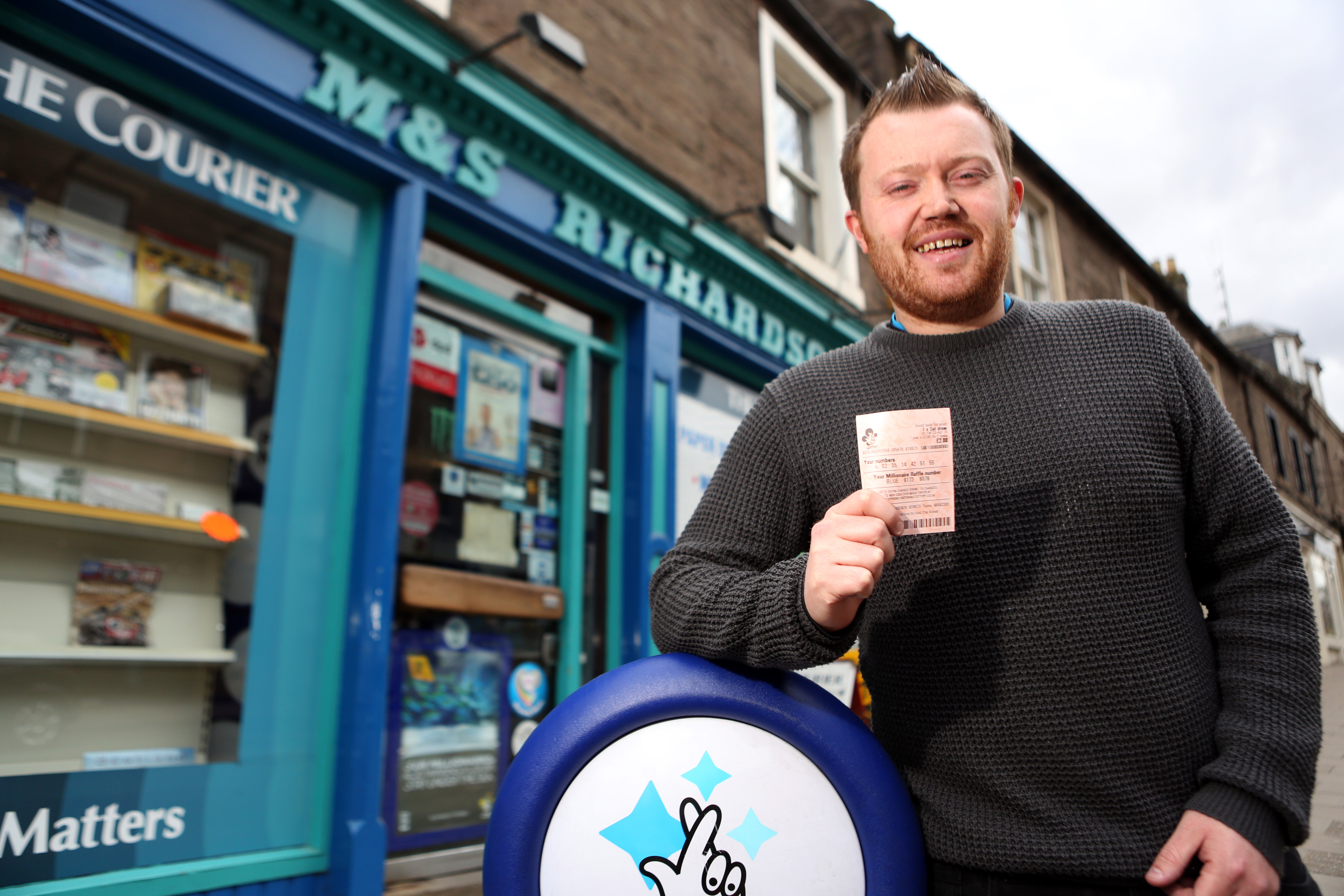 Angus shops are experiencing a bout of Lottery fever in the wake of a £10 million jackpot win in the county.
And the UK's newest multi-millionaire winner is expected to jet out to sunny Spain in the next few days as he searches for an overseas pad.
Forfar man John Bowman, known as Jake, won £10.3m in last Saturday's National Lottery draw and decided to go public at a luxury hotel in Paisley on Thursday.
Ticket-selling shops in the town have already experienced an upsurge in demand as locals hope some of Mr Bowman's good fortune will rub off on them.
Umar Sher of 1st Stop 2 Shop in South Street said he has seen a "huge uplift" in ticket sales.
He added: "Today is up about 30% because the next big draw is the EuroMillions tonight.
"There have also been a lot of people thinking about it as it's in the papers today.
"You never know, it may be third time lucky for Forfar soon.
"And I reckon the High Street has had its fair share of big winners so we get to have one next."
Adrian White of Richardson's in West High Street said Mr Bowman was a regular customer in the shop, to buy both lucky dip and syndicate lottery tickets.
"We have actually had an increase in ticket sales but we won't get the exact numbers until tomorrow," he said.
"A lot of the people that have been coming in to buy tickets are new faces, or folk who maybe come in but don't tend to buy a lottery ticket.
"It's hard to say whether those are just people passing by from other places, but it's been noticeable."
Mr White said the surge in interest began Monday, when rumours about Mr Bowman's win were circulating.
"I was hearing about it from somebody in Tenerife asking what had happened, so it goes to show you how quickly these things go around," he said.
In September 2013, shop assistant Janette Robertson became a EuroMillions Millionaire Raffle winner after buying a ticket at the newsagent where she had worked for almost 20 years.
But staff at Hampton's Newsagents in East High Street said they would have to wait until today's invoice to find out ticket numbers and RS McColl in East High Street, where Mr Bowman bought his winning ticket, did not comment.
In an interview with The Courier, the lucky winner said he was uncertain over what he would do with his money beyond a house hunt and providing for his daughters Emma, 26, and Lisa, 28.
"I like going abroad on holiday once a year and I really like Spain so I'll probably head there over the next few days, and maybe even start looking at properties," he said.
"I like Corfu too so I might check out a few places before I decide.
"I enjoy F1, so I think a trip to the Monaco Grand Prix will be on the cards."
Mr Bowman also ran the syndicate at Ramsay Ladders, at which he worked for 40 years.
He announced he would not return to work, but the firm's director said there is still a job for him "if he wants it".
Gordon Lowson said: "I've heard of people winning and going back to work.
"There's a job for him if he wants it, but I doubt he will."