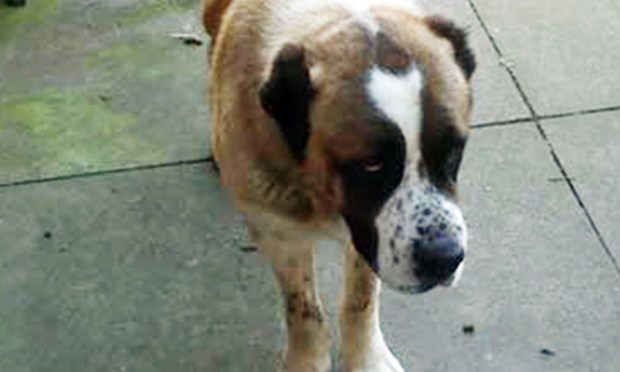 A dog on death row for mauling a puppy to death has been given a reprieve by a senior court.
Douglas, a three-year-old St Bernard, savaged Sarah Connor's Jackadoodle at a popular walking spot in Arbroath and was later condemned to death by a sheriff.
The rescue dog, which also bit Sarah as she tried to shield four-month-old Buzz, was owned by a charity, but was being looked after by former soldier Philip Pudney, 60, at the time of the attack in West Links on May 10.
Anne-Marie Luckhurst, the founder of Saving Saints Rescue UK, won her appeal to save Douglas after an Edinburgh court found that alternatives to destruction were not properly considered by the sheriff sitting on the original case.
Sarah, 35, said her family felt let down by the court system, adding she was troubled by the fact a dog with a "thirst for blood" was still out there.
The appeal court found the sheriff was not given all the information required to make a sound judgment, such as an assessment of the dog's temperament.
The sheriff also did not consider alternative orders that were less severe than destruction, but would have nevertheless protected the public, one of the appeal judges said.
Appeal sheriff Paul Arthurson QC said the court therefore had "no difficulty" in quashing the destruction order.
He left it to the discretion of the charity to ensure the dog is not a danger to the public.
"We leave it to the good sense of the charity to enforce their rules on good practice in such circumstances as these, bearing in mind the obvious horror and distress that must have been experienced by the owner of the dog which was attacked," he said.
The appeal sheriffs were critical of Pudney's actions, saying he should not have put an electric collar on the dog given the history of abuse it had suffered and that it should have been on a lead.
Sheriff Ian Abercrombie QC said it was "crazy" for Pudney to be walking six dogs, which included St Bernards and a Rottweiler, at the same time.
In June, Sheriff Gregor Murray ordered the dog's destruction but did not ban Pudney,  of Keptie Road, Arbroath, from keeping other animals.
Pudney, who was volunteering as a dog walker for the charity, was fined £500.
Sarah, 35, said: "I will never forget what has happened. It has been awful.
"I feel let down and it's like we've been forgotten even though we're the victims."
She added: "It was never the dog's fault, but then it's difficult knowing that a dangerous dog is out there which can inflict that kind of damage.
"I've always felt that once a dog has a taste for blood like that then that's it."