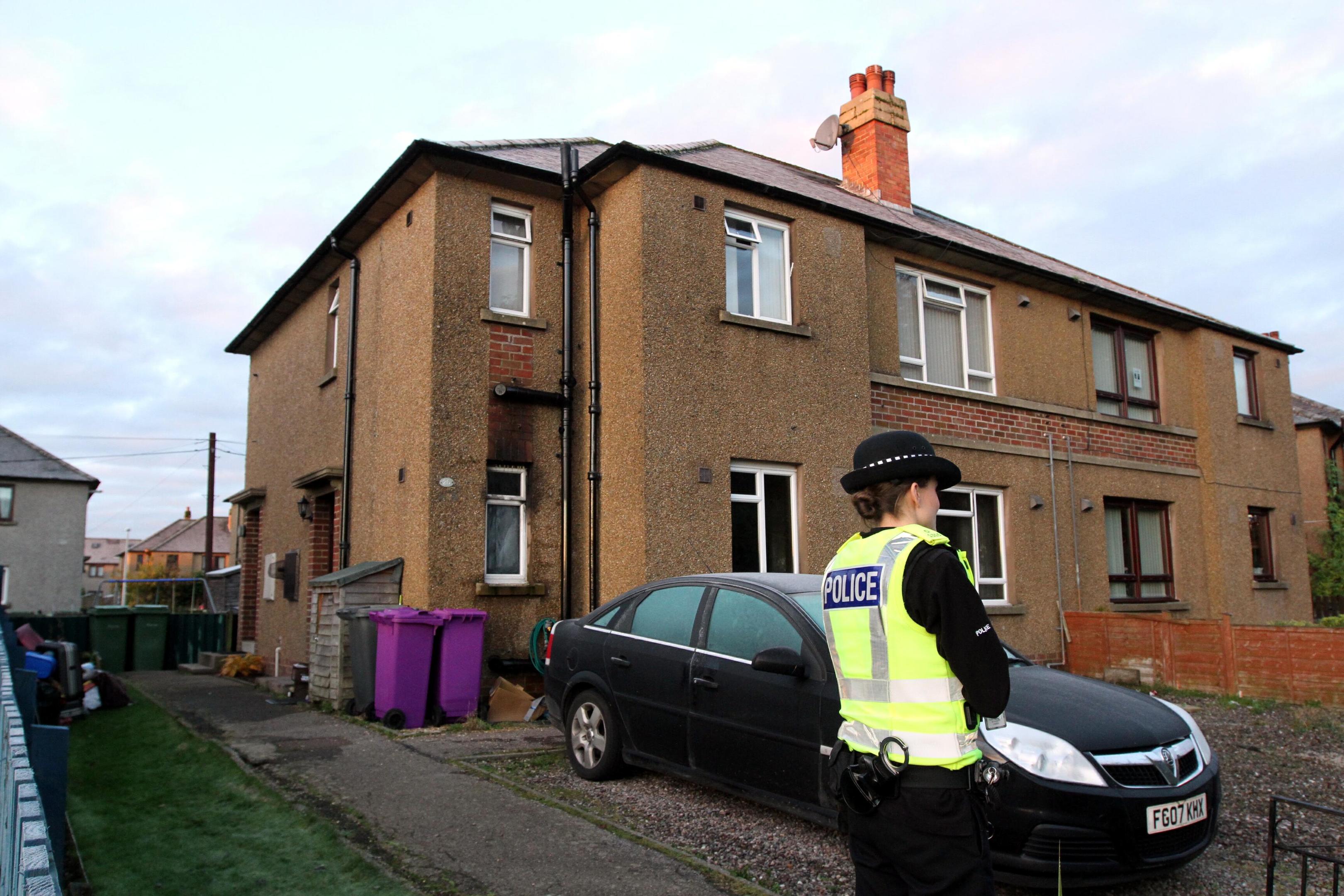 Specialist officers from a fire investigation unit in Aberdeen are working with police to establish the cause of an Angus blaze.
Investigators combed for clues in the charred debris of the bedroom of a ground-floor flat in Kirriemuir's Prosen Road following an early morning fire on Tuesday.
A man and a woman were taken to Ninewells Hospital in Dundee by ambulance suffering from "moderate" smoke inhalation after fire broke out around 1.45am.
The couple managed to get out of the property and raise the alarm.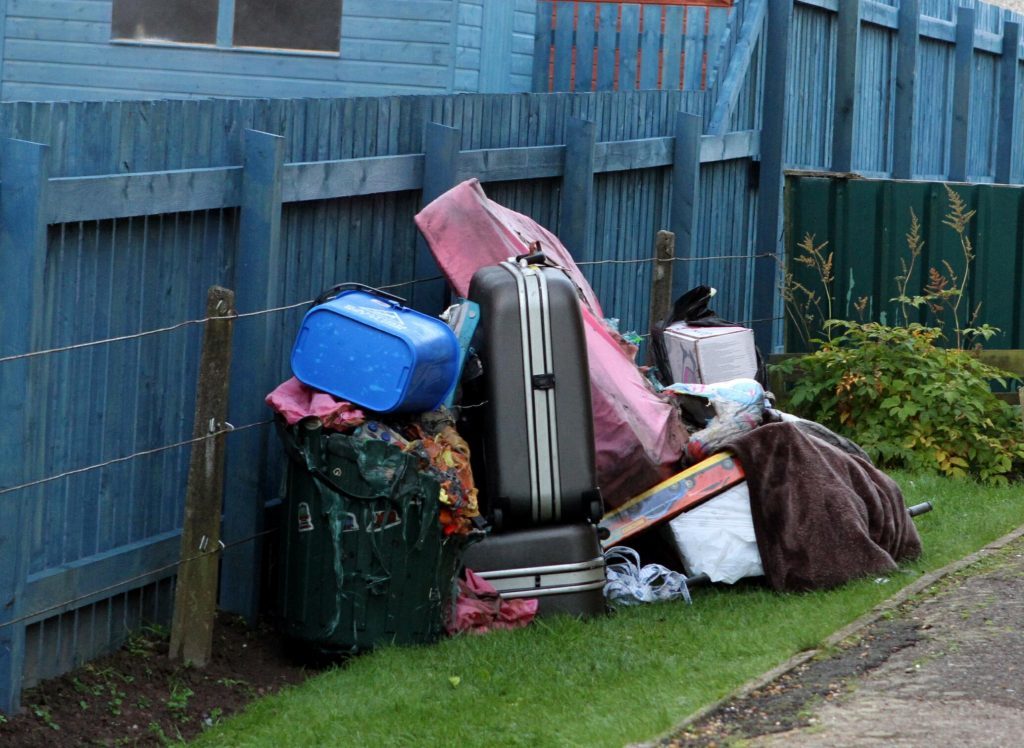 A full emergency response was scrambled to the scene with two pumps from Kirriemuir in attendance along with police and ambulance crews.
The fire was contained to a bedroom and four firefighters wearing breathing apparatus used high pressure jets to quickly put it out.
An elderly woman in the flat above was evacuated and taken into the care of police.
She was put up in emergency accommodation as there was a strong smell of smoke in her flat.
One witness said the woman was "shocked and visibly upset".
Firefighters remained at the scene and used a thermal imaging camera to check for hotspots before the last appliance left at 4.20am.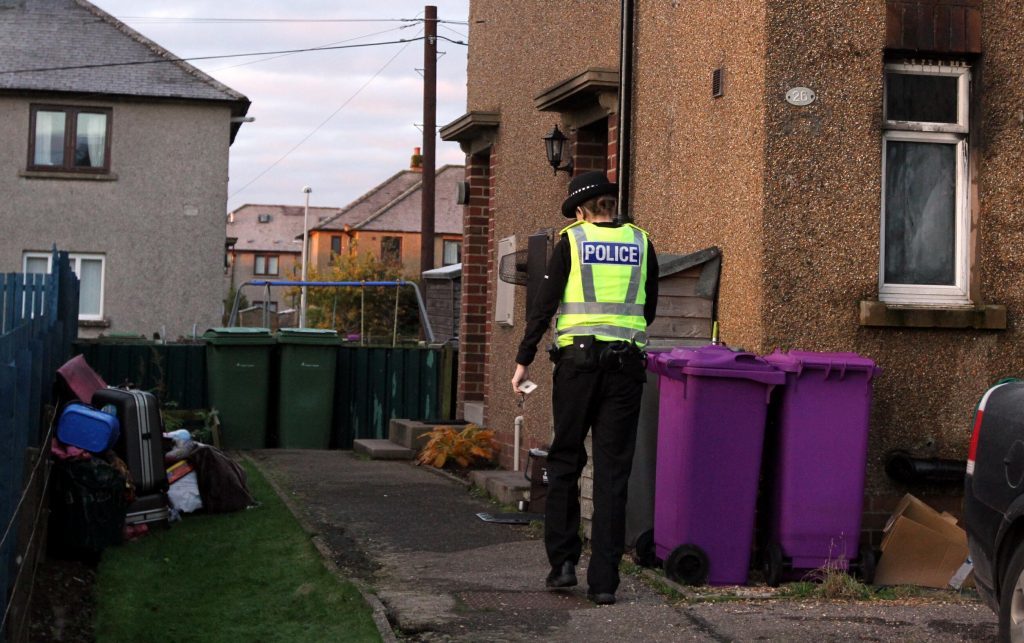 A Scottish Fire and Rescue Service spokesman said: "Firefighters located the fire and it was extinguished by crews in breathing apparatus using high pressure jets.
"Two adults were able to get themselves out of the flat and were taken to hospital by the Scottish Ambulance Service for treatment for moderate smoke inhalation.
"One elderly resident in a flat above was evacuated as a precautionary measure and was cared for by Police Scotland."
He said a joint investigation between the Scottish Fire and Rescue Service and Police Scotland will take place to establish the cause of the blaze.
Fire investigation officers can be requested to attend incidents by police colleagues where officers have identified the incident they are dealing with is a potential crime scene.
The fire investigation team in Aberdeen cover the largest geographical area in Scotland, from Perth up to the Orkney and Shetland Islands and over to the Western Isles.
One neighbour said: "I heard banging on my door. It was the lady who lives in the flat that was on fire.
"She told me there was a fire in her house. The man was completely black."
A rear window was broken due to the heat of the fire and police remained outside the building on Tuesday.
It has been a busy few days for the Kirriemuir crew which was also involved in Saturday night's major blaze at a former school in Forfar.
Eight fire crews from Forfar, Kirriemuir, Brechin, and the Dundee stations of Blackness Road, Kingsway and Macalpine Road were involved in the operation at the old Wellbrae primary.