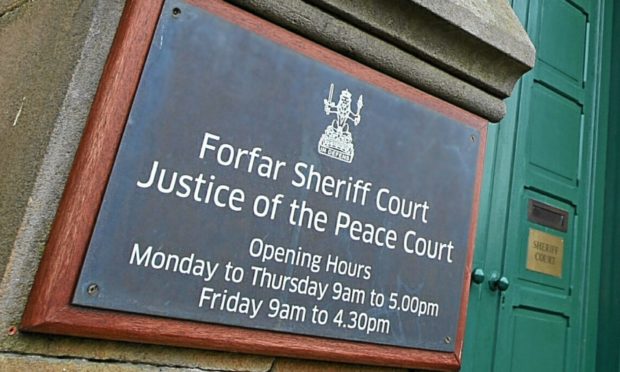 A budding Angus submariner who drove while more than five times over the alcohol limit has been told he may face a jail term.
James Collins left his mother's car in Arbroath before a night out with his seaman brother earlier this month.
Forfar Sheriff Court heard the 22-year-old made the "daft" choice to drive back home to Inverkeilor after they had "a lot to drink".
Collins, who is pursuing a career with the Royal Navy as a submariner, was caught by police driving north on the A92.
Fiscal depute Kirsten Letford said: "The time was 1.35am on the 17th of October, on Monday morning.
"Police witnesses were on mobile patrol in a marked car at the locus on Burnside Drive and saw the accused driving north.
"The vehicle was seen to be moving at speed before losing control and almost mounting the central reservation, before correcting and returning to head north."
Police followed the vehicle and flagged down Collins before smelling alcohol from the car.
They conducted a roadside breath test, which failed, and took him into custody.
"He was kept in custody until he appeared in the court later that morning," Mrs Letford added.
Solicitor Keith Sym said his client is working part-time after an early attempt to join the Royal Navy had failed.
He said: "It appears due to an administrative error he could only go on surface ships, which was not his intention, or he could leave early and re-enroll to become a submariner.
"He had met up with his brother who is also in the Royal Navy.They clearly had a lot to drink. His intention had been to get a taxi home to Inverkeilor but the car was in Arbroath.
"He understands that was absolutely daft and he understands he will be disqualified or some period of time.That will not impact on his capacity to follow a career in the Royal Navy in the future."
Sheriff Pino Di Emidio said: "It's almost lucky the police did see him."
Deferring sentence to November 24 for reports, Sheriff Di Emidio said: "The level of reading gives me serious concern, and the level of penalty would be above his means.
"All options on this matter, including imprisonment, remain open to the court."
Collins, of Keilor Way, admitted driving on the A92 while being unfit through drink, after giving a reading of 124 microgrammes in 100 millilitres of breath, where the legal limit is 22 mics.