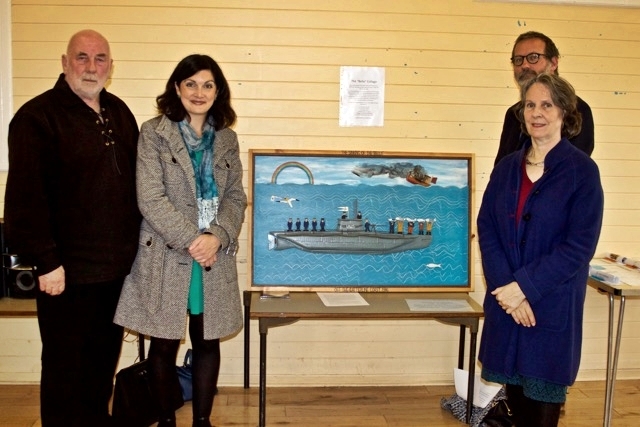 Hopes are high that the Mearns will host a museum to one of the world's most famous ships and its local designer.
Viscountess Arbuthnott formally launched the Cutty Sark Heritage Project, which will see schools collaborate on work around the historic tea clipper and Inverbervie-born Hercules Linton.
The announcement came at the culmination of a recent project to commemorate the centenary of Gourdon fishing boat Bella's sinking by a U-boat, and the capture of its crew.
A display of art and research by pupils from Catterline, Gourdon, and Kinneff schools was displayed in Kinneff village hall.
Viscountess Arbuthnott said: "Three schools, Bervie, Auchenblae, and Glenbervie primary schools are already working on a new project drawing together the themes of Robert Burns, Tam o' Shanter, the father of Robert Burns who was born just outside Stonehaven, Hercules Linton designer of the Cutty Sark, and how Auchenblae featured in the era of the tea clippers and the tea trade in the far east.
"The research and contributions by each school will again enhance local heritage, and bring about an integrated heritage story which has never been told in this way before, and will culminate in the establishment of a Cutty Sark museum."
The Cutty Sark museum in Greenwich is supporting the project.
Its curator unveiled a Historic Scotland plaque to Hercules Linton in Bervie last year, acknowledging his pioneering contribution to ship design and maritime innovation.
A schools art competition was included in the Bella programme with Catterline artist Stuart Buchanan judging the best entries.
The prize money was donated by Catterline and Kinneff, and Gourdon Community Councils, and a generous donation towards the prizes was made by Susan Mann, a direct descendant of one of the Bella's crew.
The commemoration and pupils' work will be published in a book.
Viscountess Arbuthnott said: "With this public display of work by pupils of Catterline, Kinneff and Gourdon schools, it is a testimony to the enthusiasm and commitment of staff and pupils who have participated in the Bella centenary project."
Project director and organiser Dave Ramsay of Mearns Heritage Services said: "When parents and pupils visited the exhibition it was interesting to hear many saying that they had been unaware of the story of the Bella until their children began talking about their project.
"Here we have an exciting difference in heritage education, where pupils are making parents aware of heritage in their local communities."