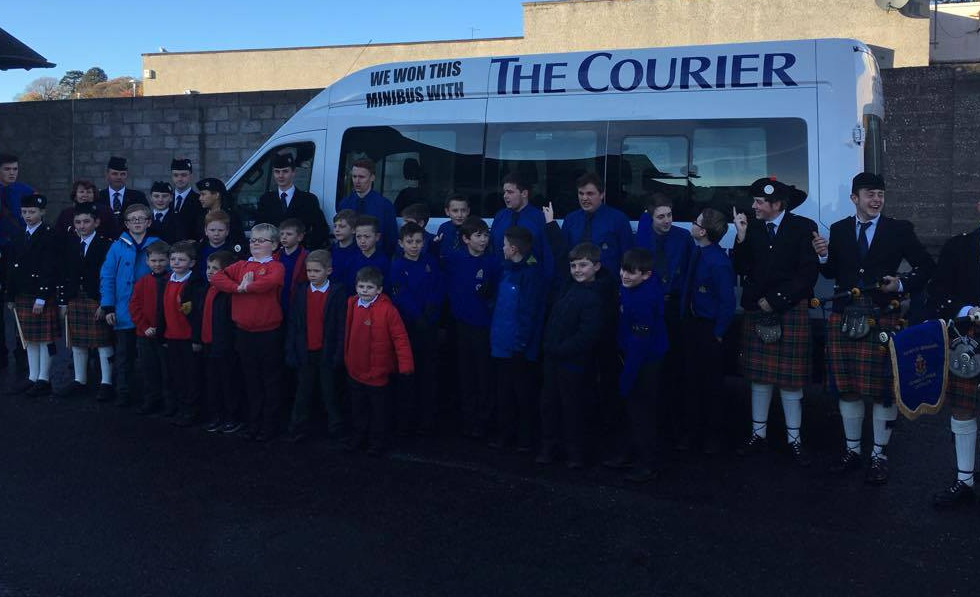 The winners of the Courier Minibus competition showed off their new wheels at their annual parade over the weekend.
The 1st Monifieth Boys Brigade were the lucky winners of this year's competition, which was announced in Monday's paper.
Almost 200,000 tokens were collected by 185 groups and organisations across Courier Country, with the draw being made from more than 3,500 entries.
The Monifieth group displayed their brand new transporter at their yearly enrolment parade, which saw the boys march through Monifieth accompanied by their own pipe band.
Officer in Charge of the Monifieth BB Company Section, Andrew McCartney, said winning the competition was a fantastic experience for all involved.
He said the group would use the minibus continue with their work in the local community, and said it would be particularly helpful for their Christmas delivery campaign.
The boys will hand-deliver cards across Monifieth throughout December, and will use the bus to make sure every card is delivered safely and efficiently, according to Andrew.
"We launch our card delivery service at the Monifieth Christmas lights switch-on on December 2," he said.
"The Courier Minibus will take pride of place at the event, as a thank-you to everyone who helped collect the thousands of tokens we submitted.
"We already have a night-out for the boys planned for next Friday, with a trip to Sky High Trampolining in Falkirk.
"Having our own, new minibus to take us there will make it all the better.
"We want to use the minibus to benefit everyone in the community, and have already been liaising with Monifieth High School to discuss using it for excursions like the Duke of Edinburgh and Saltire awards.
"The bus was unveiled to the boys, their parents and those who helped out on Sunday morning, at our annual enrolment parade. Some of the boys who weren't there at the announcement last Friday got the chance to see it for the first time.
"To have won is absolutely amazing."
The group submitted 181 entry forms for this year's competition. With each form requiring 50 tokens, the organisation collected a whopping 9,050 tokens over the course of the competition.
Andrew also said the BB would help other Monifieth community groups collect tokens for next year's competition, as a thank you for all of the help they received this year.
In recent years, the 1st Monifeth Boys' Brigade has gone from strength to strength and now boasts more than 80 children, both boys and girls.