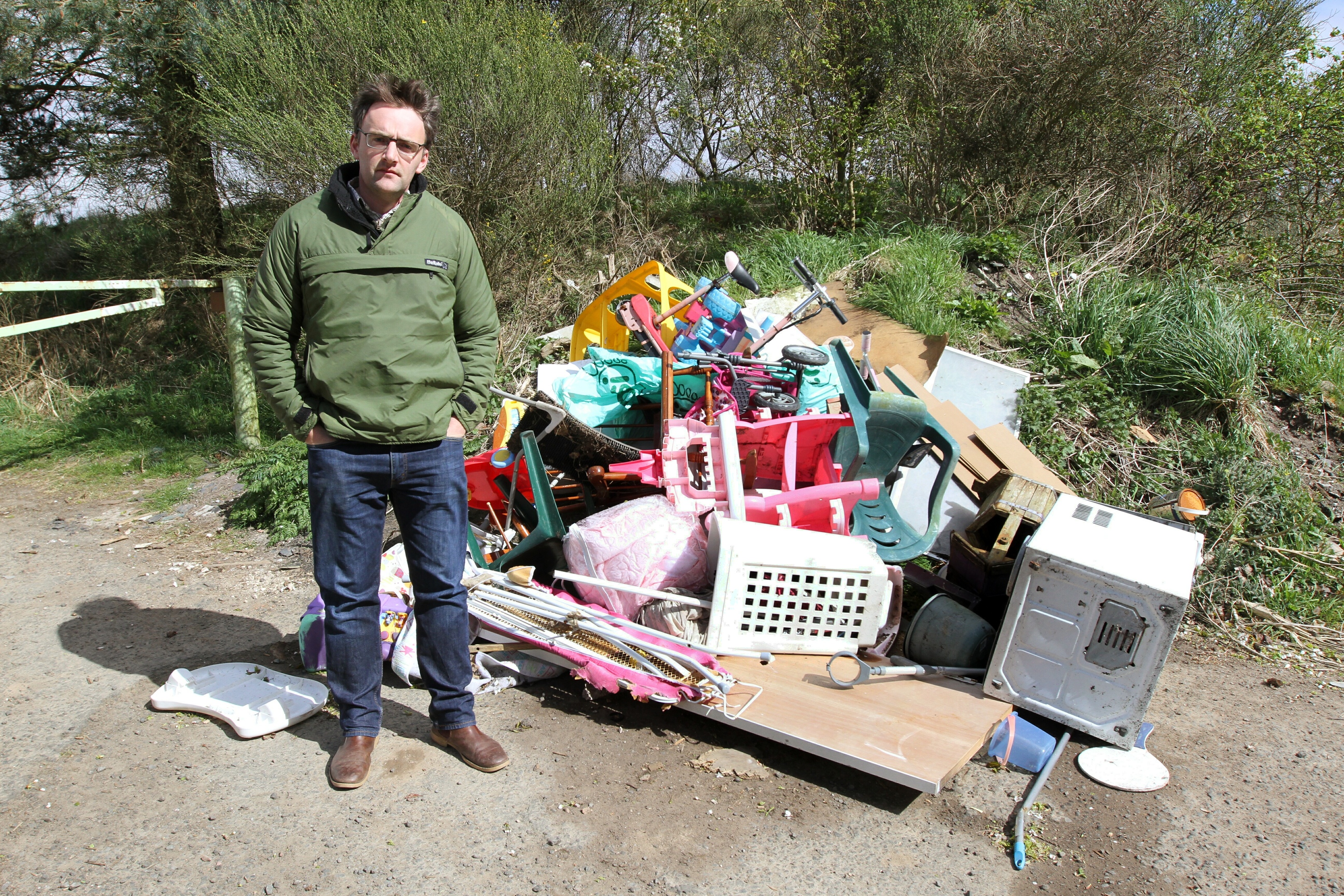 Farmers on the Angus/Dundee border have slammed fly-tippers after the latest incident in a growing tide of illegal dumping on the city's northern fringe.
Everything from toys to building materials is regularly dumped in laybys, fields and at Sidlaws' roadside, with the onset of spring leading to the problem spiralling in recent days.
In one previous disgusting incident, an entire Dundee City Council wheelie bin packed full of bags containing dogs' mess was left on local farmland.
Farmers fears that some of the material is coming from innocent householders paying van men to take rubbish away in the mistaken belief that it will be properly and legally disposed of, but instead is being taken just beyond the city limits and left.
Tom Pate, of South Powrie Farm was left facing his latest clean-up after a weekend incident which saw a huge pile of items dumped close to the flyover over the A90 at Powrie Brae.
"It's a constant problem and I don't know if it's just the better weather but there has certainly been a spike in the last week to ten days," he said.
"The farm straddles the two council areas but the rubbish is always dumped just over the border in Angus.
"I would bet my bottom dollar that it's coming out of Dundee, whether it is stuff from buildings sites, folk just dumping their own rubbish or people who are giving a man with a van maybe £20 to get rid of stuff and it is finding its way here.
"If there's anything we can find to trace it back to a household then we will report it, usually direct to the council or SEPA depending on the size and nature of waste.
"If I saw someone in the act and got a number plate etc then I would contact the police.
"I think it is vastly unreported as many private landowners just foot the bill for clear-up," added Mr Pate.
Neighbouring farmer Alistair Hodnett's close proximity to the empty Strathmartine Hospital has also led to him being plagued by the issue, but he feels signs warning of massive fines for offenders are paying only lip service to tackling the problem.
"Nobody will do anything to help us, if it's on private property the council won't lift it and it is a constant battle."
A council spokesperson said: "Fly-tipping is anti-social, selfish and illegal.
"If you are aware of anyone who has dumped rubbish, please report them on our website or by calling ACCESSLine on 03452 777 776.
"For larger scale incidents, contact the Scottish Environment Protection Agency.
"We will investigate and dispose of fly-tipping on council ground. Where items are fly-tipped on private grounds, while the landowner is responsible for clearing away the fly-tipping we will try to find the culprit."