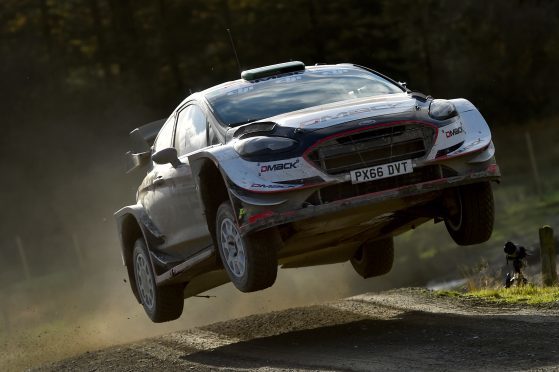 Among the winding tracks and gutters of the glorious valleys a little piece of history was made on the weekend the clocks went back.
To most the name Elfyn Evans will mean little, but through the haar and the glaur of the forests in his homeland, the rosy-cheeked 28-year-old became the first Welshman in the history of the World Rally Championship to win Rally GB.
Mythical forest stages challenged the world's best rally men on the weekend where Lewis Hamilton usurped Sir Jackie Stewart's place in the motorsport record books by going one better than the flying Scot's three Formula One world titles.
Mid-Wales forest tracks and Mexico City's Autodromo Hermanos Rodriguez may be some way distant of Kirrie, but the sporting theatre witnessed at each is the circuitous route we'll take in celebration of the Angus town's position as a pace-setter in the drive to become a dementia friendly community.
The Kirrie Connections town centre hub is already delivering valuable advice and support to not only locals, but similar groups across the land looking to follow the lead of the dedicated Angus project.
A dementia-friendly garden is well established and doing great things as both a tranquil retreat and a hands-on place to be, and the latest stage of the journey is the setting up of UK's newest Sporting Memories Foundation group, with Kirrie the most northerly satellite so far for the national charity.
Volunteers have stepped up to the plate and they will host the regular gatherings in which locals are invited to come together for a bit of a blether, using sporting memories as the catalyst for chat. Sessions will also feature gentle physical exertion through activities such as carpet curling.
Figures connected with the foundation are, quite rightly, excited about Kirriemuir's involvement and the diversity of discussion they are confident will emerge once the group is in its stride.
Who knows, someone might even bring up the memory of Ford Escorts charging through the forests of neighbouring Perthshire when you didn't have to hike all the way to Wales to see the world's best drivers in action.