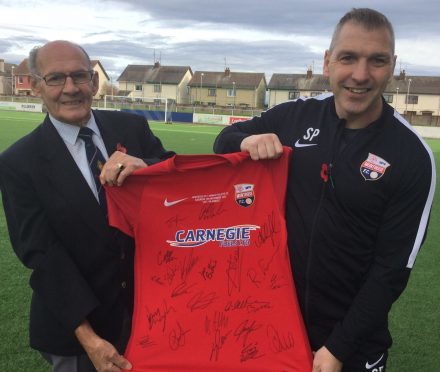 An Angus football club will pay poignant tribute to the fallen at a Scottish league match this weekend.
In a first for Montrose FC in modern times, fans will fall silent on Saturday ahead of the Gable Endies' League Two match with Annan Athletic as a tribute to war heroes past and present, with the two sides led onto the pitch by standard bearers before a solo bugler plays the last post.
A minute's silence will be held before kick-off, and the Royal British Legion Scotland is to benefit from a signed shirt auction for a unique poppy red Montrose strip on which the hammer will fall after the final whistle.
Organiser and vice-chairman of the Montrose Legion branch, Ally Hutchison, said: "It is great to see the Legion and the football club working so closely together on this and I must thank Montrose FC for all their support in helping us mark this special day."
The Montrose branch was formed in November 1931 with members meeting once a month in a recreational hall in Mill Street before moving to Queen Street in 1933.
In 1964 the Artillery Territorial HQ in Wellington Street was purchased by the War Office and became the home of the Montrose branch, where it remains today – just yards away from the entrance to Links Park.
The teams on Saturday will be led out by the Legion standard bearer, retired Bombardier Ron Blacklaws, a former soldier based at the Artillery Headquarters in Wellington Street who also has a close connection to the football club having been a groundsman for six years at Links Park back in the 1960s.
Ron will be flanked by Lance Bombardier Lewis Gaskin of the Royal Artillery, Montrose Army Cadet Force and Cadet Flight Sergeant Jamal Ronald of 2288 Squadron, Montrose Air Training Corps.
The solo bugler will be Kirstina Fairweather of the Montrose Town Band.
Club chairman John Crawford said, "This is set to be a fitting and emotional tribute and one that most of our fans will never have witnessed at Links Park before.
"When the Legion approached us with the idea we were more than happy to help and it is all the more fitting with the 11th coinciding with a home match."
Fans are requested to arrive at least 10 minutes ahead of kick-off to allow the tribute to be conducted uninterrupted.
The specially-commissioned poppy red shirt has been embroidered with the match details and the immortal words Lest We Forget, with bids invited now via the football club's Facebook page.