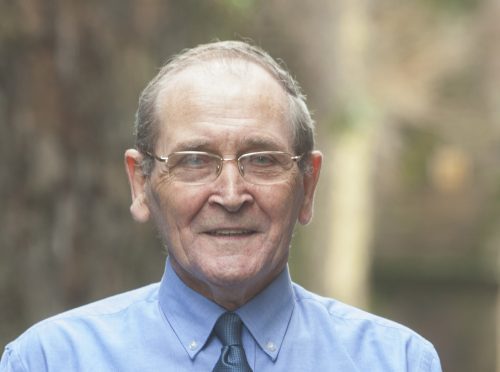 A Tayside man has told how he developed a life-changing lung disease as a direct result of nursing his wife of 54 years through the final days of her life.
David Munro, 77, from Montrose, said emphysema had robbed him of his strength and his breath and left him unable to go anywhere without a portable machine.
Mr Munro's wife Jean died in 2016 following a battle with dementia which dashed the couple's hopes of a long retirement together.
Research has shown people who provide care to a frail or needy loved one tend to live with high chronic stress and skimp on self-care – factors that raise the risk for numerous illnesses.
Mr Munro insists he has "no regrets" about putting his wife first but admits the physical strain and mental impact of doing "absolutely everything" took its toll on his health.
His family and doctors eventually persuaded him to find a care home for his wife when he could no longer climb the stairs and the last of his strength was ebbing.
He was eventually examined at Ninewells Hospital and given a CT scan which revealed he had emphysema and his lungs were in a "poor state".
"I didn't honestly realise that looking after someone with dementia would become a full-time job," he said.
"As Jean got steadily worse I had to do absolutely everything and it was 24/7 with no respite."
However, he added: "I wouldn't do things differently despite what's happened to me as a result.
"When you devote your whole life to someone you look after them to the very end."
Mr Munro is speaking out to raise awareness of World COPD (chronic obstructive pulmonary disease) Day on November 15 and to encourage other people to look out for the warning signs.
He said: "I didn't realise I was so low.
"The family told me they could see my health was going downhill.
"The doctor eventually stepped in and convinced me that Jean would have to go into a care home."
Mr Munro said emphysema has robbed him of his strength and breath but he was remaining positive.
He was given pulmonary rehabilitation and now goes everywhere with an oxygen concentrator which works much like a window air conditioning unit, taking in air, modifying it and delivering it in a new form.
Mr Munro is also keen to stress the great work being done by the Angus COPD group (Stracathro) which meets every Monday from 1.30pm to 4pm.
He goes there for seated yoga and exercise and the group provides advice and information for COPD sufferers to help them get active and improve their quality of life.
The group will be at Tesco in Montrose from 10am to 3pm on World COPD Day for people who would like more information.
Mr and Mrs Munro were both born in Dundee and the couple lived together in Montrose for 30 years.