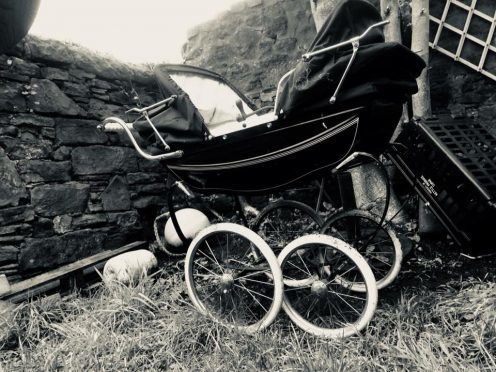 A "haunted" doll's pram will take centre stage as tales of ghosts and marauding skeletons are brought to life in Arbroath.
Husband and wife team Neil Paterson and Jilly Henderson are launching Edinburgh-style ghost walks at the town's abbey this weekend.
Demand for the two walks on Saturday and Sunday has been phenomenal with over 120 people expected which has led the couple to add two more dates for February.
Jilly said the couple have been doing a lot of research and said walkers will see Arbroath in a different light — and have some spooky tales to take away with them.
She said: "Walkers can expect to be enlightened on the facts of a marauding bunch of skeletons who went on the rampage in Arbroath but were never convicted in court.
"On a slightly different note we have a haunted pram we are using as a prop during the walks which has a backstory all of its own.
"Apparently the pram was saved from a fire that burned the owner's house to the ground.
"The family who lived in the ill-fated house had twin girls and this was their doll's pram.
"The twin girls went missing after the fire and nobody knows if they perished along with the rest of the family.
"They've never been seen again but the pram is known to move all on its own as if being pushed by an invisible force."
Jilly said they have been overwhelmed by the popularity of the ghost walk so far and plan to introduce even more walks over the coming months.
She said: "Research has been done in various ways including a historical collection of facts from the British Library which has been helpful.
"Friends and locals have also really embraced the idea and have been full of local tales and stories."
Jilly said they also found out about a house which is apparently haunted by the ghost of local poet Marion Angus.
Marion Angus wrote during the 1920s and spent her final years in the care of an old friend in Arbroath, where she died in 1946.
Some places in Arbroath are well-known for ghoulish goings-on.
In the 18th Century, residents of St Vigeans believed there was a loch under the 40ft mound on which the church stands and they believed a kelpie lived in the loch.
The myth grew that the man who built the church had captured the horse and put it to work dragging large stones up the hill.
On being rescued from its labours, the beast harboured a resentment against its captor and set a curse upon the church.