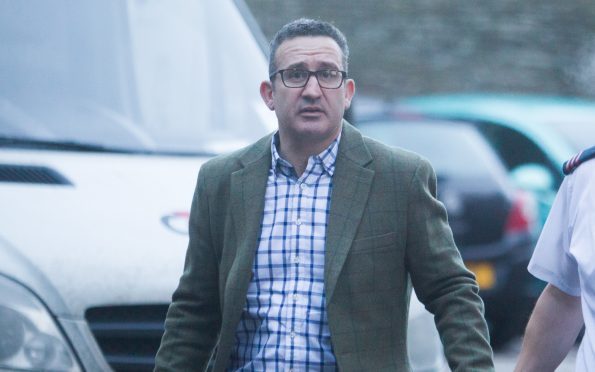 A killer driver who drove while already banned but was granted a new licence after an DVLA blunder has been banned for a further five years and put on an electronic tag.
Halim Cholmeley, 44, from Glenprosen, appeared for sentencing at Forfar Sheriff Court on Wednesday having previously been sent to jail for six months in December for getting behind the wheel while disqualified.
His prison term is due to end within days, but Cholmeley was back in the dock before Sheriff Alison McKay for sentencing on other offences, including obtaining a licence while disqualified, driving while banned and without insurance.
An earlier court hearing was told an administration error by the DVLA enabled the recruitment consultant to obtain a new licence.
He went on to use it to take a £50,000 Audi SUV for an extended test drive despite him being subject to a 10-year-ban imposed on him when he was sentenced to a six-year prison term at Edinburgh High Court for causing a crash which led to the death of Perth taxi driver Gavin McCabe on Dundee's Kingsway in March 2009.
Sheriff McKay told Cholmeley he had been banned from holding or obtaining a driving licence but that he had gone on to obtain a licence which he was not entitled to do.
The court was told that when the DVLA issued him with a new licence in June 2016, the system from which they provide print-outs to the courts for sentencing in driving cases did not have all the relevant disqualifications that Cholmeley had on his licence.
The court heard that the accused had conceded he should have petitioned the court for a licence but, due to the DVLA error, he was issued with another licence.
Defence agent William Boyle said his client had done nothing fraudulent but physically did not go to the court to withdraw the ban.
"This was a genuine advantage of an administration muddle," said Mr Boyle.
"If it was highly suspicious, one could think this was a fraudulent scheme to bypass the court, but he is not charged with that."
Sheriff McKay disqualified Cholmeley from driving for five years, ordered him to carry out 280 hours unpaid work to be completed within 12 months, and placed him on a Restriction of Liberty Order between the hours of 7 pm and 7 am for 11 months.
The DVLA previously said it was investigating the circumstances of the licence being wrongly issued, but has not made any further comment in the wake of the latest sentencing.