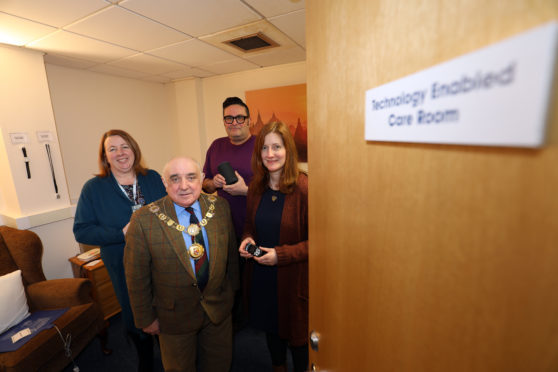 Kirrie Connections has extended the service it offers the vulnerable with the opening of a dedicated demonstration room featuring modern gadgets for the home.
A range of alarm systems, fall detectors and devices to help those wishing to remain at home were demonstrated by Glenda Hunter, technology enabled care development officer with the Angus Health and Social Care Partnership, at the official opening.
The telecare room has been developed by the partnership to demonstrate some of the technology now available to support people in their own homes, and to give their family peace of mind that any alarms triggered are picked up by staff at the community alarm administration team based at Andrew Smyth Gardens in Forfar.
As well as the wide range of community alarm technology, including fall monitors and door and bed alarms, the Kirriemuir hub also demonstrates broader technology like Amazon's Alexa personal assistant which has the potential to be a really useful tool for people living with dementia, and their carers.
Glenda said: "We used to have a demonstration flat for training purposes for staff but a lot of people wanted to see it.
"It was not accessible whereas here, everybody can come in.
"All the new technology is included in the community alarm charge – there is no extra charge.
"This technology is available for anybody who is vulnerable, those with dementia, the elderly or those who suffer from epilepsy and seizures.
"It not only helps the person who is living at home but gives their family peace of mind that, if something happens, we will pick up the alarm call at our control room.
"Staff there assess what action needs to be taken by the response team, which is based at Beechhill in Forfar.
"Our response time is a standard 20 minutes minimum, which we achieve between 75 to 80 per cent of the time."
Among the first to visit the room was Angus Provost Ronnie Proctor.
The Kirriemuir and Dean Conservative councillor said: "This is first class. Having it here means it is so accessible and visible – you can see what the various pieces of equipment does."
The demonstration room is available for anyone who wishes to visit the community hub in Bank Street where staff will be on hand.