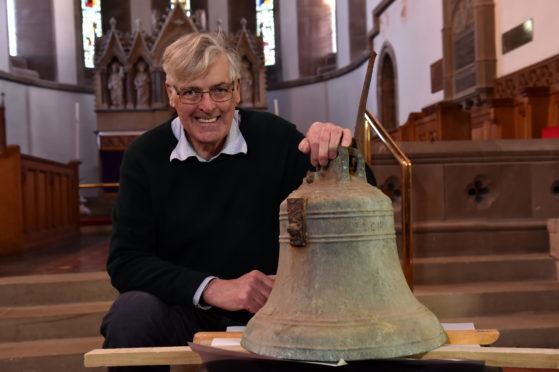 A crowdfunding campaign has been launched in Stonehaven to raise £18,000 to restore an 18th century bell to its former glory.
The bell was discovered sitting in the rafters of the church during roof maintenance work.
When the steeplejack retrieved it, a marking revealed it was made in 1788.
The crowdfunding efforts were launched at a special Mothers' Day service and more than £1,000 has already been pledged.
The church plans to have the restoration complete by Remembrance Day.
David Fleming, the church's building projects leader said: "The bell itself was in fine condition, but the mountings were rotten and almost rusted through.
"The steeplejack managed to safely lower the bell to the floor, and we have been able to examine it. We would like to re-mount the bell, and the estimate of the total cost is estimated at £18,500.
"The project aims to get this done in time for the 100th anniversary of the Armistice so that we can join in the planned national event in which every available church bell will be rung."
Money raised will go towards getting it cleaned and restored and designing and manufacturing a new headstock and wheel, together with new bearings, clapper and rope.
Preparing the tower and installing new supports, then raising all the parts and the bell and assembling them on to the new supports, using specialised labour will cost £10,000.
The bell itself was originally housed in the Episcopal Chapel on Stonehaven's High Street, but was moved, following the chapel's demolition, to St James' in 1885.
Mr Fleming said: "It's 230 years old, it's got a great deal of historical significance for the town."
"One hundred years ago, on the 11th of November, all the bells in the land were rung in celebration of the Armistice.
"What I would like to do would be to ring the bell once for each casualty of the First World War from Stonehaven."
The church is a Grade 1 listed building.
The narthex and baptistery were designed by Arther Clyne and were consecrated in 1906.
The baptistery stained glass windows were designed by Sir Nunian Comper in 1929 and honour St Nathalan, St David of Scotland, John the Baptist, St Francesca and St Kieran.
Click here to support the fundraising campaign.